Mariah Carey Singing Your Fave Holiday Jam With Her Kids Is The Greatest Gift Ever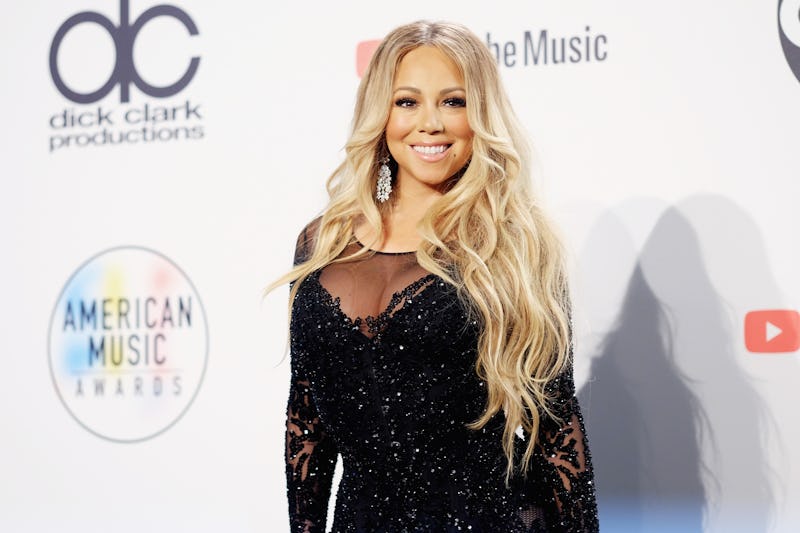 Matthew Simmons/Getty Images Entertainment/Getty Images
The holidays have come early for anyone who follows the queen of pop on Twitter: this video of Mariah Carey singing "All I Want For Christmas Is You" with her children was just the ticket to get even the biggest of grinches in the holiday spirit. Carey posted the video on Wednesday night, along with a caption that read, "we're gonna take this one step at a time - we're very excited about it!" She added, "It's our first video doing this! It's festive, Cmon!!"
While it's kind of shocking to imagine a world in which Carey and her children don't sing this song together all day, every day each December, the performance did seem pretty authentic. Throughout the 48 second clip, Carey and her two seven-year-old twins Monroe and Morocco (who she adorably references as "Roc and Roe") belted out the words to the song.
Well, Carey did — Monroe and Morocco mostly danced around supportively, then chimed in during the chorus. But isn't that what everyone does?
The post immediately received some serious love on Twitter, and has already been liked 13,000 times. One Twitter user commented, "imagine your mama sang and wrote one of the best christmas songs of all time WOW"
Another user commented, "Imagine Mariah Carey is your mom and you get to sing backup vocals with her live on her Christmas classic. These two don't have to."
It makes complete sense that the Carey family would choose "All I Want For Christmas Is You" as their first Vonn Trap family-esque performance. It's the holiday song to end all holiday songs.
Originally produced and written by Carey in 1994, the single quickly became a mega-hit, and has since become the top-selling Christmas song of all time. The song has such staying power that in 2017, 23 years after the song was first released, it reached number nine on the Billboard Hot 100 list. The song is so iconic, and so directly associated with the holiday season, that Christopher Ingraham of The Washington Post even created an "All I Want For Christmas Index of Holiday Cheer," which suggests that the increased playing of Carey's song is a proxy for overall holiday cheer.
As a result of her holiday jam (which inspired the most important scene in any holiday film every created), Carey has cemented herself as an icon of the winter season. So it's no surprise that she's embarking upon an "All I Want For Christmas Is You" Holiday Tour across Europe, starting in Dec. 1 in Norway and ending on Dec. 17 in Spain.
In 1994, upon the immediate release of the song, a young Carey said of her new single, "[It's] kind of a cute little peppy little Christmas number...this is a light song, but it's fun and it's Christmastime."
In 2017, Carey reflected back on the song that created her holiday empire. She said to Billboard, "I'm very thankful that people seem to still have an attachment to it. It makes me feel good when people tell me that it's part of their lives."
Carey was quick to disagree with any suggestion that this song might be her greatest legacy, though. Oh my gosh, no no, never, no," she said. "I feel like this is something small compared to the rest of my catalogue. This song just continues to surprise me."