Meghan Markle & Prince Harry Got The Giggles Over This Mosquito Song & You Will Too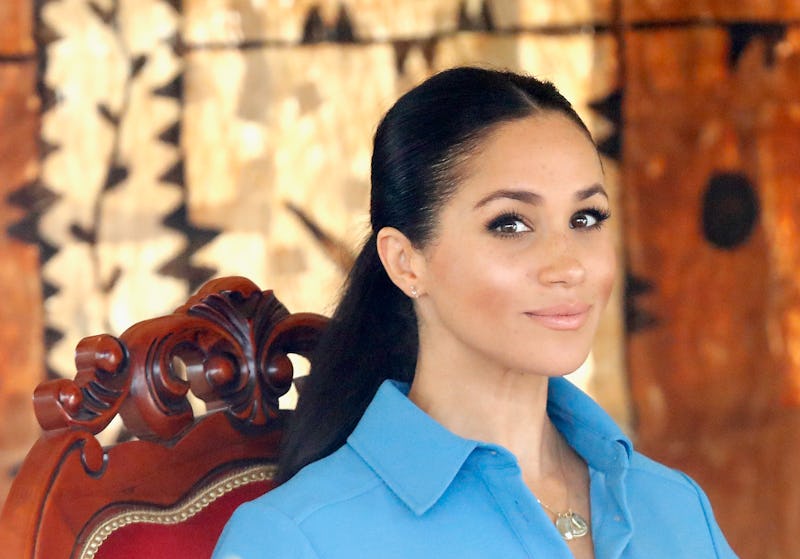 Chris Jackson/Getty Images Entertainment/Getty Images
Maybe it's the jet lag, but the royal couple was overcome by a fit of giggles by none other than a song-and-dance about mosquitoes on Friday. Currently on their first royal tour together, Meghan Markle and Prince Harry laughed until they cried at a mosquito song in Tonga, according to HuffPost. And when you watch it, you will too, because it's so silly, adorable, and perfectly harmonized.
The Duchess of Sussex was seen wiping away actual tears of mirth when she and Prince Harry watched the Tupou College Boys Choir in Tonga perform an upbeat, but cautionary song about the dangers of mosquitoes, complete with buzzing sound effects and dance moves, as seen in the video below from NBC News. It made the duke and duchess giggle uncontrollably, and you should watch it, because it is delightful, and everyone could use a laugh right now.
Markle and Prince Harry visited the Tupou College in the beautiful rainforests of Tonga where they dedicated two reserves at the school's forest, the Toloa Forest Reserve. The buzzing serenade was part of the dedication ceremony.
Even though the mosquito song is all fun, those little suckers are no joke. In fact, the Zika virus has been a pressing concern for the duke and duchess on this trip. According to ABC News, the announcement of Markle's pregnancy raised concerns with doctors, who advised that pregnant women especially should not travel to places where the Zika virus was present — which includes Tonga and Fiji. The Zika virus can cause a serious birth defect called microcephaly, which causes brain abnormalities, according to TIME.
But Meghan Markle is no delicate princess (or duchess, in this case) and went ahead on her travels, but only after she and Prince Harry sought medical advice about Zika precautions to minimize risks, according to People.
And one of the ways she's defending herself against those pesky mosquitoes in the most Meghan Markle fashion — with fashion. According to the CDC, light, loose clothing is best to defend against infected mosquitoes. Earlier this week when she landed in Fiji, Markle was wearing a flowy white dress with long sleeves and a matching fascinator hat, made by Australian brand Zimmermann, according to Vanity Fair. She looked super glamorous and ready to ward off mosquitoes when she deplaned. The long-sleeve outfits are gorgeous, but quite different than the looks she wore in Australia that showed off her arms, including that already iconic striped maxi dress that she wore to the beach.
On Friday when she was crying with laughter at the Tongan ceremony, she wore a long-sleeved, sky-blue Veronica Beard shirt dress. She also chose not to take a walking tour through the forest reserve with Prince Harry.
Thankfully, none of that scary Zika stuff made its way into the choir's serenade — singing about microcephaly would be a big damper on a celebratory occasion. But there was a lot of buzzing, a lot of giggling, and even tears. And it's the perfect video to instantly boost your mood.