This Video Of Melania Meeting Putin Made People Think She's Silently Screaming For Help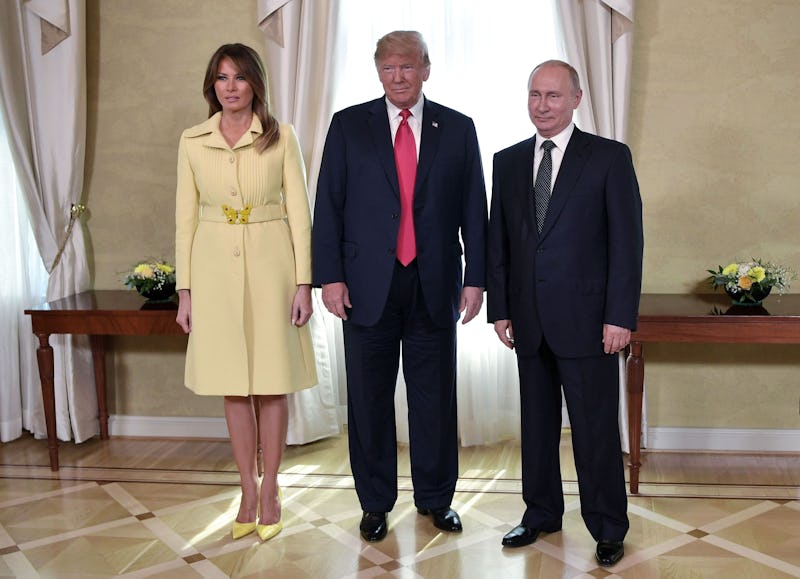 ALEXEY NIKOLSKY/SPUTNIK/KREMLIN/POOL/EPA-EFE/Shutterstock
Russian President Vladimir Putin is a controversial figure for tons of reasons — and Twitter thinks First Lady Melania Trump is not his biggest fan. Many people are saying this video of Melania meeting Putin in Helsinki, Finland, on Monday shows her looking totally startled after shaking hands with the Russian leader.
Although it appears in the video that the first lady is smiling during the initial greeting, her face drops seconds later. Then she poses for a photo shoot next to her husband and Putin and smiles again.
Folks on Twitter are speculating that Melania's eyes are screaming for help as she prepares to pose while wearing a yellow Gucci coat. One user said she looked "terrified."
As Elle pointed out, this isn't the first time the first lady's expressions have seemingly spoken a thousand words. There was that time during the president's inauguration when she went from smiling as Trump looked at her to immediately frowning when he turned away. Soon after the video surfaced, the hashtag #FreeMelania began trending, and two camps seemed to form: Those who felt bad for Melania and those who believed she was complicit.
And the look on Melania's face after meeting Putin did seem to echo that moment. But she could have just been preparing to take a photo or she could have been thinking about other things. The mind of Melania cannot be read, after all.
Her greeting with Putin on its face didn't seem all that different than her meeting with Queen Elizabeth just days before. Melania shook hands and then posed for photos with the leaders in both instances.
But, then again, there are also plenty of reasons why the American-Slovenian first lady could fear Putin, an ex-KGB officer who's been accused of multiple crimes. Business Insider reported in 2011 that Putin was described in a report by the German spy agency as an alleged "philanderer and a wife-beater." And it the list of other allegations against the Russian ruler is long.
Putin, who's been leading Russia since 2000, is also accused of murdering his opponents, sending political prisoners to a jail in Siberia for decades, and repressing minority rights in his country, as Quartz reported. He's denied Kremlin involvement in deaths such as that of journalist Anna Politkovskaya's. She was shot in an elevator after writing a book accusing Putin of turning Russia into a police state, The Washington Post reported.
And there was also plenty of controversy surrounding Trump's meeting with Putin, the least of which had to do with Melania's facial expressions. The main focus has been on Trump's inflammatory comments on Russia meddling in the 2016 U.S. election, which he later walked back. But even in the face of the crazy Helsinki news cycle, users on Twitter still had a field day focusing on Melania's face.
"The only one in the room who realises how dangerous this man really is," Twitter user Aaron McCord said of Melania.
Some users expressed concern and sympathy over Melania's seemingly scared expression, while others made jokes.
One posted over a photo of Melania: "That bleak, bleak moment when you realise everyone you love will one day die and rot/you meet Vladimir."
People love to analyze the 48-year-old first lady. Media outlets are constantly asking body language experts to comment on the messages behind her public photos and videos, and everyone is just so desperate for her to spill the tea about her internal monologue. But the only one who'll ever really know what Melania is thinking — be it fear, anxiety, or bliss — is Melania herself.