Watch Michael Che & Colin Jost's Emmys Opening Monologue Here, But Prepare To Cringe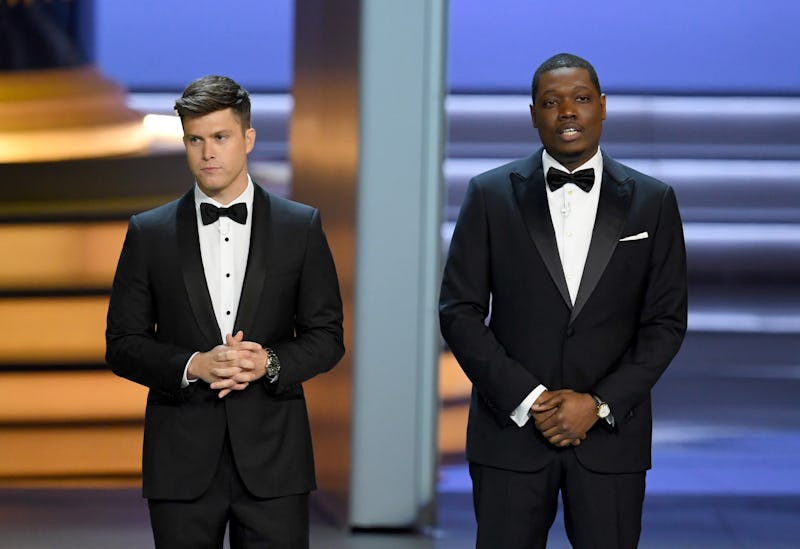 Kevin Winter/Getty Images Entertainment/Getty Images
The stakes were pretty high for Colin Jost and Michael Che's 2018 Emmys monologue, and it's up to fans to determine if they delivered. Going into the show, not everyone was thrilled that in the age of #MeToo, and amidst a reckoning with women's treatment in the entertainment industry, two guys were chosen for the hosting gig. But Che and Jost are accustomed to live television, given their posts at Saturday Night Live's Weekend Update, and they did the job about as well as they were expected to, with some obvious high points and low points.
There were a few jokes related to #MeToo. "It is an honor to be here sharing this night with the many, many talented and creative people in Hollywood who haven't been caught yet," Che said. "This year the audience is allowed to drink in their seats," Jost continued. "Because the one thing Hollywood needs right now is people losing their inhibitions at a work function." And they also had a few jabs at the lack of diversity within the Emmys, and the TV industry at large.
The entire thing was very Weekend Update, so much so that if you were only listening and half-watching, you'd think they were sitting behind the Studio 8H desk. But it came across worse in a hosting capacity — it was a little clunky, a little boring, and nothing really felt like jokes we hadn't heard before. It certainly didn't set itself up to be groundbreaking, or the most talked about moment of the night.
Here's a portion of the monologue, via The Hollywood Reporter.
The early, immediately skeptical reaction to Che and Jost hosting the awards this year isn't totally the fault of the comedians themselves, though not everyone finds the pairing's comedy styles to be their cup of tea. The frustration probably also simply spawned from a general exhaustion. An exhaustion that in an age when women's treatment and voices in Hollywood are such important topics of conversation, one of the biggest nights in the industry chose not to amplify them.
Between 2000 and 2018, only two women have hosted the Emmys solo — Jane Lynch in 2011, and Ellen DeGeneres in 2005 and 2001. Heidi Klum also co-hosted (with the help of four men) in 2008. Prior to DeGeneres' 2001 gig, there was only one woman to ever host the ceremonies on her own, and that was Angela Lansbury in 1993 (female duo DeGeneres and Patricia Richardson tag-teamed the job in 1994).
With all the funny, talented women making splashes in television right now on insanely popular programs — women like Issa Rae, Kristen Bell, Danielle Brooks, Sandra Oh, D'Arcy Carden, Julia Louis-Dreyfus, just to name a tiny fraction — it's understandable that many are disheartened by the choice to hand the reigns over to two members of a demographic group that's already held the reigns for a long time.
If Che and Jost's monologue was any indication, though, they're at least aware of the controversies swirling, even if their jokes didn't hit that hard. And hopefully it's not lost on them as they continue to host the night.