Why You'll Probably See Scarlett Johansson On This Year's Emmys Red Carpet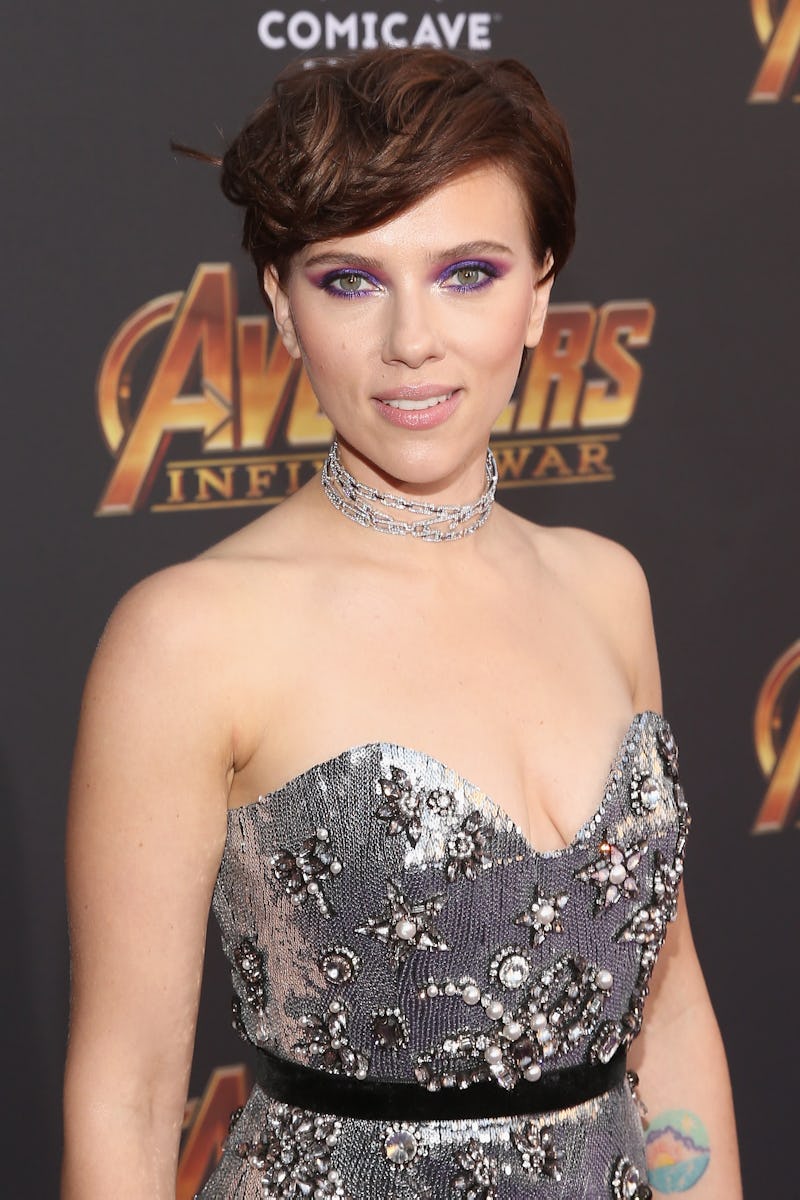 Jesse Grant/Getty Images Entertainment/Getty Images
Satruday Night Live stars Colin Jost and Michael Che are on deck to host this year's Emmy Awards on Sept. 17, but does that mean Jost's famous girlfriend will be in attendance? That's a question that fans are likely wondering: Will Scarlett Johansson be at the 2018 Emmys? While there's no concrete answer just yet, there are definitely some educated guesses that can be made.
Let's start from the beginning: Reports that Jost and Johansson were dating started to pop up in May 2017. The actor played Ivanka Trump in a skit during a SNL episode. She and the comedian attended the show's after party, and they were reportedly seen "making out," according to Page Six. If that really was the case, these two have been together for a solid amount of time.
Most couples mark their official status with a Facebook relationship announcement or a cute photo on Instagram, but Jost and Johansson are not most couples. They made their first major outing when he supported her at the April premiere of her movie Avengers: Infinity War. Considering the Emmys hosting gig is a pretty big deal for Jost, it would make sense that his girlfriend was there to support him during such a major night — especially since he was on the red carpet when she promoted Infinity War.
Then on May 6, Jost used the word "girlfriend" to describe Johansson for the first time ever during an episode of Saturday Night Live.
Just two days later, the duo made another red carpet at the Met Gala. No shade intended, but this seemed like more of "her thing" than an event for him, so it's safe to bet that he was the fashionista's plus-one. It would make sense for Johansson to return the favor and show up to the Emmy Awards, right? They do seem to be a very supportive couple.
Johansson is known for her film work, and the Emmys acknowledge achievements in television, so if she were to attend, it would most likely be for personal reasons, instead of professional obligations.
As of right now, there's no official confirmation or denial of attendance, but there could be a valid reason that the actor would not attend her beau's big night: She might not want to detract from his spotlight. There's a chance that if she's at the award show, the stories will be all about their relationship, instead of focusing on his moment as a host.
Then again, if she doesn't show up, there are bound to be headlines about her skipping the Emmys. So basically, whether Johansson attends or not, her name will be a part of the conversation for sure. So, why not attend if she truly wants to be there? She can support her boyfriend, not have to deal with the pressure of being nominated, and make a fashion statement on the red carpet.
There's a lot to gain and fun to be had if she does end up going, but now it's just a waiting game to see if she's actually there.