Obama Made A Special Stop For The "Best Tacos Around" — And It's So Relatable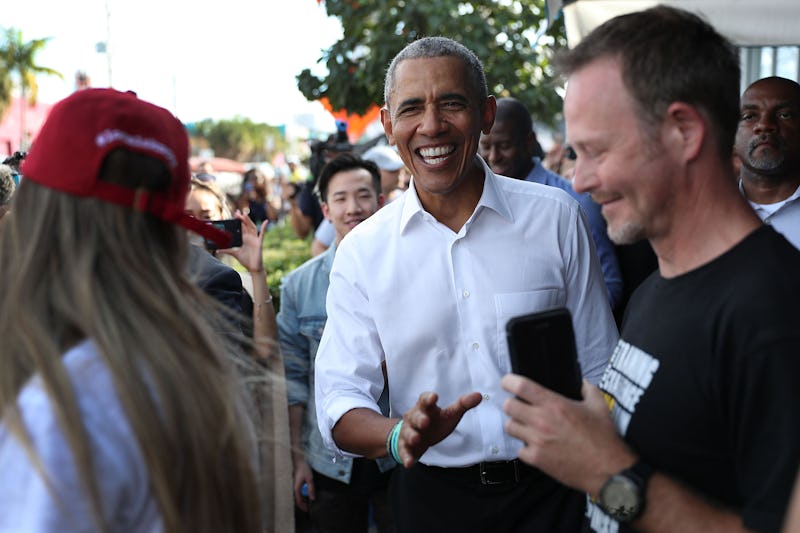 Joe Raedle/Getty Images News/Getty Images
In the final stretch before the highly contentious November midterms, former President Barack Obama stopped by a Mexican street food restaurant and spread a bit of joy. Video of Obama ordering tacos in Miami captured restaurant patrons overcome with excitement as the surprise VIP guest mingled with the crowd and ordered lunch, encouraging everyone to vote on Tuesday.
Footage shared to Twitter and reported on by the Miami Herald shows Obama exiting a large silver vehicle, flanked by secret service. Virtually the second he exited the vehicle, people in the restaurant began yelling and filming him, producing several clips that show his entrance from different angles. Many young people are seen reaching for their phones, covering their mouths in shock, and releasing high-pitched screams.
"I want everybody to vote!" Obama shouted to people in the restaurant, according to video shared by NowThis. He walked around the restaurant's dining area, shaking people's hands, and, according to the Herald, engaging in short conversations.
According to a copy of the receipt shared to Twitter, Obama ordered a Cochinita Pibil, Pollo al Carbon, Camaron, Guacamole, and Esquite. He also tipped $40, according to reporter David Smiley. He continued mingling while he waited for his food, per the Herald.
At one point during his visit, he posed for a photo behind the counter with restaurant staff. "This is a health code violation," he joked, according to the Herald.
Obama was in town to stump for Andrew Gillum and Bill Nelson, Florida's Democratic candidate for governor and senator, respectively. Both men joined Obama on his visit to Coyo Taco, according to HuffPo.
Gillum's opponent has formally been endorsed by President Donald Trump. In many ways, the Floridian election has become a proxy war between Democrats and Republicans nationwide.
"One election won't eliminate racism or sexism or homophobia .. but it will be a start," Obama said at a Miami campaign event on Friday, Nov. 2, according to separate reporting by the Herald. "And when you start down that path momentum starts to build."
While campaigning in Florida, Obama declined to mention the current president, as is often the case. However, per the Herald, he did allude to problems plaguing the current administration.
"I'm hopeful that we will cut through the lies, block out the noise and remember who we are called to be," Obama reportedly said at a rally.
If the vast number of selfies and shrieking restaurant patrons are any indication, Obama took his positive message to Coyo Taco. Though it doesn't happen every day, Obama does have a bit of a reputation for showing up unannounced to local eateries, surprising establishment patrons when they least expect it. Over the summer, Obama did just that with former Vice President Joe Biden, producing virtually the exact same result.
With the highly-anticipated midterms only days away, Obama's visit to Coyo Taco offered a brief respite from the stress associated with the elections, as well as a never-ending cycle of political vitriol. That the videos went viral only served to prove that Coyo Taco customers weren't the only ones looking for a small break.