Watch What Happened When Oprah Knocked On This Voter's Door For Stacey Abrams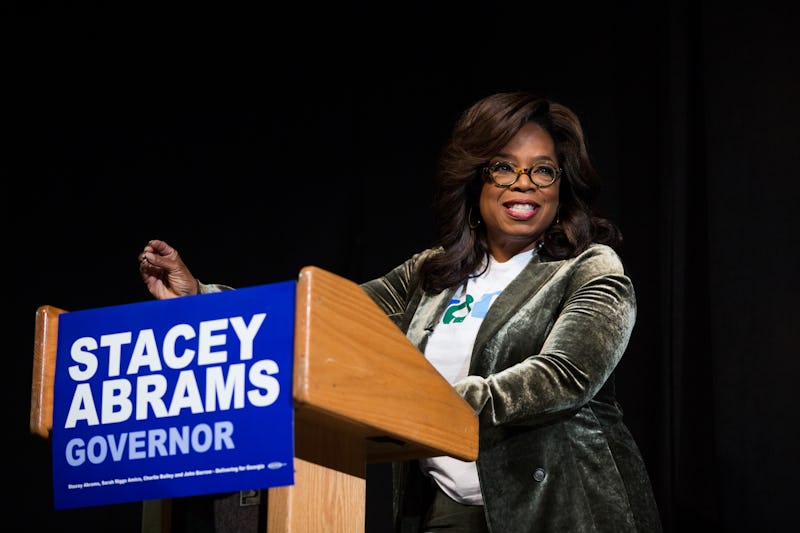 Jessica McGowan/Getty Images News/Getty Images
With less than a week to go before midterm election day, motivated door-knockers are out across the country trying to scoop up every last vote — and that includes celebrities. This video of Oprah canvassing for Stacey Abrams on Thursday is just one example, and the constituent, whom she calls Denise, reacted in the best possible way.
"Hope she's home," Winfrey initially said, after knocking on a front door. "Hi!" she said with a friendly wave when a woman opened the door. Denise reacted as anyone would, with a shocked jump and a gasp. "Oh, my god!" she said in the video, shaking Winfrey's hand. "Hi, Oprah!"
"Surprise, surprise!" Winfrey replied matter-of-factly, before getting down to business. "I'm canvassing for Stacey Abrams," she announced, without letting go of Denise's hand. "Are you voting for her?"
Denise gave an emphatic nod. "I absolutely am." Winfrey continued holding Denise's hand while making sure that she had an early voting plan in place (she said she did), and would be joining in canvassing the community in support of Abrams (she already was, she said).
Apparently satisfied with the response, Winfrey said, "Well, I don't even need to talk to you, OK? I'm going to go talk to somebody else." Winfrey then agreed to take a photograph with a clearly still starstruck Denise, telling the camera, "There you go! That was so easy!"
Winfrey reportedly reached out to the Abrams campaign last week, and on Thursday spoke at a rally in Marietta, Georgia. Abrams will "serve the underserved of the state of Georgia," she said at the event, adding that the Democratic gubernatorial candidate is "standing strong for the values that matter to me and the values that matter to Georgians all over this state."
If Abrams wins, she will be the nation's first female, African-American governor. She has been endorsed by numerous progressive leaders, including Presidents Barack Obama and Jimmy Carter, civil rights leader and Congressman John Lewis, and Vice President Joe Biden. Winfrey is not even the first celebrity to go canvas for Abrams — last week, Will Ferrell went door-to-door to get out the vote.
According to polls, Abrams is currently in a dead heat in her race against Republican candidate and Georgia's current Secretary of State Brian Kemp. One of the issues she has focused most heavily on is turning out voters, since Georgia's voting laws — the "exact match" and "signature mismatch" rules in particular — are some of the most restrictive in the country. In fact, because of his government role in election regulation, Kemp is currently named as a defendant in multiple ACLU lawsuits accusing him of voter suppression, an allegation he has called "totally untrue."
The state currently has more than 53,000 voter registration applications on hold due to the stringent voting laws. About 70 percent of those belong to African-American voters. However, at last week's gubernatorial debate Kemp said they could still vote if they show up with proper ID.
Winfrey also took a moment to address the issue of disenfranchisement in Marietta on Thursday. "For anybody here who has an ancestor who didn't have the right to vote... You are disrespecting and disregarding their legacy, their suffering, and their dreams when you don't vote," she said. "Every single one of us has something that, if done in numbers too big to tamper with, cannot be suppressed and cannot be denied."