This Video Of A Mom Confronting Scott Pruitt In A Restaurant Will Give You Deja Vu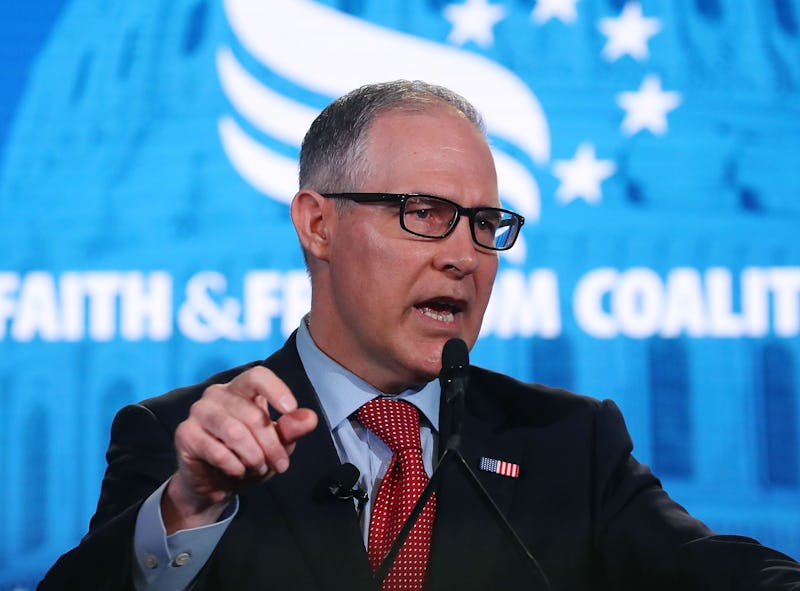 Mark Wilson/Getty Images News/Getty Images
Trump administration officials might be opting for takeout more these days rather than risk sitting for a public meal. The latest face-to-face polemic against a White House official can be seen in a video of Scott Pruitt getting confronted by a mom and her toddler; the scene at the restaurant will look familiar, as Pruitt joins the growing list of government leaders getting called out by members of the public.
The woman who confronted Pruitt posted the video to her Facebook account, which identified her as Kristin Mink. Her encounter with the Environmental Protection Agency (EPA) top administrator took place while he ate lunch at Teaism in Washington, D.C. on Monday, according to her post.
In the video, Mink reads from a sheet of paper and calls for him to resign. The mother, while holding her 2-year-old, introduces her son and shares that he "loves animals, breathing clean air, and drinking clean water." She then rattles off the questionable environmental positions and scandals Pruitt has been involved in since taking on the EPA chief position.
"We deserve to have somebody at the EPA who actually does protect our environment, someone who believes in climate change and takes it seriously for the benefit of all us, including our children," Mink says to Pruitt in the video. "I would urge you to resign before your scandals push you out."
"EPA head Scott Pruitt was 3 tables away as I ate lunch with my child. I had to say something," Mink wrote in the Facebook caption of the video. "This man is directly and significantly harming my child's — and every child's — health and future with decisions to roll back environmental regulations for the benefit of big corporations, while he uses taxpayer money to fund a lavish lifestyle. He's corrupt, he's a liar, he's a climate change denier, and as a public servant, he should not be able to go out in public without hearing from the citizens he's hurting."
According to her Facebook profile, Mink is a schoolteacher at Sidwell Friends School. Her account shows several recent posts documenting her involvement in a protest against Trump's immigration policies.
"Cowardly Pruitt had no response. He, his companion, and their 2 tax-paid security guards fled the restaurant before I got back to my seat. Our children's future is at stake. As citizens, it is our responsibility to confront corrupt, unethical, and immoral government officials whenever and wherever we see them," Mink wrote on a slate at the end of the video.
This confrontation is the latest one to hit the Trump administration. In June, the co-owner of the farm-to-table restaurant Red Hen in Virginia said she asked White House press secretary Sarah Huckabee Sanders to leave because Sanders defended the "inhumane and unethical" policies of the Trump administration, according to The Washington Post. Before that, protesters confronted senior adviser Stephen Miller at a Mexican restaurant in Washington D.C. They also did the same to Homeland Security Secretary Kirstjen Nielsen, who was also found in a Mexican restaurant at a time when tensions over Trump's family separation policy were starting to boil over.
Pruitt has been in the headlines before. According to The Hill, the chief ethics officer at the EPA has recommended that an investigation be launched into Pruitt and his spending practices. One of the scandals surrounding Pruitt involves a Capitol Hill condo rental owned by the wife of an influential lobbyist. The EPA chief is also under scrutiny for spending taxpayer money on first-class travel and claims that he had an aide help him with non-office matters, like asking about business opportunities for his wife, according to the AP. Critics have also questioned Pruitt's high spending on security, which totaled nearly $3.5 million during his first year, according to The Hill. An EPA spokesman argued the cost was justified by that the amount spent was necessary because of the "unprecedented amount of death threats against him."
Pruitt is currently staring down 13 federal inquiries into his spending and management activity, according to The New York Times, something that will certainly hang over his legacy in his role as the EPA chief.