Protesters Heckled Ted Cruz Out Of A Restaurant By Chanting "We Believe Survivors"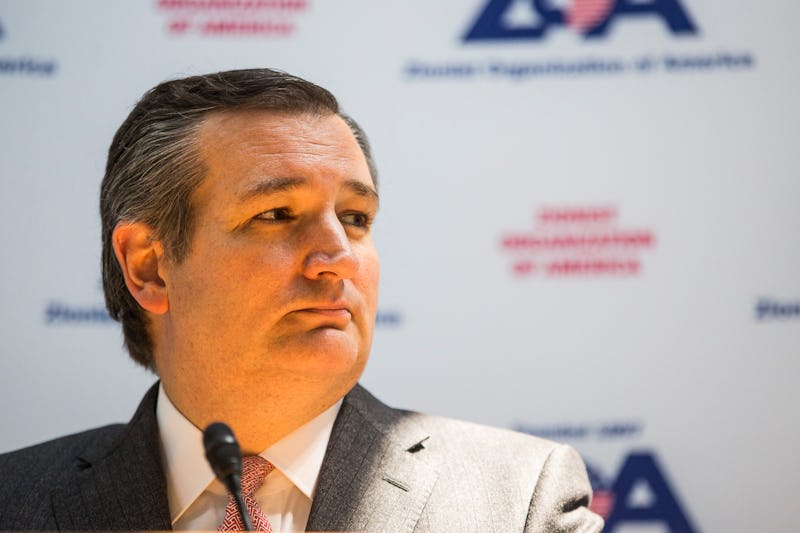 Zach Gibson/Getty Images News/Getty Images
Add another one to the list of government officials confronted while eating. On Monday, video showed Ted Cruz being heckled out of a restaurant for his support of Supreme Court nominee Brett Kavanaugh. Cruz, the Republican senator from Texas, was eating out at the Washington, D.C. Italian restaurant Fiola, according to The Daily Beast.
Protesters blasted his closeness with Kavanaugh in a video taken during the confrontation. The protest group, Smash Racism DC, recorded the encounter as the activists chanted, "We believe survivors!"
During the video, a protester approaches Cruz as he and his wife sit down at a table. "I'd love to talk with you about Brett Kavanaugh tonight," the protester said in the video. "I'm a constituent. Love to know what your vote is going to be tonight. I know that you're very close friends with Kavanaugh. Do you believe survivors, sir?
"God bless you, ma'am," Cruz replied.
"Bless you as well," the protester answered. "I really appreciate you. I'm a survivor of sexual assault, ma'am, I believe all survivors. There are now three people who have come forward and who have said that Brett Kavanaugh has attacked them. I know that you're close friends with him. Did you talk to him about that?"
Cruz does not respond to the question and left the restaurant with his wife as the protesters shouted after them.
Smash Racism DC does not have a website listed on the group's social media accounts but does describe the organization's purpose on its Facebook page as being "united in our fight against the Nazis, the Ku Klux Klan, the Aryan Nations and any other group that envisions a world that isn't for all of us."
The group also posted the video to Facebook with a longer caption. In it, the protesters address Cruz directly.
"No — you can't eat in peace — your politics are an attack on us all," the caption reads. "Your votes are a death wish. Your votes are hate crimes."
Cruz is a member of the Senate Judiciary Committee and, as such, one of the senators who will question Kavanaugh and his first accuser, Dr. Christine Blasey Ford, during Thursday's hearing.
"While our interruption does not compare in scale to the interruptions his actions as a Senator have had on millions of American lives, we hope that it reminds Cruz and others like him that they are not safe from the people they have hurt," the group wrote in the Facebook caption.
This dinnertime protest isn't the only disruption that Cruz has seen regarding Kavanaugh. Earlier, on the same day, protesters and sex assault survivors also rallied outside of Cruz's offices in Austin and Dallas, according to KVUE. The protesters hoped their demonstrations will lead Cruz to reject Kavanaugh, who has been accused of sexual misconduct during his high school and college years. Kavanaugh has categorically denied all allegations.
During a candidate debate on Friday, Cruz did respond to the controversy surrounding Kavanaugh and called for Ford to testify.
"I also think Judge Kavanaugh deserves full opportunity to defend himself," said Cruz, according to KVUE, "and let the American people listen to what happened."