Video Of The Cello Player At The Royal Wedding Will Move You All Over Again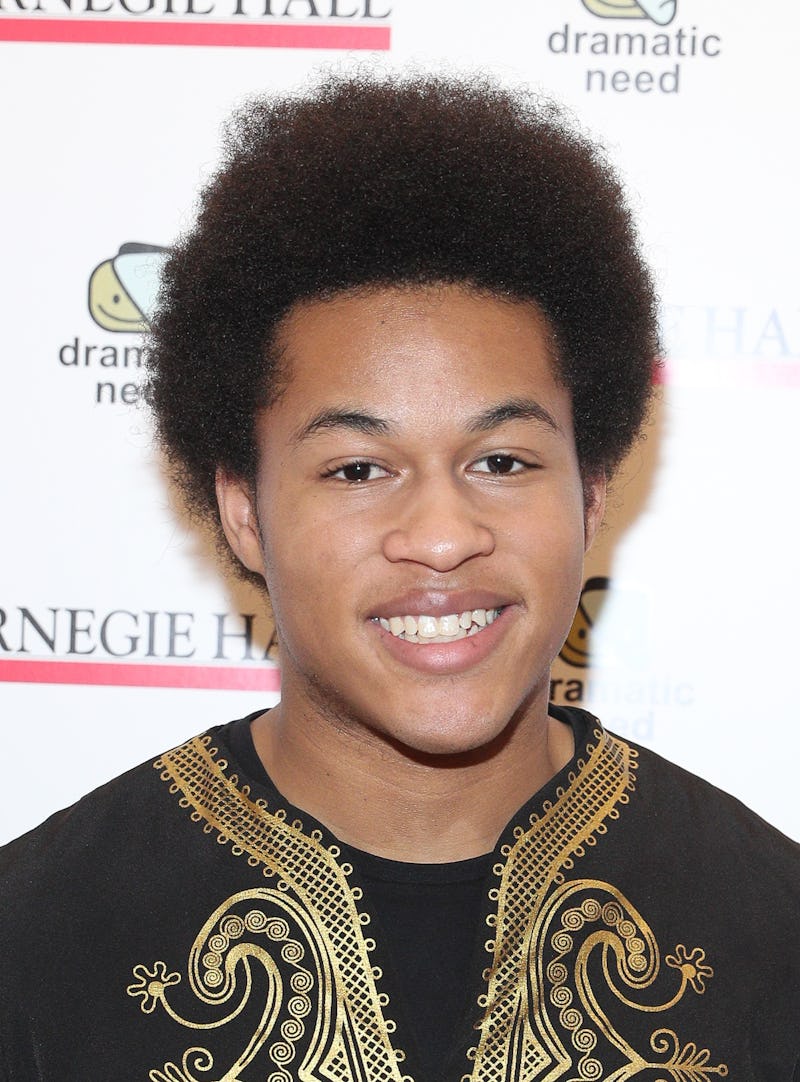 Rob Kim/Getty Images Entertainment/Getty Images
As Prince Harry, Duke of Sussex and his now-wife Meghan Markle, Duchess of Sussex signed the register at their fairy tale wedding ceremony on Saturday, May 19, all that could be heard at St George's Chapel, Windsor Castle, were the ethereal, melodic sounds of a cello, accompanied by an orchestra. With Kensington Palace posting a video of the cello player at the royal wedding following the ceremony, we can all relive the magical moment all over again.
The talented and history-making cellist, 19-year-old Sheku Kanneh-Mason performed three pieces: Franz Schubert's "Ave Maria," Gabriel Fauré's "Après un rêve" and Maria Theresia von Paradis' "Sicilienne," in front of the captivated congregation of 600 lucky attendees of the ceremony. (His record label, Decca Classics, revealed the set list hours before the nuptials took place.)
The teen prodigy couldn't have been more thrilled to be invited to lend his talents on the couple's big day — and even got a phone call from Markle herself. "I'm so excited and honored to perform at Prince Harry and Ms. Meghan Markle's wedding," Kanneh-Mason tweeted on April 24, ahead of his high profile performance. "I was bowled over when Ms. Markle called me to ask if I would play during the ceremony, and of course I immediately said yes! What a privilege to be able to play the cello at such a wonderful event. I can't wait!" Watch the video of the cello player at the royal wedding below.
Although it was the new Duchess who made the life-changing call, it very well may have been Prince Harry who introduced his new wife to the classical artist. According to a tweet from Kensington Palace, Kanneh-Mason first caught the eye of Prince Harry last year when he saw him perform at a June 2017 London charity concert in support of Antiguan charity the Halo Foundation. So clearly Harry was as enamored as the rest of us now are, and he made a lasting impression.
The enormity of this gig of a lifetime wasn't lost on the super talented teen, who undeniably stole the hearts of those captivated by his sweet music, telling Bustle the following post ceremony:
"It was such an awesome moment — just really incredible to perform for Prince Harry and Meghan at their wedding! The atmosphere was amazing and I'm proud to have played a small part in the celebrations. It's a day I will remember for the rest of my life."
He even documented his whirlwind day on social media, first taking us along for a ride with him, posting a Twitter photo of his car trip to Windsor Castle, cello not far behind.
Once on site, the full-time student at London's Royal Academy of Music posted another behind the scenes photo, this time with fellow man of the hour, technologically advanced Bishop Michael Curry, who gave an energetic speech — and left Twitter feeling shook by reading his royal wedding sermon from an iPad.
While this very well be the star-making moment for Kanneh-Mason, he is hardly an unknown. Aside from catching Harry's eye (and ears, of course), the charismatic Nottingham, England native — who began playing the cello at the rip age of six — was honored as BBC's Young Musician of the Year in 2016. Not only that, he was also the first black winner of the competition since it was founded 38 years ago. He called the distinction "a wonderful feeling" at the time.
One of seven kids, he and siblings also competed as a group ("The Kanneh-Masons") on Britain's Got Talent in 2015. Two years later Kanneh-Mason, who debuted his first full-length album, Inspiration, in January 2018, performed Leonard Cohen's "Hallelujah" during an in memoriam at the BAFTA awards and returned again in February with four of his siblings.
Whether or not you'd heard of the 19-year-old before today, get ready to hit repeat on the video of his royal wedding performance, so it can be music to your ears over and over again. And we'll venture a guess that this isn't the last you'll be hearing from this gifted young musician.