Meet The First Woman To Finish Round 2 Of 'American Ninja Warrior'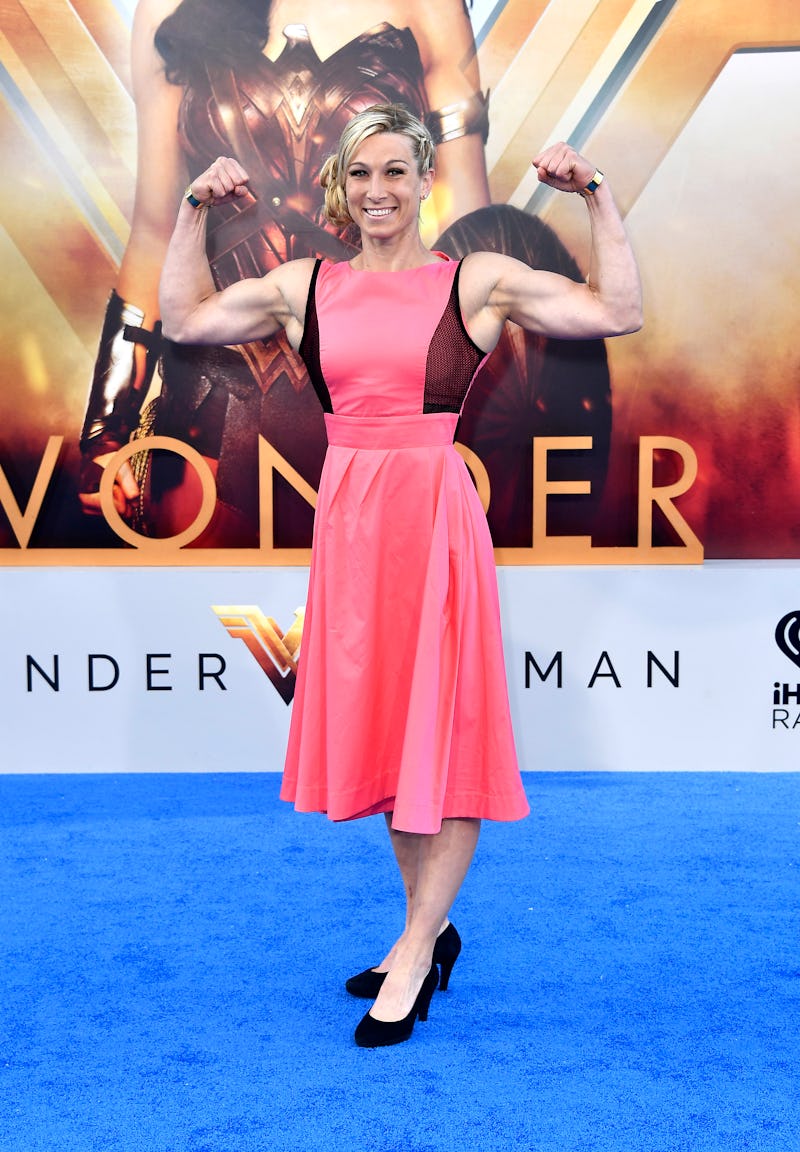 Frazer Harrison/Getty Images Entertainment/Getty Images
On the heels of Wonder Woman's record-breaking box office success, another female superhero has accomplished what was thought to be impossible: Jessie Graff has become the first woman to complete stage two of American Ninja Warrior. The incredibly challenging, high-octane televised obstacle course has been on the air since 2009, and on Sunday, June 4, for the first time in the history of the reality show, a female competitor has beat the odds and hit the big red button. This isn't the first record Jessie has set — she was also the first woman to pass Stage one back in August — joining Team USA to compete in American Ninja Warrior: USA vs. the World. Her run on Sunday not only garnered her team two points in the overall competition, but set an example for girls everywhere. When asked directly after completing her run what the achievement says to women, Jessie exclaimed, breathlessly, "It says we can do anything." Damn straight!
The 32-year-old, who works as a stuntwoman on the shows such as Supergirl and Agents of S.H.I.E.L.D, became one of the top ANW competitors to watch during the Los Angeles qualifier in June of 2016. She became the first woman to make it up a 14-and-a-half-foot Warped Wall, coming in second place overall — and she did it while wearing a custom Wonder Woman costume.
Jessie competed in ANW for the first time in 2013, appearing on season five of the show dressed in a chicken costume. Her career nearly came to an end when she suffered a devastating knee injury before season six, tearing her TLC, ACL, and meniscus. Instead of being dissuaded by the injury, Jessie credits it with her future success. With her knee out of commission, Jessie was unable to use her previous training methods of parkour, martial arts, and gymnastics. She found rock climbing and focus on building her upper body and grip strength. "I need a goal. I need something to focus on, put my physical energy into," Jessie told USA Today in an interview. "Without that knee injury, I never would have changed focus."
While her knee injury gave her a second chance to come back stronger than before, so did her Team USA captain Drew Drechsel. Jessie had previously slipped on the first obstacle of stage one, a series of steps called the "Snake Run," when Drew gave up his place in stage two so that Jessie could have another shot. Jessie displayed amazing strength and skill, kicking some serious butt in stage two, and even in the face of blasting pyrotechnics and the cruel "Double Wedge" obstacle, she didn't seem to sweat. When she pressed the button and completed her run the crowd went wild.
You can watch her jaw-dropping performance here:
Jessie understands that her viral fame gives her a a public platform, and she's using it to chip away at preconceived notions of what women are capable of. "Recently I have gotten some face time which I have strived to use for breaking gender stereotypes, and becoming a positive female role model," Jessie writes on her website. "Being feminine shouldn't mean you can't be athletic, strong and confident. Healthy is attractive!"
Just try to watch Jessie's run and not get a little misty.