This Is The Moment 'La La Land' Lost The Oscar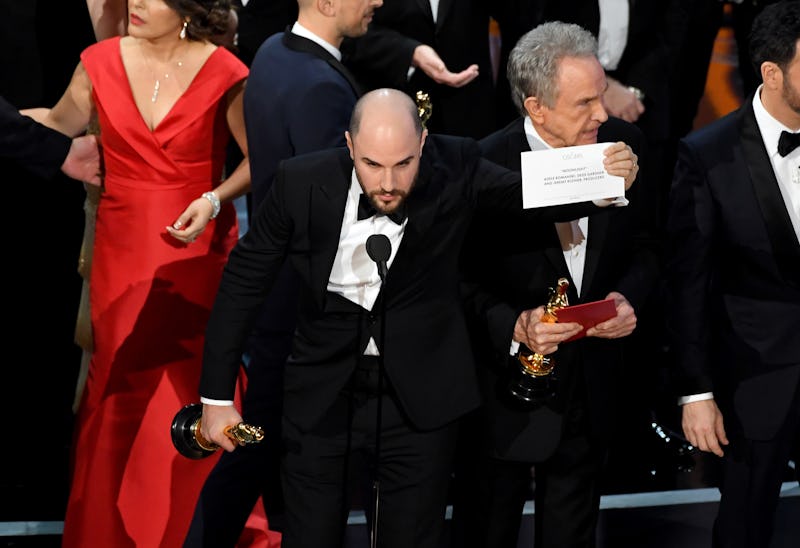 Kevin Winter/Getty Images Entertainment/Getty Images
Midway through giving their acceptance speech, those involved with La La Land realized they had lost the Oscar. An alleged mix-up with the envelopes led presenter Faye Dunaway to accidentally give the Oscar to La La Land, when Moonlight was the actual winner. Video of the Best Picture mistake captures the chaotic moment in all its confusing glory. First, after Beatty hesitated with the winner's card (he later claimed it said Emma Stone and that he was confused), he handed it to Dunaway who read La La Land as the winner.
So, naturally, the cast and crew of that movie trouped up to the stage and began giving their happy award-winning speeches. Only that's when things got crazy. Midway through the speech someone from La La Land realized that their name wasn't on the winner's card, but that Moonlight's was. "We lost by the way, but, you know," said a La La Land member, clearly miffed. I don't blame him. It sucks to think you won only to lose. They did graciously give Moonlight their award and the stage, but it was a confusing few seconds as the La La Land people started to leave the stage, Beatty tried to explain what happened, the Moonlight cast came up to give their speeches, and the audience tried to figure out what the hell was going on.
This is certainly a moment that will go down in Oscars history.