Twitter Is In TEARS Over The Incredible "Stand By Me" Choir Performance At The Royal Wedding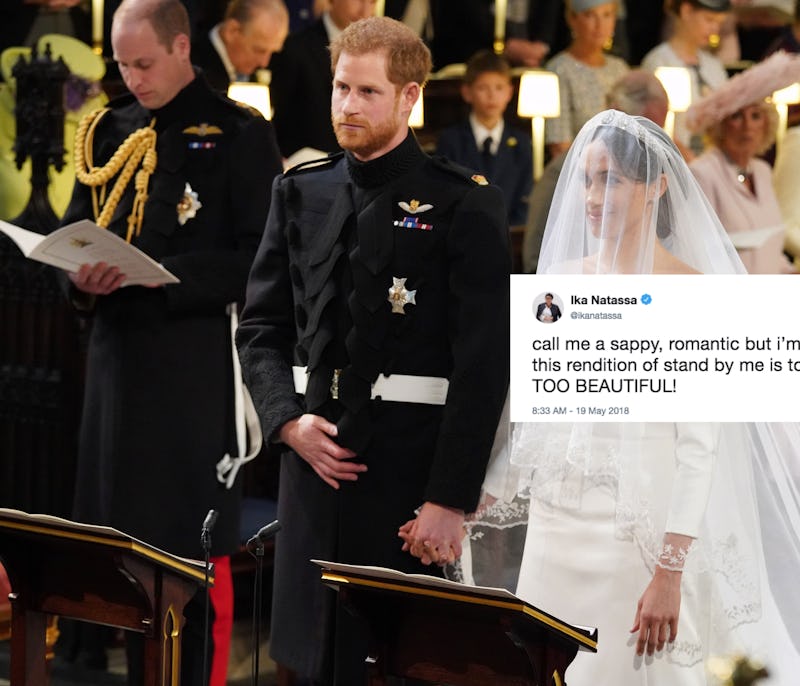 WPA Pool/Getty Images Entertainment/Getty Images; ikanatassa/Twitter
Everyone knew that Meghan Markle and Prince Harry's wedding was going to be modern, but how far could they go, given it's still an official state wedding? Meghan is American, Harry is unconventional, and together, they were going to make this wedding their own. And they did. Meghan and Harry's wedding was full of personal touches, and one of the most impactful was the choir they had sing during the ceremony. It was the "Stand By Me" choir at the royal wedding (video below) that had Twitter in tears (as if they weren't crying enough already).
The first step in a less formal, more "them" wedding for Harry and Meghan was having it at St. George's Chapel at Windsor Castle. Sure, it's a castle, but it's on the small end for a royal wedding — only 600 people can fit inside. Westminster Abbey, where Harry's older brother, William, the Duke of Cambridge, got married in 2011, was much bigger. Also, Windsor Castle is about an hour outside of London, so it's a little quieter, simpler. Less hubbub.
There were other touches, too — Meghan walked herself down the aisle at first, before Prince Charles, Duke of Cornwall, walked her the rest of the way, and she didn't add that "obey" line into her vows — the one both Princess Diana and William's wife, Catherine, Duchess of Cambridge, opted out of, too. And they had Pastor Michael Curry give a fiery sermon about love. And Karen Gibson and The Kingdom Choir sang "Stand By Me" by Ben E. King, and no one could handle it.
It Definitely Inspired Tears
Stock in tissue companies just went up.
Many Recognized The Significance Of Even Having A Choir
Meghan is definitely here to shake things up.
No One Could Deny It Was Beautiful
If you didn't think so, you weren't paying attention.
And There Was At Least One Sister Act Reference
Children of the 1990s, unite.
Viewers Knew That Choir Was All Meghan
She got her say, and that was important.
Later, when Harry and Meghan were leaving St. George's Chapel, the choir sang "Amen/This Little Light Of Mine," and it was a very lovely way to end the ceremony. The two shared a kiss, which, let's be real, everyone was waiting for, and then they got off into their carriage to wave to the public. And now, it's party time.
According to Sky News, the wedding will be followed immediately by a luncheon reception thrown by the Queen, and everyone who attended the wedding gets to attend that. Later, though, Prince Charles, Duke of Cornwall, aka Harry's father, will throw an evening reception for 250 of Harry and Meghan's closest friends and family, starting at 7 p.m. at Frogmore House. There will be dinner and dancing, and, according to TMZ, a performance by Sir Elton John. This is important because Sir Elton was very close to Harry's late mother, Diana, even performing at her 1997 funeral. It's nice that he can be there for Harry on a day where his mother cannot.
Looking back, Harry and Meghan's wedding was the perfect combination of modern and traditional. They had the old staples — the venue, the entrances, the classic gown — but they were able to bring their own feeling to it. Between the choir and the American clergy and lack of foreign dignitaries at the wedding, it's clear that Harry and Meghan, the new Duke and Duchess of Sussex are royals for a new, modern century. They're going to do things their way, one event at a time.