Here's Why Everyone Is OBSESSED With Tiffany Haddish's NYFCC Acceptance Speech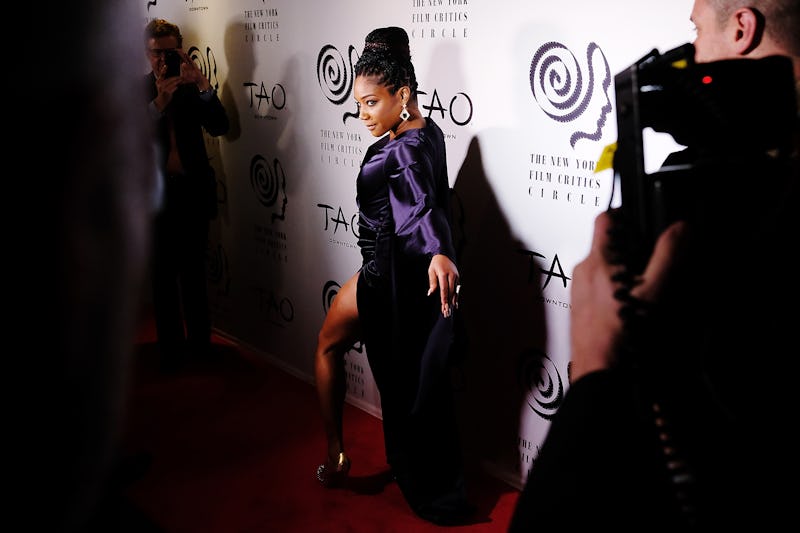 Nicholas Hunt/Getty Images Entertainment/Getty Images
At the New York Film Critics' Circle Dinner on Wednesday, Jan. 3, Tiffany Haddish accepted an award for Best Supporting Actress for her role in Girls Trip (screenplay co-writer: Tracy Oliver). Her acceptance speech lasted 18 minutes, and people are obsessed with it. If you missed the boat on this viral moment and need to know why Tiffany Haddish's NYFCC acceptance speech has set the internet on fire, it's for one simple reason: In a word, it's her. She was authentically, candidly, hilariously her, and, for 18 rapturous minutes that you can watch on BuzzFeed film critic Allison Willmore's Facebook, Haddish awed New York's top film writers and critics alike. Haddish touched on everything, from God to filming to presenter Michael B. Jordan, whom she could not get enough of. Just like we couldn't get enough of her.
To anyone else, a nearly 20-minute-long acceptance speech for anything would be unheard of, Haddish took her moment to shine and ran with it. And why shouldn't she? She earned that award, and she knows it. Plus, as some film critics suspect, the actor could be launching a personal For Your Consideration campaign to Academy Award voters. Girls Trip was snubbed by the 2018 Golden Globes — and co-star Jada Pinkett Smith let the world know how she felt about that — but with Oscar voting coming up, grabbing a stuffy awards dinner and running away with it would be the perfect, most authentically Haddish way to announce herself as not just a candidate, but a contender.
She spoke of God, female friendships, happiness, prayer, the foster system, therapy, and more, all with her signature foul-mouthed flair. She offered insight into being a woman of color in the industry, but also what it's like to be Tiffany Haddish in general: grateful for opportunity and proud of her talents. "I'm super-sensitive," Haddish said, "I don't mean to be so sensitive, but that's just who I am! And I'm not afraid to admit it." Even so, she admitted, she was prepared for people at the dinner to "talk sh*t" about her. But that was okay, the comedian said, adding:
"You know why it's okay? Because you care enough to say something. If you didn't say nothing, then you didn't care. So if you said something, thank you. I don't care if it's positive or negative. I appreciate you. I'm glad you see me. Cause there were so many years nobody saw me. You know when you're a little kid going through the system, you wonder, 'Does anyone even know I'm alive?' And to be this example to youth. There are so many people like me that you guys have no clue about. But they coming, 'cause I kicked the f*cking door open."
The earnestness of Haddish's speech captivated the room. What could easily have been a gathering of film snobs and formalities melted into a relaxed, comfortable, and honest setting as the actor spoke of her life, her career, and her desire to begin a family with Michael B. Jordan. In short, her speech stunned the audience.
One of the highlights of the evening, though, was when director Paul Thomas Anderson asked the person accepting an award on his behalf to give his number to Haddish, because he wanted to jump to the front of the line of people waiting to work with her. What did Haddish do? Accept, and then read his personal phone number out to the room.
The comedian and actor "owned the room," making the Critics' Circle alternately laugh and cry with every personal anecdote. She joked about not knowing the majority of critics present even existed, which is an incredible way to roast an audience that just gave you an award.
"I'm thankful for you critics. I'm learning a lot about you guys," said Haddish to room made up entirely of people who do that for a living. "All the critics I've ever known before this was Siskel and Ebert. And then when they passed, I was like, Oh, well. Get it together, y'all. You should have a TV show so we know who you guys are."
So it's no surprise that, immediately after Haddish's speech, NYFCC members took to Twitter to praise every single aspect of it. When was the last time someone spoke for nearly 20 straight minutes, unexpected, and everyone present agreed it was meaningful, historic, sheer bliss to witness? Has that ever happened?
Though Haddish is unique, her relentless honesty makes her deeply relatable too. It's safe to say her acceptance speech solidified her permanent icon status, for more reasons than one. Every account of the comedian's speech references how she broke NYFCC tradition just by delivering it — not just for its length or personal nature, but because she drank and made passes at Michael B. Jordan throughout the normally dry, self-congratulatory affair. Only Haddish could make a joke about how her efforts to "produce or create" might extend to her personal life. "I'm not trying to get pregnant yet, Michael, but I'm working on it. B. Jordan…"
She also made it difficult for industry veterans like Edward Norton and Willem Dafoe to give their acceptance speeches later in the evening, which is an amazing detail. Basically, her entire night was neatly summed up by film critic Tomris Laffly: "I'll say this much: if one day Tiffany Haddish accepts an Oscar (and that day will come), the orchestra won't be able to play her off. No one can play her off." #SheReady.