This Video Of Trump Calling Apple's CEO The Wrong Name Is Hard To Forget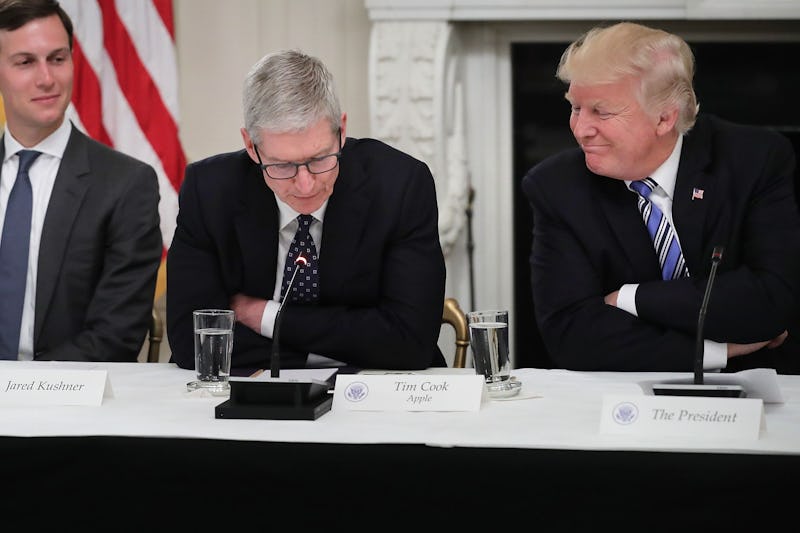 Chip Somodevilla/Getty Images News/Getty Images
On Wednesday, during an American Workforce Police Advisory Board meeting, reporters were able to capture video of Trump calling Tim Cook "Tim Apple" accidentally. Cook, who is the famous CEO of the even more famous company Apple, didn't seem to even bat an eye. Still, it's a pretty outlandish video, especially considering Cook's name is written on a card in front of his seat for the audience to see.
The Verge's Sean O'Kane was one such reporter who captured the scenario. O'Kane also offered up a transcription of Trump's monologue up until that moment, which reads:
We're going to be opening up the labor forces because we have to. We have so many companies coming in. People like Tim — you're expanding all over and doing things that I really wanted you to do right from the beginning. I used to say, "Tim, you gotta start doing it here," and you really have you've really put a big investment in our country. We really appreciate it very much, Tim Apple.
To her credit, Ivanka Trump also kept a completely straight face immediately following her father's mistake. But this moment wasn't the first time Trump has accidentally messed up an individual's name.
According to Business Insider, Trump messed up the name of Lockheed Martin CEO Marillyn Hewson last March, calling her Marillyn Lockheed instead. In an introduction, Trump said, "We have some of our great business leaders, and leaders period right behind me." Per Business Insider, after asking Hewson to say a few words, Trump added, "I may ask Marillyn Lockheed, the leading women's business executive in this country, according to many."
In that instance, as in the instance with Cook, Trump took the first name of a CEO then gave that person their last name based off of the name of the company they run.
According to the Huffington Post, Trump has forgotten, altered, or completely butchered the pronunciation of the following names: John Bolton, Paul Ryan, Benjamin Netanyahu, Kevin McCarthy, Rick Perry, and more.
POTUS has also confused the names of towns in the past, calling the city of Paradise, California by the somewhat-similar-but-still-totally-different-name of "Pleasure," instead. Per the Guardian, Trump visited Paradise in November after the area was devastated by wildfires, saying at one point, "Pleasure, what a name."
Of course, the collection of names that Trump has mispronounced seems to pale in comparison to the amount of words he's mispronounced over the years. And some of them are pretty surprising. For example, Trump mispronounced the word "Nazis" during a Holocaust remembrance service in April 2017 in front of an audience of Jewish people, pronouncing it "Nazzies" instead.
Other words and phrases that Trump has mispronounced or mis-phrased include the following: Nevada, Tanzania, "two Corinthians" (instead of Second Corinthians), "predication" (which just doesn't exist), industry, and China, to name some of the more popular instances.
To his credit, POTUS seems to take it all in stride.