You Have To Hear 'This Is Us' Star Chrissy Metz Singing Before She Was Famous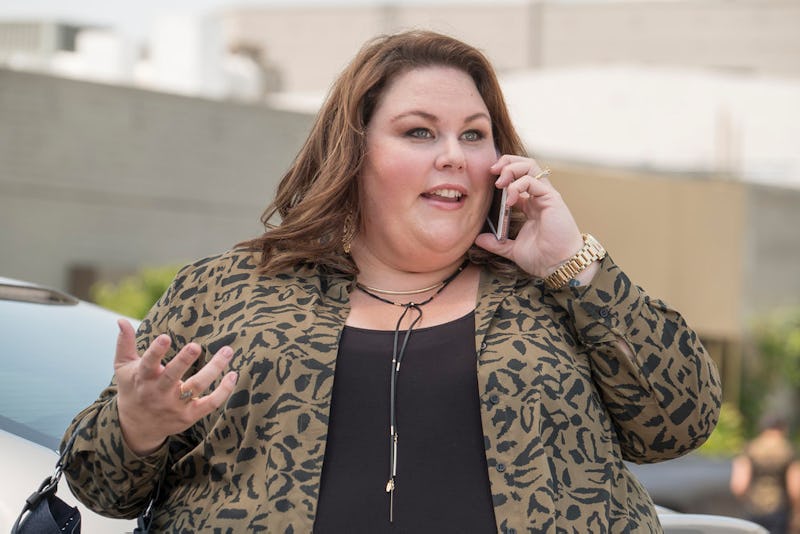 Ron Batzdorff/NBC
The Season 2 premiere of This Is Us gave audiences their first real glimpse of Kate Pearson following in her mother's musical footsteps, and left them dying to see more of actress Chrissy Metz singing in real life. After a momentary lapse of confidence, Kate marched into her very first audition, gave it her all, and stood up for herself even when she was cut short. The self-respect she exuded was something fierce to behold, and, though her singing skills may not have been up to the sky-high standards at her first audition, it's clear she's onto something special.
After just those few bars of Sinead O'Connor's "Nothing Compares 2U," fans of the hit drama were hooked. Luckily for us, Metz has showcased her talent in a band of her own — Chrissy and the Vapors. The group only has one video on YouTube, and is otherwise pretty difficult to find, with no Facebook page and no music on Spotify. But this little bit goes a long way.
The video's black and white aesthetic, Metz' unique tone, the weird and wonderful cinematography — it works in a big way. It's clear that Kate's turn as a musician isn't the first time Metz has waded into these waters.
In an interview with Glamour last year, she revealed that part of the reason she was able to break into a Hollywood career was due to her singing skills. Metz had driven her sister to an open-call model and talent search in their hometown of Gainesville, Florida, when a woman asked Metz if she sang or acted.
"I sang Christina Aguilera's 'Beautiful' — Lord knows why I chose that big ol' thing," Metz told Glamour's Alex Morris. "The following day she called my sister for a modeling contract and told me she'd introduce me to managers and agents in Los Angeles."
And good thing she did. It's almost impossible to imagine any other actor playing Kate Pearson, and the musical plot line is allowing Metz to flourish using all her talents.
"I think she's got a little soul in her. She likes some throwback, Motown stuff," she told TV Guide's Malcolm Venable of Kate's musical preferences. "I know for me, I love every genre of music. I'm excited to see where they're going to go with it."
Metz has been working on her voice for a long time, with videos from more than five years ago existing online from when she was working with a vocal coaching studio in Los Angeles.
The studio — Dot's Voice Studios — has several videos of her on its YouTube channel and even has a full-length video documenting Metz' singing journey on its site. Talk about a success story to brag about.
In the premiere episode, Kate left her big audition a little put out, but not deterred. She was rejected because her raw talent wasn't good enough, she said, and not because of her weight or appearance, which was OK with her. She's down but not out, and she's determined to keep working. This plot line could take Kate's character a long way this season — and give her something else to strive for besides weight loss. The show has previously received criticism from some viewers who wanted Kate's storylines to expand beyond her dealing with her weight. Metz confirmed to Bustle's Allyson Koerner earlier this year that her weight loss journey wouldn't stay the main focus. "The weight and weight storyline will be secondary," Metz said. "But it's so important."
She also said she understood that frustration some viewers had toward her portrayal, but seemed confident in the show's plan to explore other facets of Kate's life. "It's a part of the story, but it's not all that she is, as I am a plus-size woman, but that's not all that I am," Metz said.
Much like Metz, who famously had 81 cents in her bank account when she landed the role on This Is Us, Kate isn't backing down after a rough start. And with years of practice and a solid voice, it's clear that Kate and her musical future are in good hands with Metz.