These Videos Of North Korea's Cheerleaders Will Have You Totally Mesmerized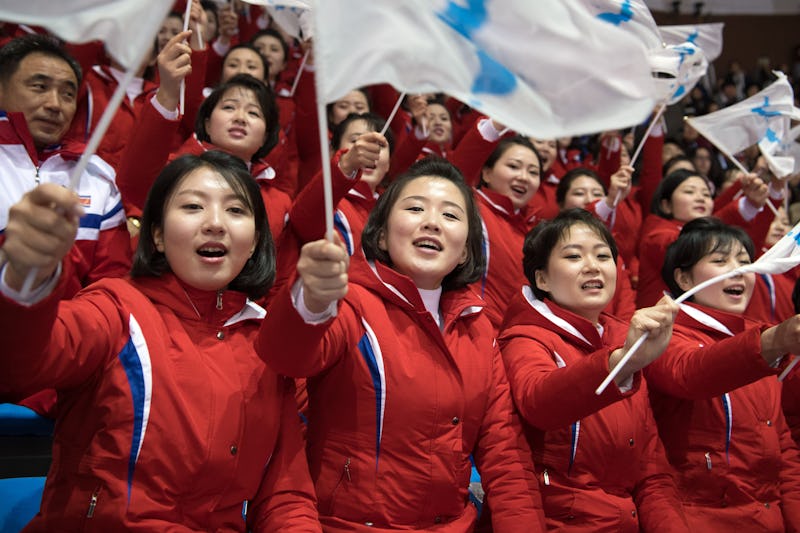 Carl Court/Getty Images News/Getty Images
There are countless stories and narratives unfolding at the 2018 Winter Olympics in PyeongChang. But perhaps the most newsworthy one is the relationship between host country South Korea and North Korea, amid the two countries forming a single, unified Korean team. Perhaps nothing about North Korea's presence at the Olympics is grabbing as much viral attention right now, however, as these videos of North Korean Olympic cheerleaders, performing tightly synchronized cheers and dances as Korea's unified hockey team took to the ice.
Facing an accomplished Switzerland team and a relatively short amount of time to actually practice as a unified team, Korea lost by a staggering final score of 8-0. Back in January, 12 North Korean players were added to South Korean squad to form a unified Korea team. This left the new team with perilously little time to practice as a unit, which could help explain the lopsided defeat. Under normal circumstances, even the most enthusiastic group of cheerleaders would have had trouble finding much to get excited about.
But being a cheerleader for one of the most oppressive governments on Earth is not normal circumstances, and that might help explain the relentless energy. All throughout the shellacking, the red-clad North Korean cheerleaders sat in rows overlooking the ice, and pulled out some impassioned and carefully coordinated chants.
This is probably a good time to remember the kinds of draconian and harrowing punishments that can be meted out by the North Korean government when performers miss their marks. It's also simply not something you typically see or hear during an Olympics broadcast, so you might want to check it out for yourself.
1. One Of The Wildest Things
The North Korean cheerleading section was rows deep.
2. Blood Sweat & Tears
Whether it was intentional or just happenstance, the cheerleaders ended up rocking out to South Korean pop band BTS.
3. One Of The Cheers
The enthusiasm of the cheering didn't seem to track very much with the results on the ice.
4. One Of The Stranger Moments
They even brought some prop work to their cheers.
5. Swaying In Unison
It's no secret that North Korea, which enforces rigid conformity and obedience among its citizenry under penalty of imprisonment, has a penchant for synchronized performances.
6. They're So In Sync
North Korea also holds one of the biggest, most intricately synchronized events in the world, the so-called Arirang Mass Games.
7. Army Of Beauties
The North Korean cheerleading squad's nickname is the "Army of Beauties."
8. At The Opening Ceremony
It's worth noting that the experience of being one of these cheerleaders is, by all accounts, fraught with risks of reprisal. According to The Guardian, the team is forbidden from talking and interacting with other Olympics attendees, and the potential price for violating those rules could be steep. Back in 2005, 21 members of the cheerleading team were reportedly sent to labor camps for discussing their experiences in South Korea after returning to the north.
In other words, as dazzling as their moves are, it's important to remember that they're effectively performing under duress, with some very heavy potential penalties if they deviate from the plan. That's the same state of affairs at the aforementioned mass games, in which tens of thousands of North Koreans create a series of shifting, changing murals through strictly planned and synchronized movement.
In short, given the harrowing political realities within North Korea, it's hard to know exactly how to feel when you see their cheerleaders dancing and singing. But this much is clear: they're definitely grabbing a lot of eyeballs in PyeongChang.