How This Russian Billionaire Just Got Mixed Up In The Stormy Daniels Scandal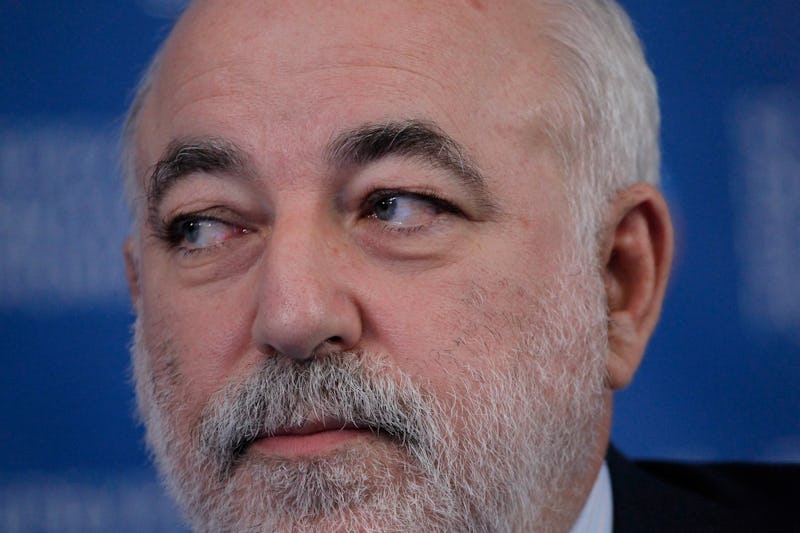 Epsilon/Getty Images News/Getty Images
On Tuesday, another majorly wealthy person's name was launched into the thick of the ongoing scandals surrounding President Trump's lawyer, Michael Cohen. The person in question is a businessman whose name is Viktor Vekselberg, and his net worth is nothing to bat an eye at.
According to Bloomberg, Vekselberg is a certified billionaire. As of Tuesday, he was worth approximately $15.5 billion, though according to the financial publication's charts, that number shifts from day to day. Vekselberg is 61 years old, and also reportedly "self-made." Bloomberg reports that his greatest asset is cash.
On Tuesday, Stormy Daniels' lawyer Michael Avenatti released a memo containing a litany of financial allegations against Cohen, President Trump's longtime lawyer. Daniels is currently suing to extricate herself from a nondisclosure agreement which prohibited her from publicly discussing an alleged affair she had with Trump back in 2006. Trump denies that the affair took place. Additionally, Daniels is suing Cohen for defamation, claiming that he called her a liar.
Shortly after Avenatti published the memo on Tuesday, The Daily Beast confirmed that Cohen received $500,000 from a company tied to Vekselberg. Cohen has not yet responded to the report. However, Richard Owens, a lawyer representing the company, Columbus Nova LLC, tells Bustle in a statement that Vekselberg did not use the company to direct funds to Cohen.
Owens says that Columbus Nova hired Cohen for some consulting work. "Neither Viktor Vekselberg nor anyone else other than Columbus Nova's owners, were involved in the decision to hire Cohen or provided funding for his engagement," Owens says.
The memo Avenatti released is written on his law firm's letterhead, and according to his tweets, appears to be authored by him and his associates. Where the information came from is yet unknown.
In the memo, Avenatti accused Cohen of receiving hundreds of thousands of dollars from the company, which is allegedly linked to Vekselberg, who is Russian, and who is understood to be aligned with Putin, according to The Daily Beast. "Vekselberg and his cousin Mr. Andrew Intrater routed eight payments to Mr. Cohen through a company named Columbus Nova LLC beginning in January 2017 and continuing until at least August 2017," Cohen's memo reads.
The Daily Beast reported that a shell company started by Cohen did received large sums of money from a company controlled by Vekselberg, but the rest of the memo's contents have not yet been verified by an outside source. Special counsel Robert Mueller is looking into the payments, CNN reported shortly after the memo was released.
In a tweet sent just before he shared the memo, Avenatti suggested that the money sent to Cohen's shell company could potentially have been a reimbursement for a $130,000 payment Cohen sent Daniels shortly beforehand. That sum was part of Daniels' NDA agreement with Trump. Cohen admit to facilitating the payment to Daniels, and he has long-maintained that he paid Daniels out of his own pocket. Avenatti's suggestion has not been verified.
Separately, Trump recently tweeted that Cohen was reimbursed for the payment, breaking what had been a long-held silence on the topic. "Mr. Cohen, an attorney, received a monthly retainer, not from the campaign and having nothing to do with the campaign, from which he entered into, through reimbursement, a private contract between two parties, known as a non-disclosure agreement, or NDA," Trump tweeted on May 3.
All of this is to say that the web connecting Cohen, Mueller, Daniels, and Trump is increasingly complex. Whether the allegations and reports released Tuesday night will have immediate implications for Trump is not currently clear. Trump has not yet publicly commented on the reports, or the memo, though he has long maintained that he and Cohen enjoy a close, friendly relationship.
"From what I see, he did absolutely nothing wrong," Trump said on a Fox and Friends episode on April 26. "There were no campaign funds going into this, which would have been a problem."