Vincent Zhou Ice Skated To This '00s Movie Soundtrack & You'll Have So Many Feelings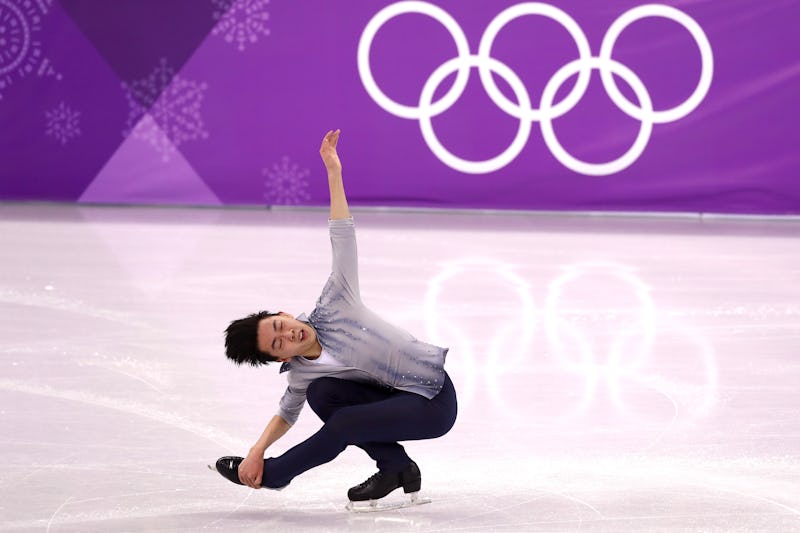 Ronald Martinez/Getty Images Sport/Getty Images
A new star from the American figure skating team has emerged: 17-year-old Vincent Zhou. His impressive Olympic short program routine has seen a ton of praise for his quad Lutz feat. Another part of his performance might have left you questioning: what is Vincent Zhou's ice skating routine song? Well, yet again, he's bringing back a piece of your childhood. During his performance on Saturday in PyeongChang (or Friday evening in the U.S.), Zhou skated to tunes from the film Moulin Rouge. Fans on Twitter were totally here for it.
As you may recall, during his short program routine, Zhou skated along to a beautiful cover of Snow Patrol's "Chasing Cars" performed by Cinematic Pop, as he posted on Instagram. The rendition is sure to make you reminiscent of the 2007 original, which was a major hit. It was especially lovely and striking to hear the familiar tune during the first Olympics that has allowed figure skaters to perform to music with lyrics, according to the New York Times. And Zhou's throwback song choice was one way to express his music sensibilities.
Zhou has eclectic taste when it comes to music. According to Entertainment Weekly, he's a big fan of rapper Big Gigantic and singer Allie X. He's also mentioned on Twitter that he's into some throwback jams from time to time, which isn't surprising considering his short program song. The athlete said that he was currently listening to "Stop and Stare" by One Republic, a pop/rock band similar to Snow Patrol.
In terms of the kind of music you hear during figure skating routines, there's definitely an art to it. Before the rule change, which took place in 2014 following the Winter Olympics in Sochi, as NYT states, skaters largely performed to classical pieces, like ones from the ever-favorite opera Carmen. However, after this change, skaters are much more free to incorporate lyrical pieces into their routines. And, yes, that obviously includes some of the most popular hits that have been included on your playlists, like the performance to "Despacito" from South Korean pairs team Yura Min and Alexander Gamelin.
American figure skater Adam Rippon, who has already won viewers' hearts during the 2018 Olympics, explained a little about what goes into the figure skating song choices. His explanation offers some insight into why Zhou might have picked Moulin Rouge tracks and "Chasing Cars" for his own performance. Basically, it comes down to how much a skater forms a connection with their song that Rippon related, in a Vox interview:
"I found throughout my whole entire career that if you see somebody doing something that they really love to do, that really translates so much that even if you're not a big fan of the music you just enjoy that person enjoying what they're dong."
So, it makes total sense for Zhou to have picked songs that spoke to him, as that's something that could aid the artistry of his routine. He wouldn't have picked the Moulin Rouge soundtrack if it wasn't something that he could skate his heart out to.
In case you missed Zhou's short program routine earlier in the week, it wasn't just exciting for his choice of song. During the performance, the athlete pulled off a feat that hadn't been done before at the Olympics in its entire history. As previously mentioned, he pulled off an astounding quad lutz, one of the hardest moves in all of figure skating. His accomplishment marked the first time that the move had been completed, cleanly, at the Winter Olympics. The move looked incredibly difficult, but the 17-year-old pulled it off with ease.
Zhou's short program routine nabbed him 84.53 points (a season's best, according to the New York Daily News) and landed him 12th place overall. His free skate landed him in sixth place, but it's likely his spot-on music choices that landed him in fans' hearts.