Viola Davis Wants Trump Out Of This Conversation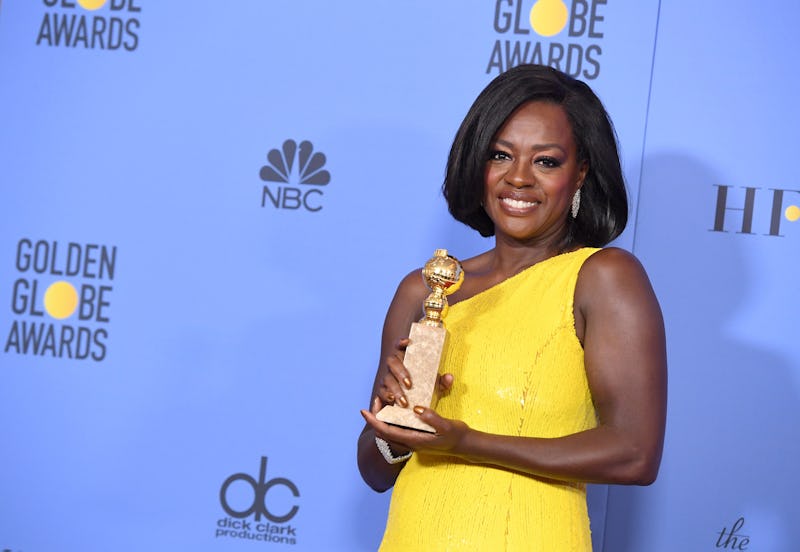 Kevin Winter/Getty Images Entertainment/Getty Images
Backstage in Los Angeles at the 74th annual Golden Globes Awards Viola Davis — who had just won the award for Best Performance by an Actress in a Supporting Role in any Motion Picture — is offering some serious realness. When asked how Americans can help uphold the ideas and values of the American dream in the wake of Trump's upcoming presidency, Davis took a serious tone.
She said: "I will remove Trump from the equation, because I feel that it's bigger than him. It is our responsibility to uphold what it is to be an American and what America is about, and what it means to pursue the American dream," she says. "America in and of itself has been an affirmation, but we've fallen short a lot. There's no way we can have anyone in office who is not an extension of our own belief system. What does that say about us? If you answer that question, it says it all. I know it's very ambiguous."
An ambiguous and vague statement, indeed. However, perhaps she's on to something in regards to taking Trump out of the conversation. There has been plenty of hate mail directed at the president-elect in the recent months — for his policies, his tweets, and his opinion on various issues facing Americans.
But Davis poses an interesting question: What are we doing as individuals to create a better America for ourselves? At the end of the day, we can't change the fact that Trump is going to be our president. (We can't change this fact quickly or easily, at least.) So perhaps instead of moaning about his policies, we should take a hard look at ourselves. How did Trump get into office in the first place? And what can we do to create a better future for ourselves and our loved ones? Perhaps we should look inwards, and start to craft the America we want as best we can, regardless of who will be our Commander-in-Chief.
It may sound like a tall order, but Davis poses valid questions, and offers an inspiring sentiment — one that is too often forgotten.