A 93-Year-Old Man Was Elected Mayor In New Jersey & The Internet Loves Him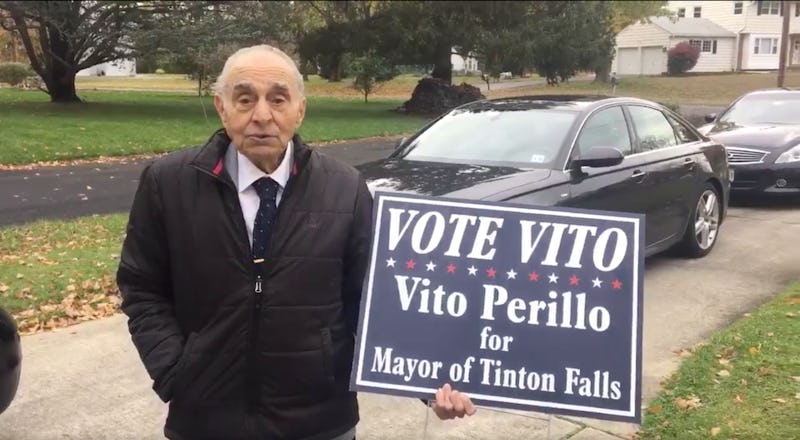 NBC New York
There were a lot of unlikely winners to come out of Election Day 2017, and perhaps the most unexpected of all is World War II veteran Vito Perillo. The 93-year-old beat incumbent New Jersey Mayor Gerald Turning in the town of Tinton Falls in a huge upset. And while the members of his town were clearly big fans of his, people on the internet clearly are, too.
Perillo decided to run because he was angry about the borough owing $1.1 million in settlements after a whistleblower scandal involving the police department. "I wanted to run because I was upset with some of the things this administration is doing," Perillo told the Asbury Park Press. Perillo's opponent had served on the police force for 30 years, including as the the borough police chief from 2004 to 2011, and was the borough administrator from 2010 to 2014. He became mayor in 2014, when he ran unopposed.
"I didn't think I had a chance," Perillo told NJ.com. "I was told by a lot of people that [Turning] had a lot of connections, he was well-known, well-liked, and all this good stuff. I had a tough road, but I thought I would give it a go." So he went door-to-door to meet with his constituents. He walked so many miles that he wore through two pairs of shoes. But, he was encouraged by the support he was receiving.
Perillo, whose slogan was "a full-time fiscally prudent mayor," ran on the platform of transparency and lowering the municipal tax rate. He ended up beating Turning by 303 votes.
"Tonight we took the first step in creating a new and inclusive form of government in Tinton Falls," he wrote on Facebook after his big win. "Tonight transparency, accountability, and community empowerment won out, and I can't wait to get started working as hard as I can for all of the great residents of this town!"
While Perillo might be surprised he won, his family isn't. "I never counted him out," Perillo's grandson, Mike Perillo-Gentile, told NJ.com. "He's always been a fighter and a winner. I'm not surprised that he won, and I'm very excited." He added, "When he wants to do something, he does it."
Perillo's grandaughter recalled to NJ.com her grandfather doing everything he could to provide for the family while working as an engineer. "He's fulfilled a dream he always had," she said.
And Perillo's family members aren't the only ones excited about his big win. The mayor elect already has a growing fanbase online. A lot of people were inspired by his story, especially the fact that he wants to stand up to a corrupt police department. "It came out of my pocket and the residents of Tinton Falls and I thought, 'that's unfair,'" Perillo told NJ.com of the million-dollar settlement with the police department.
They Like That He's "Pissed Off"
"Thank You For Your Service"
"This Story Has Inspired Me"
"Tinton Falls Made The Right Choice"
"A True Patriot"
"Way To Go NJ"
"93 Years Young"
"It's Never Too Late!"
Perillo reminds everyone that anything at any age is possible. However, at 93, he's still getting used to his newfound fame. The Asbury Park Press reported that he woke up to a barrage of congratulatory phone calls and visitors the morning after the election. "I think it's because of my age, at 93. And the fact that I'm a World War II veteran," Perillo said of all the attention he's been getting. "But I'd like to get past all that."
According to Lori Buckelew, spokesperson for the New Jersey League of Municipalities, Perillo might be the oldest mayor in New Jersey, possibly the country. "We think he's the oldest mayor in New Jersey," she told NJ.com. "Several years ago the mayor of Cliffside Park (the late) Jerry Calabrese was 90."
But Perillo isn't worried about these distinctions. The WW II Victory Medal winner has just one goal in mind: serving the residents of Tinton Falls. In a heartwarming video for NBC New York, Perillo said he wants to "bring everybody together." He thanks the constituents who voted for him, and "even the ones who didn't." Perillo told NJ.com he hopes he'll "do well by" them. "I don't want to let them down." So far, he hasn't disappointed one bit.