Vivica Fox's 'Wrong Friend' Tackles Some Seriously Timely Issues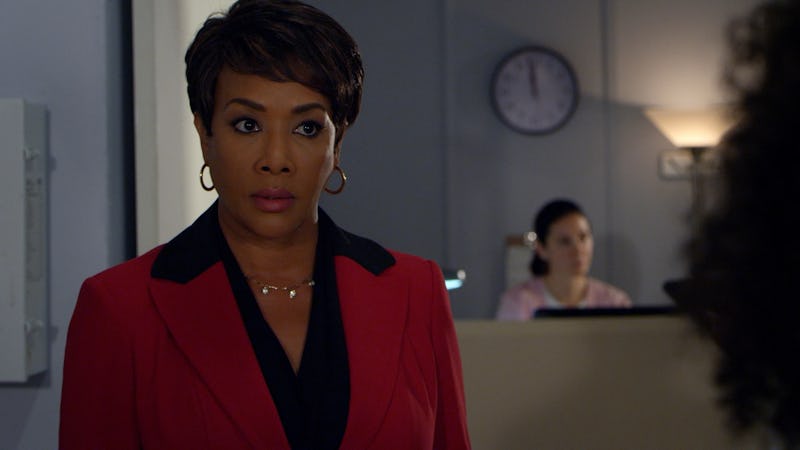 Lifetime
Major spoilers ahead for Lifetime's The Wrong Friend. The Wrong Friend is the latest installment in the Wrong franchise, which documents unrelated fictional stories about what happens when good people meet the wrong person. Lest you assume it's "just another Lifetime movie," it's worth noting that Vivica A. Fox's latest Lifetime movie tackles timely issues like victim blaming, slut-shaming, classism, consent, and rape that affect many women's lives off-screen. In an interview with Bustle ahead of the premiere, Fox says the film is a cautionary tale about what can happen when a person takes advantage of a woman's trust.
Fox's character Principal Atkins actually has a minor role in the overall narrative, but her initial actions are a catalyst for what happens to Riley Cramer (Li Eubanks). She's privy to past allegations of rape against wealthy teen Chris Andrews (Jared Scott) prior to him enrolling at her school but believes he deserves a "second chance." Later, Chris invites Riley to a house party, spikes her drink with drugs, and sexually assaults her after she passes out. Riley tells authorities about the incident, but they simply suggest she avoid legal action because of the Andrews families social status. The story of Chris's victims are reminiscent of so many other women's experiences.
For example, this CBS News report about Megan Rondini, a University of Alabama student who was allegedly raped and later died by suicide. Her parents claimed he escaped prosecution because of his powerful family and that their daughter suffered from extreme depression even after she changed schools, according to BuzzFeed News. And, there's also the story of 15-year-old Audrie Pott, who also committed suicide after she was allegedly sexually assaulted by teenage boys at party and photos of her body were distributed on social media. The boys were not found responsible for contributing to her death and were never convicted, per The Mercury News. Of course, there are many more stories that mirror this movie's plot.
Fox revealed to Bustle that the concept for The Wrong Friend was brought to her by director David DeCoteau. Obviously, she was on board and, as a producer, played a key role in developing the film's script. "When I'm there, I'm always giving notes on the scenes and things like that. I think that's why David and I work so wonderful together is that he trusts my filmmaking skills and myself as an actress…we're always taking the scripts and making them better. And, I'm thankful for that."
Fox also credits her partnership with Lifetime in the Wrong franchise to her great working relationship with DeCoteau. After collaborating five years ago, he suggested that they continue to deliver "Wrong" movies and produce them together. Her long-term relationship with Lifetime spans back to her "1-800-Missing" series back in 2003 and she says the network has been incredibly supportive of her projects.
Happily for fans, the media mogul confirms that there will be additional movies in this franchise along with other creative endeavors in the next chapter of her career. "The main goal is that in the future I will definitely want to keep doing not only movies for Lifetime but other movies. I feel like this will propel me into the next chapter of my life as a director."
Fox recently shared the secrets of her success in her new memoir Everyday I'm Hustling. She's known for being very candid about her ups and downs in the acting industry and wants to pass on words of wisdom to those who hope to follow a similar path. Fox says:
"I understand how hard it is to achieve success but more importantly how hard it is to maintain success and how to gracefully go to new chapters. So, I'm grateful for this new chapter that is happening for me as a producer."
And, it looks like she is well on her way to dominating TV and talking about real-life issues affecting people outside of her Lifetime movies. She's the host of Face the Truth, is a panel-style talk show where guests come on to talk about their personal issues. She says the panelists offer a "prescription to their problems" and helps them lead a better life. The Wrong Friend made it clear that she's willing to tackle some serious topics, so Face the Truth will surely follow suit as it addresses problems.
It's inspiring and powerful to see Vivica use her influence and longevity in Hollywood to tackle important issues that affect women from all walks of life. The Wrong Friend takes issues that are making headlines everyday through the story of a girl who fights for her own justice as well as victims who can no longer tell their stories. And Vivica is on a path to produce and direct more films, so it's only a matter of time before we get more captivating dramas about captivating women.