Most Voters In Republican Swing Districts Support Planned Parenthood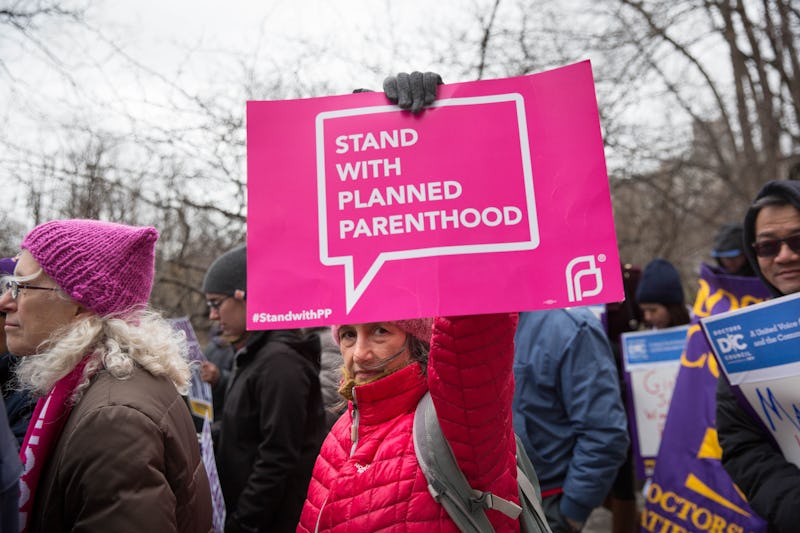 Kevin Hagen/Getty Images News/Getty Images
A recent poll conducted Public Policy Polling on behalf of Planned Parenthood revealed that a majority of voters in Republican-held swing districts do not support defunding Planned Parenthood or dismantling Obamacare. The poll, which surveyed voters in potential swing districts (all of which are currently represented by Republican members of Congress), is particularly enlightening ahead of the 2018 midterm elections and could potentially influence Republican legislators' approaches to and votes on the revised American Health Care Act (AHCA), among other policies.
The poll, the results of which were first released to The Hill, surveyed voters in 13 congressional districts presently represented by Republicans. These districts were chosen because they are considered vulnerable swing districts that could potentially elect Democrats in the 2018 elections. They are characterized as swing districts because, while they are represented by Republican members of Congress, a majority of voters in each of these districts voted for Hillary Clinton for president over Donald Trump in the 2016 presidential elections.
Thus, the purpose of the poll consisted of seeing how voters in these districts felt about funding for Planned Parenthood and Obamacare, as well as to determine how much of an influence these factors could have on who they vote for in the 2018 midterm elections.
Indeed, the poll resulted in some striking findings. As reported in The Hill, It revealed that 59 percent of voters in the 13 districts described above oppose defunding Planned Parenthood, while only 35 percent support it. Meanwhile, 53 percent of voters in these districts support Obamacare, and 36 oppose it. And only 31 percent of voters support the AHCA, while 55 percent oppose it.
Evidently, voters in these swing districts seem to have fairly strong opinions on funding for Planned Parenthood and the continuation of Obamacare, both of which conflict with their Republican representatives' stances. Additionally, the poll also indicated that voter beliefs about Planned Parenthood could directly affect how they choose to vote in the 2018 midterm elections. For example, 54 percent of the voters surveyed said they are less likely to vote for their GOP congressman if they vote to defund Planned Parenthood, while only 30 percent who said they would be more likely to support them.
Thus, for Republicans, the potential upcoming vote on the revised AHCA, which includes provisions to defund Planned Parenthood, could strongly influence whether or not they are re-elected to their current Congressional seats, particularly in these swing districts. Public Policy Polling director Tom Jensen encapsulated this sentiment in a statement in The Hill, saying, "Voters in these districts like Planned Parenthood, they like the Affordable Care Act, and efforts to hurt those things will imperil the Republicans in these districts as they look toward reelection next year."
Planned Parenthood's Action Fund plans to capitalize on the results of this poll by airing televisions ads in six of the 13 swing districts in hopes of securing wins for Democrats in there.
Overall, it is clear that funding for Planned Parenthood and health care are issues that very much resonate with voters, particularly those in the swing districts. Republicans could do well to pay attention to the desires of their voters and very carefully consider how they will proceed with the American Health Care Act and/or plans to defund Planned Parenthood.