The Waffle House Hero Finally Heard From Trump & He Wasn't Super Impressed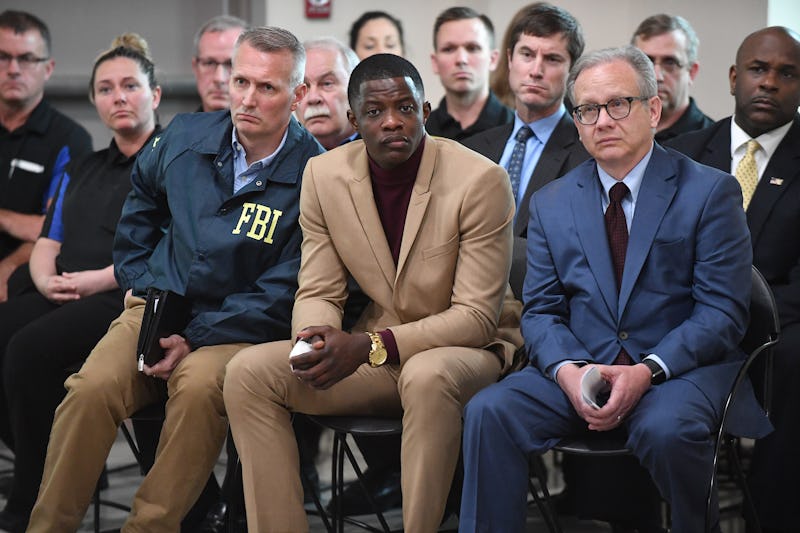 Jason Davis/Getty Images News/Getty Images
In a candid interview with TMZ on Wednesday, Waffle House hero James Shaw Jr. said Trump called him, but based on his description of the conversation, it wasn't as riveting as you might think. Shaw was referring to a phone call he received from the president on Monday in which he thanked him for his "heroic actions and quick thinking last month." Shaw admitted to TMZ, though, that the talk was somewhat "lackluster." Still, he said, he appreciated the gesture.
In April, Shaw confronted a shooter at a Waffle House in Antioch, Tennessee; the horrific incident claimed the lives of four people and injured two others, according to authorities. Ever since then, Shaw has been heralded as a hero by many in the country, including state lawmakers like Tennessee Rep. Jason Powell who called him "Tennessee's hero."
The president's call arrived 22 days later after the Waffle House shooting happened in April. Shaw told TMZ, "The conversation was a little lackluster, to be honest with you. I know he's very busy with what's going on in the world. And like I said, I did this for no recognition at all, so I do thank him for calling me out of his busy schedule."
Although Shaw said that the call was "brief and straight to-the-point," he said he was still glad that the president got in touch with him. The Waffle House survivor was previously called a "hero" by Vice President Mike Pence who tweeted, "Thanks, James Shaw Jr., for your courageous actions to save lives and your continued efforts to help others. You're an American hero!"
Here's the TMZ clip of Shaw describing his exchange with Trump.
While Shaw appeared charitable about what he described was a "brief" conversation with Trump, people on social media expressed criticism and incredulity at the timing of Trump's call. Some Twitter users took issue with the fact that the call took place more than 20 days after the shooting took place.
Shaw, on the other hand, has been enjoying praise and support from gun control activists, including young students who also call him a hero after the Waffle House incident. Recently, the official account for the anti-gun violence organization, March For Our Lives, tweeted a photo of Shaw alongside young survivors of the shocking Parkland, Florida, shooting. The Parkland shooting, which sparked anti-gun violence protests across the country, claimed the lives of 17 people, including students, in February.
In spite of saving lives, Shaw seems uninterested in collecting heaps of praise from others, including the president of the United States. He recently made that much clear on air. While speaking with anchor Van Jones, Shaw previously spoke about not hearing from Trump but added that he wasn't exactly bothered or worried.
"At this time, I haven't heard anything," Shaw told Jones before Monday's call. "But that's not to say he didn't try to contact me, or not." And although Jones tried to push the subject further by bringing up how Trump recently gave a "shoutout to Kanye [West]," Shaw said, "I know he has a busy agenda, a busy schedule. Maybe he just hasn't got around to me, maybe my time is coming. It's not for me to judge really what he does."
Shaw told Jones that it wasn't high praise or fame that he sought. "I did what I did, and I didn't really do it for recognition," he said. It's also something he made clear in an interview with The New York Times in April. When asked what compelled him to wrestle the gunman wielding a rifle according to the police, Shaw said, "I have a four-year-old daughter; I didn't even think about her. In the midst of it, I was just trying to save myself."