Why Cherry's Cop Show On 'GLOW' Sounds So Familiar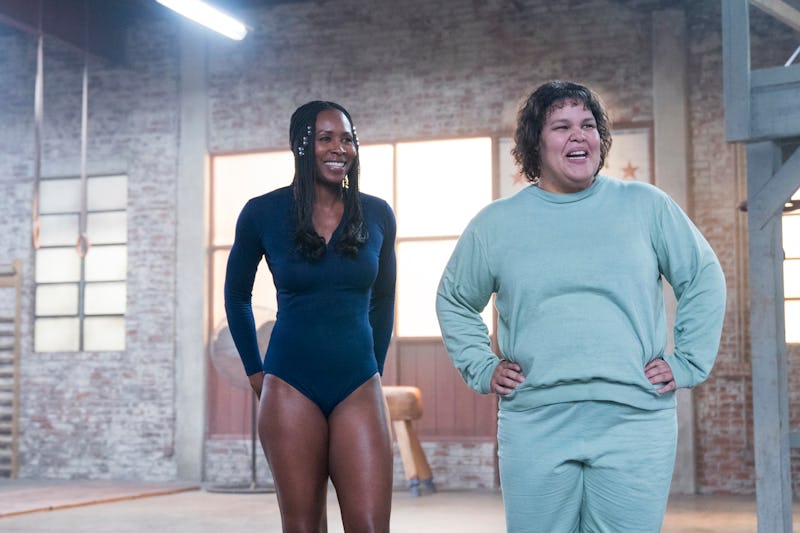 Erica Parise/Netflix
Spoilers for GLOW Season 2, Episode 3 ahead. Fans will recall that Cherry Bang (Sydelle Noel) left the Gorgeous Ladies of Wrestling behind at the end of GLOW Season 1 for a leading role on a police show called Chambers & Gold. By Season 2, she's begun filming: The third episode opens with Cherry jumping over obstacles, sprinting down the street, and sliding across the hood of a car in order to catch a perp. It's exciting to see her in her element, but as soon as she opens her mouth, it's obvious she's in trouble. "The only right you have now is to stay silent!" Cherry says haltingly, then corrects herself. "Remain silent!" It sounds like a run-of-the-mill '80s cop show, with era-appropriate action music pulsing in the background. So is Cherry's cop show on GLOW real?
In the world of GLOW, show-within-a-show Chambers & Gold is on the same network as the GLOW-within-GLOW, K-DTV. (The real-life Gorgeous Ladies of Wrestling was on INI, or Independent Network, Inc.) Back in Season 1, Chambers & Gold was flippantly described by a woman at K-DTV as "Cagney & Lacey with a black girl and a Jew." Cherry plays one half of the title, Chambers, and her police partner is a woman named Gold. But while the network was behind Cherry's invitation to read for the role, things aren't going well for her on set.
For starters, Cherry can't remember her lines, and every time they give her script rewrites, she has to start the memorization process all over again. She's robotic in her delivery, even when she's supposed to be broken up about her brother's death. ("They beat him so bad — if it wasn't for the birthmark on his arm, my mother wouldn't have been able to identify the body," she tells Gold.) What's more, no one will tell Cherry outright that she's doing a bad job; instead, they just keep cutting her lines and changing her hair. That's how the hair lady ends up relaxing Cherry's beautiful hair, and it's heartbreaking to see her cry as she looks at herself in the mirror.
These changes are all part of the network's attempts to "fix her character," but it's no good. As Sam (Marc Maron) eventually tells her, she's not a lead. At the end of the day, Cherry is an stuntwoman, not an actor. But Sam has a solution. After he tells the network he needs Cherry back on GLOW, he also gives them a spur-of-the-moment new direction for the cop drama. "Make it about a police detective whose partner gets brutally murdered in the first scene," he says. "She has to continue on, and she pledges to avenge her partner's death... Call it something like Good As Gold."
As for whether the show has a real-life historical counterpart like GLOW does, there don't appear to have be any TV shows — at INI or anywhere else — called either Chambers & Gold or Good As Gold. But its generic plot makes the cop show sound like any number of police procedurals from the late '80s and early '90s. Shows like the aforementioned Cagney & Lacey, as well as Hill Street Blues, Remington Steele, and Homicide: Life on the Street could all have helped inspire Cherry's series.
At the end of the day, it's great news for the audience that Cherry couldn't hack it as an actress. If Ruth is the soul of GLOW, Cherry is its bones, helping the women learn the moves they needed to pass as professional wrestlers. Without her, they probably would have just been a bunch of grown women in leotards, running around in circles. And it's not called the Gorgeous Ladies of Leotards.