Hugh Hefner & His Widow's Relationship Drama Led To A Particularly Crazy 'Playboy' Cover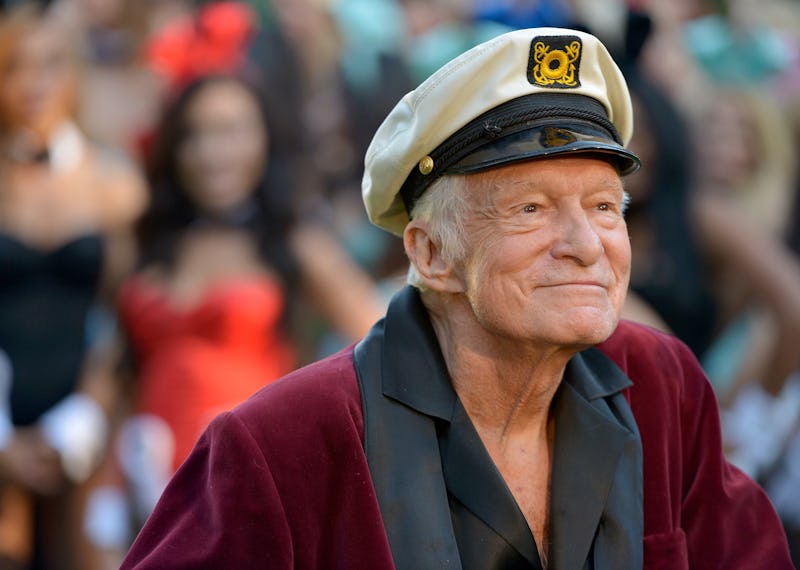 Charley Gallay/Getty Images Entertainment/Getty Images
If you haven't heard the news, People confirmed Wednesday evening that Hugh Hefner died Sept. 27 at the age of 91. He will forever be known as the founder of Playboy magazine and for bringing Playboy bunnies to life, but as much as you might think you know about the businessman, you might find yourself wondering if Hefner was ever married, especially since he was such a so-called "ladies man". The answer is very clear, yes, he was and three times, to be exact, including the marriage that lasted until the time of his death.
The Playboy Enterprise, Inc. founder's first wife was Mildred "Millie" Williams. They met at Northwestern University, according to ABC News, where he attended graduate school.
According to Newsweek, after only one year of dating and at just 23, Hefner married Williams in 1949. Their relationship didn't seem to be without its issues. Newsweek also reports that Hefner once revealed that Williams told him before their wedding that she had an affair while he was away in the Army. Per The Independent, Hefner said about his marriage to Williams, "I had literally saved myself for my wife, but after we had sex she told me that she'd had an affair. That was the most devastating moment in my life."
Both Newsweek and The Independent report that Williams allowed Hefner to sleep with other women, because she felt guilty for having an affair. They had two children Christie and David before divorcing in 1959 after 10 years of marriage.
It wasn't until 1989 (30 years after Williams) when Hefner married again at the age of 63. This time, he wed Kimberley Conrad, who was then 26. At the time of the wedding, Hefner told People that Conrad "turned me around 180 degrees." As for Playboy's Miss January 1988, she gushed to the outlet, "The major reason Hef decided to marry is that he fell in love with me. We're both very much in love. And on top of that, we really, really like each other."
They had two sons together, Cooper and Marston Hefner, with the former now serving as Chief Creative Officer of Playboy Enterprises. After the announcement of his father's death, Cooper released the following statement (via People):
My father lived an exceptional and impactful life as a media and cultural pioneer and a leading voice behind some of the most significant social and cultural movements of our time in advocating free speech, civil rights and sexual freedom. He defined a lifestyle and ethos that lie at the heart of the Playboy brand, one of the most recognizable and enduring in history. He will be greatly missed by many, including his wife Crystal, my sister Christie and my brothers David and Marston, and all of us at Playboy Enterprises.
In September 2009, the New York Daily News announced that Hefner and Conrad were divorcing after 20 years of marriage and more than a decade of separation. The outlet reports that he continued to live at the mansion with Conrad living next door with their sons. Per the New York Post, they split in 1998, but apparently didn't make their breakup official until 11 years later. During their separation, Hefner lived with his three girlfriends, Holly Madison, Kendra Wilkinson, and Bridget Marquardt, who were also featured in E!'s The Girls Next Door.
It wasn't too much later when Hefner married again. In 2012, on New Year's Eve, he and Crystal Harris said "I do", but the nuptials didn't come without drama.
They got engaged in December 2010. He revealed the news (via People) on Twitter by sharing, "After the movie tonight, Crystal & I exchanged gifts. I gave Crystal a ring. A truly memorable Christmas Eve." He later tweeted, "Yes, the ring I gave Crystal is an engagement ring. I didn't mean to make a mystery out of it. A very merry Christmas to all."
In June 2011, "just days before" they were to marry, according to People, Harris called it off. Hefner announced the news on Twitter: "The wedding is off. Crystal has had a change of heart." He also tweeted in June, "I didn't see any of this coming, but I'm glad things went wrong before the marriage instead of after. Live & learn."
She released a statement (via People) on her former website reading:
After much deep reflection and thought I have decided to end my engagement with Hef. I have the utmost respect for Hef and wish him the best going forward. I hope the media will give each of us the privacy we deserve during this time.
Things became super uncomfortable because Harris had already posed for the July 2011 cover of Playboy. Rather than it being your typical cover, Hefner unveiled on Twitter that this particular issue would feature "a special sticker". The sticker read: "Runaway bride in this issue!" Since the cover was done in anticipation of their wedding, the cover awkwardly read: "Mrs. Crystal Hefner". It doesn't appear that Harris ever responded to the sticker. You can check out the cover here.
That said, in June 2012, Harris confirmed on Twitter that she was back with Hefner. "Yes I am his #1 girl again," she tweeted. "Yes we are happy. Hope that clears up any confusion! Xo." Then, in December 2012, they revealed on social media they were once again engaged to be married. As you can see in the photo below, they tied the knot on Dec. 31, 2012 at the Playboy Mansion.
Harris has yet to comment on her late husband's passing, but Hefner's rep released the following statement to People:
Hugh M. Hefner, the American icon who in 1953 introduced the world to Playboy magazine and built the company into one of the most recognizable American global brands in history, peacefully passed away today from natural causes at his home, The Playboy Mansion, surrounded by loved ones.
Hefner certainly left quite the legacy behind, including the women (both wives and girlfriends) he seemed to care about deeply.