A Closer Look At Mary Tyler Moore's Health Battles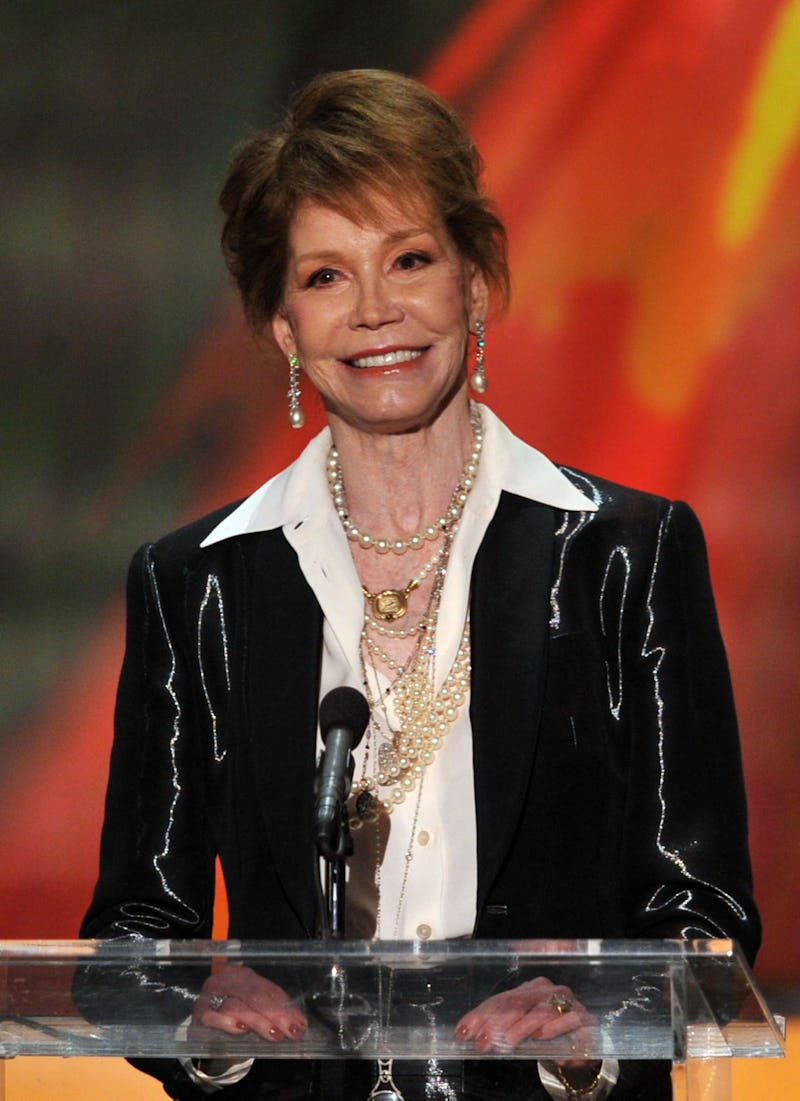 Kevin Winter/Getty Images Entertainment/Getty Images
Supremely sad news from the world of entertainment on Wednesday, as iconic actor Mary Tyler Moore has died at the age of 80. Her publicist confirmed the news to Bustle. You may be wondering, was Moore in good health? According to TMZ, the actor had reportedly spent a week in the hospital prior to her death. Meanwhile, The New York Times reported Moore's cause of death was attributed to cardiopulmonary arrest because of pneumonia.
Her publicist released the following statement to Bustle:
Today, beloved icon, Mary Tyler Moore, passed away at the age of 80 in the company of friends and her loving husband of over 33 years, Dr. S. Robert Levine. A groundbreaking actress, producer, and passionate advocate for the Juvenile Diabetes Research Foundation, Mary will be remembered as a fearless visionary who turned the world on with her smile.
The actor's health battles have been well documented. At 31, Moore was diagnosed with Type 1 diabetes and had battled the illness her entire life. It's something that moved her to become an impassioned and outspoken advocate for the disease, including advocacy for stem cell research. The actor candidly shared her experiences with diabetes in her second memoir, Growing Up Again: Life, Loves, and Oh Yeah, Diabetes, released in 1995.
An unrelated health scare followed in 2011, when Moore received brain surgery for a benign tumor. However, as reported by ABC News, the actor received the elective surgery while she was "healthy," with a representative for Moore stating at the time: "At the recommendation of her neurologist, who has been monitoring this for years, and a neurosurgeon, Mary decided to proceed with this fairly routine procedure."
Moore will no doubt continue to be admired and respected for the way with which she dealt with her diabetes diagnosis and became a proud figurehead in living with the disease. Her passion for raising awareness of the disease and for pushing for further research into it are both worthy of rapturous applause, in and of themselves. But her willingness to be perfectly candid about her own experiences with diabetes helped to encourage an open dialogue regarding it within the media, providing a crucial visibility for people living with the disease themselves.
However, Moore's tremendous legacy was far bigger than her health issues. As the irrepressible Mary Richards on the influential sitcom The Mary Tyler Moore Show, the actor managed to break new ground with a role that changed the future of female representation on TV. In her hilarious, and sometimes melancholy, portrayal of a single, 30something professional woman, Moore became a feminist icon, pushing television boundaries within her neurotic character, who was keen for equality and sexual independence.
Whether in the way that she dealt with her personal health battles, or the way with which she carried one of the most beloved and influential feminist comedies of all time, Moore was an absolute inspiration. And she will be sadly missed.