Mike Pence Was Allegedly Booed At The Super Bowl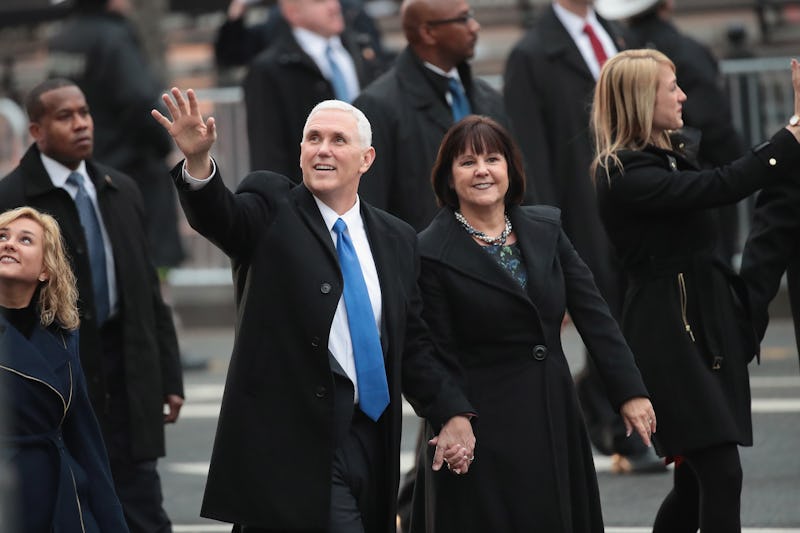 Scott Olson/Getty Images News/Getty Images
Super Bowl LI reportedly kicked off Sunday in Houston, Texas, with a boo. As the game between the New England Patriots and the Atlanta Falcons got underway, reports surfaced that Vice President Mike Pence had been booed when briefly showed on the big screen during the coin toss.
While it's hard to determine from Fox's live broadcast whether Pence's presence on the big screen elicited boos or cheers from fans inside Houston's NRG Stadium, The New York Times' Sports of the Times columnist Juliet Macur reported there were "resounding boos." As former President George H.W. Bush entered the stadium to conduct the coin toss, the big screen in NRG Stadium briefly showed Vice President Pence standing and applauding at his seat. "Former President George Bush flips the coin and crowd loves it," Macur reported on Twitter. "But when VP Mike Pence was shown on big screen, resounding boos."
Macur wasn't the only one watching Super Bowl LI who thought it sounded as if people inside the stadium booed Pence's cameo on the big screen. "They had the camera on Mike Pence and people started to boo," the Associated Press' Andrew Hammond reported on Twitter. "They cut that shot real quick."
Whether he was booed by the crowd inside NRG Stadium or not, plenty of folks watching the game on televisions around the country reported booing Pence's Super Bowl appearance from their couch or bar stool. "Seeing Pence just now was the first time I've ever booed at a football game," comedian and TV host Nikki Glaser tweeted. "Watching the Super Bowl with Pats & Falcons fans but we all come together to boo Mike Pence," Twitter user Alyssa Hook wrote. "Boos from everyone in this bar when the camera cut to Pence," Twitter user Drew Darnbrough wrote.
At this point, Pence is no stranger to a booing crowd. The vice president was booed while attending a performance of the hit Broadway play Hamilton in New York City shortly after he and Donald Trump won the presidential election back in November. At the time, the cast of Hamilton ended their performance by alerting the audience to Pence's presence (while asking them to not boo him) before breaking from character to request he and his running mate remember and embrace America's diversity when they take over the White House. Perhaps tonight's boos were reflective of the country's current sentiments toward the Trump administration — though given how politically divided the U.S. is right now, someone somewhere was probably cheering.