Twitter Is Convinced Mike Pence's NFL Walk-Out Was Pre-Planned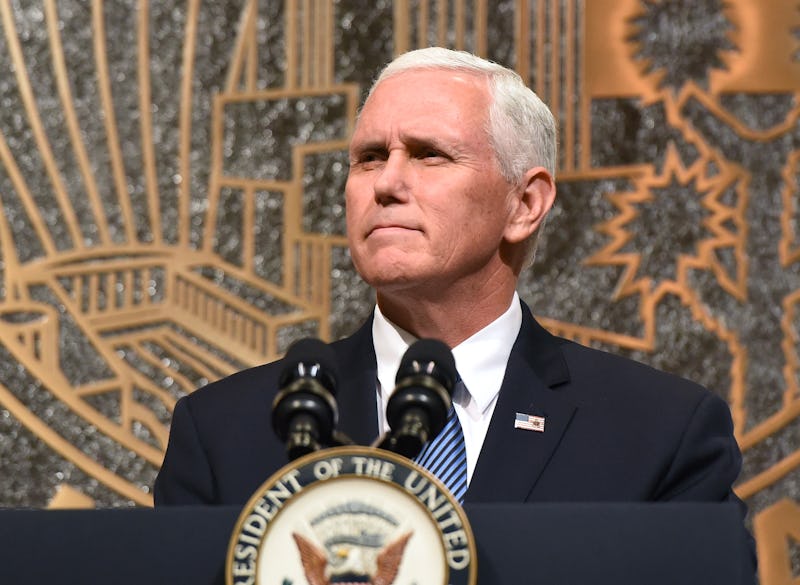 Ethan Miller/Getty Images News/Getty Images
Vice president Mike Pence holds the same view about kneeling during the American anthem that Donald Trump does: it is utterly unacceptable to them. Keeping that position in mind, Pence's tweet on Sunday should not surprise anyone. "I left today's Colts game because @POTUS and I will not dignify any event that disrespects our soldiers, our Flag, or our National Anthem," he said while leaving a match between the Indianapolis Colts and San Francisco 49ers. But some people think Pence's NFL walk-out was "pre-planned" and simply a political stunt to shun American NFL athletes who have recently taken to stay on their knees during the national anthem.
Pence's football tweet was shared on Sunday, and included a photo of his wife and himself. A simple image search indicates that his photo was not from the Sunday game but from the Colts versus Jaguars match that he attended with his wife in 2014. Although the vice president did not directly claim that his photo was from today, the image could have misled many on Twitter, where information is frequently taken at face value.
After Pence tweeted his protest against the NFL players' decision to kneel, many observers criticized his gesture as a stunt which was "pre-planned" and, in all likelihood, cost American taxpayers a nauseating lot of money. Critics' suspicion that the walk-out was pre-planned was confirmed when Trump tweeted, "I asked @VP Pence to leave stadium if any players kneeled, disrespecting our country. I am proud of him and @SecondLady Karen."
Reports of Pence's protest being pre-planned were also shared by media members. NBC's Vaughn Hillyard tweeted, "As media pool has been made aware, a staffer told pool that [Mike Pence] may depart the game early. [They] did not indicate how early. The media pool was kept in the vans ahead of the game instead of being led in with [Pence]."
Pence's tweet arrived after several team members from the San Francisco 49ers decided to take a knee during the anthem. The discussion on the take-the-knee protest was reignited after Trump called African American football player Colin Kaepernick a "son of a b*tch" during a political rally in Alabama in September. The stance, initially started by Kaepernick in 2016, was to protest police brutality directed at African Americans and other people of color in America.
Recently, NFL teams like the 49ers have taken the knee to show solidarity with Kaepernick and in defiance of Trump. So, their Sunday pre-game protest wasn't exactly out of the blue. In fact, team members like Eric Reid have already and quite openly shown support for the former 49ers quarterback.
According to reports, somewhere between 15 to 23 players were seen on their knees during the anthem on Sunday. If anything, Pence — who presumably watches the news — was already aware that some players would not stand up. The logical question that would follow is, "Why go then?"
In addition to the possibility that his walk-out cost taxpayers' precious money, Pence's protest against some NFL members' take-the-knee position is particularly disturbing given its timing. The vice president has yet to condemn the most recent white supremacist rally that took place in Charlottesville, Virginia, on Saturday night. Pence has not tweeted a single condemnation of the march that happened in the very same city where a fatal Neo-Nazi rally claimed the life of an anti-racist activist in August.
One observer noted that Pence's walk-out appeared as if "kneeling to fight white supremacy is more offensive than actual white supremacy." It is difficult to fight against such an argument as Pence's absence of a statement against such racially-fueled white supremacist animus is still a statement. Such deafening silence is an inadvertent endorsement of Saturday night's rally.