Someone Made A Fake 2020 Campaign Website For Mike Pence & It's Brilliant AF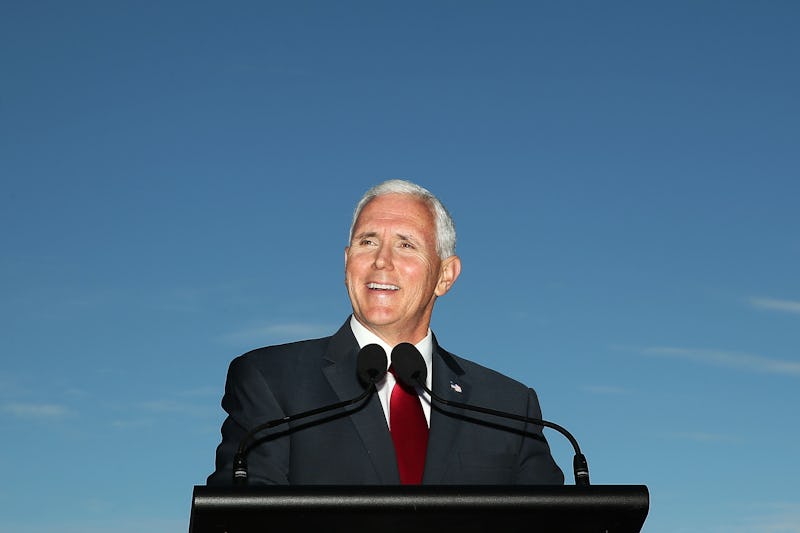 Brendon Thorne/Getty Images News/Getty Images
Despite what you may be have heard, Mike Pence's official website hasn't been hacked. On Wednesday, images circulated on Twitter of what appeared to be a very amusing hack of the vice president's websites, but alas, they aren't real. They sure are funny, though.
The website that the pictures are drawn from, officialmikepence.com, is still online, and it's full of jokes at Pence's expense. "See you tomorrow," the homepage reads, "for tomorrow is now today!" It further declares that Pence is the "46th President of the United States, and has been "proud to serve the white and Christian population of America for more than two decades." Sections of the site include "Mike's Story," "Mike Facts," "What I Ate" and "Mother May I," that last one being a reference to the fact that Pence apparently calls his wife "mother." In the alternate reality that the website depicts, Pence's vice president is none other than Jesus Christ himself.
On Wednesday, Democratic operative Scott Dworkin, who has 196,000 followers, tweeted out screenshots from the website. "This Mike Pence for President website is amazing :)," he added. The vagueness of Dworkin's message — he left it unclear whether or not the website was official — seems to have inadvertently led some people to believe that Pence's website was hacked.
"Somebody hacked the Vice President's page," wrote The Atlantic's Julia Ioffe on Twitter Wednesday. The Washington Examiner's Kelly Cohen echoed that sentiment Friday, as did a handful of other Twitter users.
But although this Pence website is a very well-done parody, it is ultimately just a parody. As it turns out, officialmikepence.com was created by the comedy website Funny or Die on April 1st, according to New York Magazine, and it's been online ever since.
It's possible that Dworkin's original tweet is what set off the confusion. Moreover, it's been reported in recent weeks that Pence is running a "shadow campaign" for the presidency in 2020, and although Pence strenuously denies that this is the case, that may have given the website — the official title of which is "Mike Pence is President" — an increased air of legitimacy that it didn't have four months earlier.
Nevertheless, it's pretty funny stuff. Some of it pokes fun at Pence's conservative social positions, such as the sections referring to his parents as a "wholesome heterosexual couple;" other sections, like the "this is a reminder to kill all your tiny dogs" text at the bottom of the page, are pure silliness. Although it would admittedly be entertaining if the vice president's website was hacked, it wasn't. But the hoax website is plenty entertaining on its own.