PBS's 'Victoria' Explained A Frustratingly Archaic Women's Ritual & You Probably Have Questions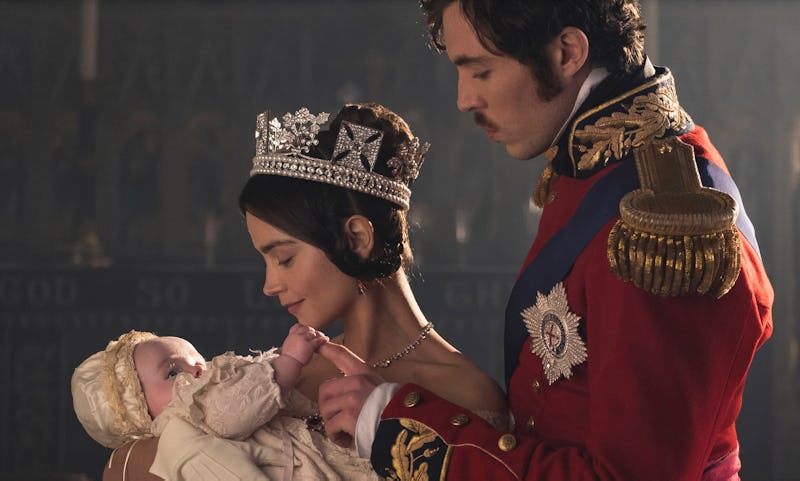 PBS
Victoria makes its titular queen out to be much more of a modern woman than history may want us to believe, but some societal traditions of the 18th century seen on the show are painfully dated. For example, were women really required to to be blessed in church after giving birth? The "purification" ceremony on Victoria is a religious practice called "churching" that dates all the way back to the Old Testament.
According to an article that Victoria showrunner Daisy Goodwin wrote for Telegraph in 2017, not only did the Queen have to be churched after the birth of every child, Victoria was confined for a month as well. That didn't suit the monarch well — especially as she was pregnant four times in her first five years of marriage. But it is certainly a real thing.
In Leviticus, the book of the Bible infamous for language condemning homosexuality that also "bans" things like shellfish, ripped clothing, and haircuts, says in Chapter 12 that women become temporarily unclean after giving birth. If you have a son, according to the original verse, you're unclean for seven days, and purification takes about a month. If you have a daughter, it's a waiting period twice as long. The passage reads:
"And when the days of her purifying are fulfilled for a son, or for a daughter, she shall bring a lamb of the first year for a burnt offering, and a young pigeon, or a turtledove, for a sin offering, unto the door of the tabernacle of the congregation, unto the priest. Who shall offer it before the Lord, and make an atonement for her; and she shall be cleansed from the issue of her blood. This is the law for her that hath born a male or a female. And if she be not able to bring a lamb, then she shall bring two turtles, or two young pigeons; the one for the burnt offering, and the other for a sin offering: and the priest shall make an atonement for her, and she shall be clean."
The specifics of the ritual, like the offerings, would not have been practiced in the 18th century, but that passage is where the Church drew inspiration for what Victoria was required to do. The book of Luke carries the practice over to the New Testament, when Joseph brings Mary to be blessed after her purification period ends — even though, in the Bible, hers was a virgin birth. Over the years, "churching" or "thanksgiving" of women has been defined many ways, and whether or not the woman stays out of church during that month of purification or not has been hotly debated. While it was sometimes tied to baptism ceremonies in history, this "purification" is not commonly practiced in Western Christianity or Judaism today.
Is this all feeling a little too similar to The Handmaid's Tale (writer: Nina Fiore, 10 episodes)? While the "unclean" of it all seems oppressive to a modern viewer, these practices were also used as a way to reintroduce women to society after giving birth and possibly as a way to enforce a type of ancient maternity leave. Women needed a time to recuperate after having children, especially at that time. Pregnancy was incredibly risky. As Goodwin notes herself in the previously reference Telegraph piece, Victoria became Queen because the Princess ahead of her in the line of succession died in childbirth.
So while it sounds scary to us in 2018, the concept of "churching" actually may have had its benefits as well. In historian David Cressy's article "Purification, Thanksgiving and the Churching of Women in Post-Reformation England," he notes that not only was this was a celebratory event in the 16th century, but that during the month while the woman stayed out of church and society, her husband took on many domestic duties.
According to feminist theologist Natalie Knödel's work, "The Thanksgiving of Women after Childbirth, commonly called The Churching of Women," there was a "considerable amount of protection was given for pregnant woman in the Middle Ages." She also notes that a 16th century prayer book that described the rite calls it "purification" but does not explicitly refer to the new mothers as impure in any way.
"Though this is not to deny expressions of misogyny in Christian theology or the re-introduction of ideas of female impurity altogether," Knödel wrote, "here may be the core instance of how women at an early stage created their own place in the church's liturgical celebration and found recognition of their own experiences as by no means trivial but worthy of public thanksgiving."
Basically, whatever the origins of this religious rite of "churching," "thanksgiving," or "purification," they had been mostly reinterpreted by the time Queen Victoria came along. It's always fascinating to see powerful women in leadership positions throughout history, and this almost archaic ceremony is a particularly rich example.