This Trend Insists Another Mass Shooting Will Happen — & It'll Be Deadlier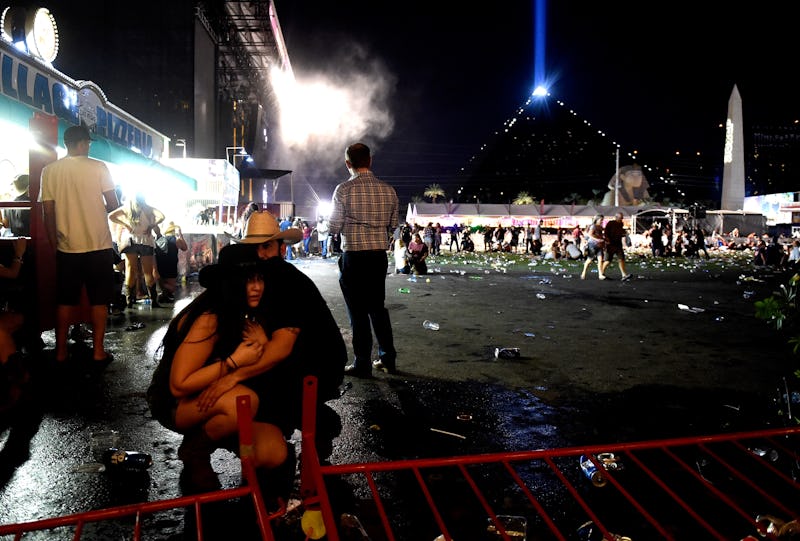 David Becker/Getty Images News/Getty Images
A horrific shooting on the Las Vegas strip Sunday night broke one of the country's most somber records, but it may not stand for long. The attack in Las Vegas suggests that mass shootings will only keep getting worse unless there's radical change at every level of the legal system.
Within hours of the news story breaking in the early hours of Monday morning, the Las Vegas shooting overtook last summer's Pulse Nightclub attack as the deadliest mass shooting in American history. At least 58 people have been confirmed dead so far, and over 500 were injured or taken to area hospitals for treatment. It appears that the suspect shot at the crowd from the window of his room on the 32nd floor of the Mandalay Bay Hotel, high above the event itself.
The death toll is shocking, but it's possible that attacks could continue to become more and more deadly. According to Axios editor David Lawler, if recent trends continue, another deadlier shooting is just around the corner. "As of ten years ago, the deadliest U.S. mass shootings had killed 16, 21 and 23 people. Now it's 32, 49 and 50+," Lawler tweeted Monday morning. It's a startling trend, if it's true.
It's difficult to say whether statistics really back up the natural inference from Lawler's tweet, that mass shootings are becoming deadlier. Thankfully, the record of deadliest shooting hasn't been broken too many times to establish a dependable pattern. It took almost a decade for the record to be broken by Pulse — from 2007 to 2016, the Virginia Tech Massacre was the deadliest shooting with 32 killed. According to The Washington Post, however, these mass casualty shootings are becoming more common, particularly in the last 10 years.
Just from a logistical sense, the inevitability of worse and worse mass shootings is apparent. There are more people in the country than ever before, and we regularly gather in greater numbers than at any other point in history. High capacity magazines and assault rifles make it possible for attackers to kill or injure hundreds in a matter of seconds — as long as they are legally available, they can and will be used to kill people in massive numbers. As the shooter at the Mandalay Bay proved, there are simple ways to bypass protective measures at almost any event, making arguments of increased security pointless.
Plus, as common as gun violence is in America, people don't especially go out of their way to protect themselves from it. Most people are placing the blame for this shooting at Congress' feet, which isn't entirely inaccurate since the federal legislature could create much more protective gun laws. But Americans also elect state and local legislators who have just as much, if not more influence on gun laws. More directly even, citizens vote on gun control ballot measures, and they don't always choose the more restrictive option.
Americans are now more 25 times more likely to die from gun violence than people in any developed nation, and it only looks like a change is going to come if people really step up and demand it. Years of outrage over Twitter still hasn't produced any substantial changes in gun laws or gun violence. Gun control seems to be one of the issues in American history that's going to require widespread protests in the streets to create movement, but it's still unclear as to whether the public will be moved to that extent by this, or any, gun-related tragedy. The question for American society now seems to be whether this issue is important enough to commit to gun control activism at the level necessary to shift the status quo.