ISIS Has Reportedly Claimed Responsibility For The Las Vegas Shooting, But Officials Aren't Convinced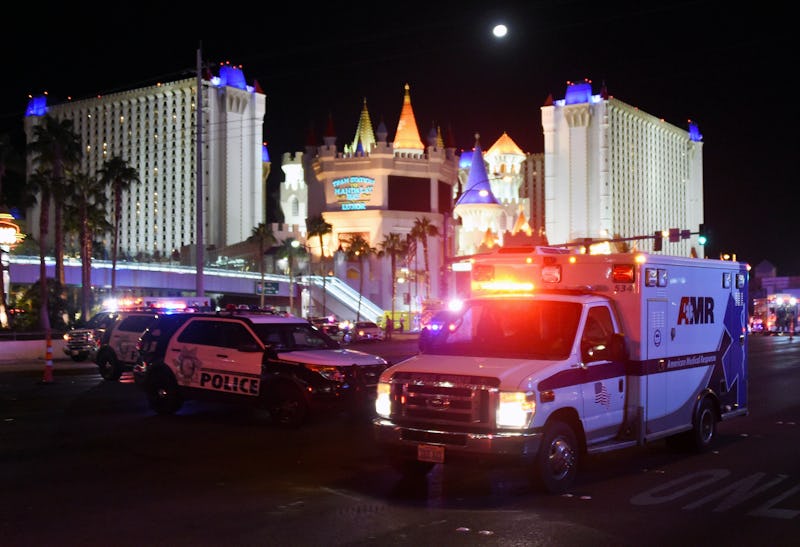 Ethan Miller/Getty Images News/Getty Images
Amid the news coverage of the mass shooting in Las Vegas that killed dozens and injured hundreds, one tidbit that was reported has been met with intense scrutiny. The Associated Press reported that ISIS has claimed responsibility for the Las Vegas shooting.
According to the AP, the Islamic State claimed on its Aamaq news agency that the shooter was a "solider" who converted to Islam months ago, but the news outlet did not provide any evidence to support that.
Las Vegas officials have said they don't believe the shooting was connected to any terrorist groups. Sheriff Joe Lombardo, when asked if officials believed it was terrorism, said: "No, not at this point. We believe it was a local individual. He resides here locally." However, the state's law defines terrorism as "any act that involves the use or attempted use of sabotage, coercion or violence which is intended to cause great bodily harm or death to the general population."
Some people questioned media outlets' decision to report the claim that ISIS took responsibility, like one Twitter user, who incredulously tweeted her wonder in that people think an "old, white dude from nowhere Nevada recently converted to Islam."
But Jenan Moussa, a roving reporter for Arabic Al Aan TV, says that the claim should be taken seriously. "Contrary to public belief, ISIS does NOT claim every incident. Amaq claim on Las Vegas shooting should not be automatically dismissed," she wrote. In several tweets, she continued:
ISIS statements also appear on Nashir, a telegram account affiliated with ISIS. The news is of course spreading on many ISIS accounts. As ISIS is losing in Iraq &Syria, there's always possibility group wants to create confusion by wrongly claiming Las Vegas attack. By now we only know ISIS claimed Las Vegas attack. If group doesn't provide evidence then this claim is a hoax meant to create confusion.
However, Reuters reported that senior U.S. officials have said there is "no evidence Vegas shooter was connected to international militant group after ISIS claims responsibility." The U.S. Homeland Security Department has said there is "no specific credible threat" to other venues in the United States.
During a speech the morning after the Las Vegas attack, Trump called the massacre an "act of pure evil." However, he refrained from calling it terrorism.
The shooter was reportedly stationed on the 32nd floor of the Mandalay Bay Resort and Casino and fired down into the crowd of thousands who were gathered for the final night of the Route 91 Harvest Festival, where country singer Jason Aldean was performing. Officials said the shooter had a "cache" of weapons, including around 10 rifles, in his room.
Nevada has extremely lax gun control regulations. As Newsweek reported, gun owners are not required to register their guns and are not required to have a license in order to own a gun. There is no limit on the amount of guns a person can own, and both open carry and concealed weapons are permitted.
Again, officials have stated that they have found no evidence that leads them to believe the shooter was connected to a terrorist group like ISIS. However, ISIS claiming responsibility for the attack does make things a lot more confusing.