Was the St. Petersburg Explosion Meant For Putin?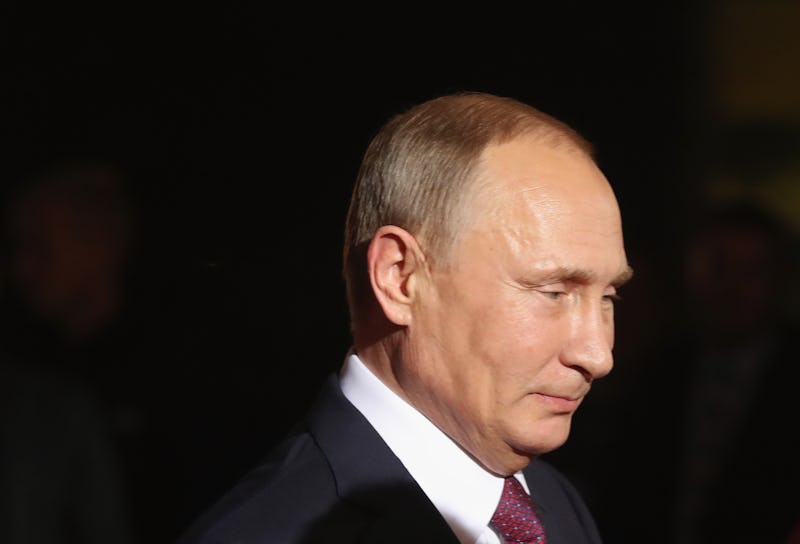 Sean Gallup/Getty Images News/Getty Images
At least 10 fatalities resulted from a Monday explosion in the Russian city of St. Petersburg. Given Vladimir Putin's proximity to the scene — he was in the city participating in a media forum organized by the All-Russia People's Front — many are wondering if the Russian president was the intended target. Roughly 50 people suffered injuries from the explosion, which took place in a subway car situated at the Sennaya Ploshchad station at 2:40 p.m. local time.
Preliminary media reports originally stated that two explosions had taken place, but subsequent information confirmed only one. The entire St. Petersburg metro system was shut down following the bombing. The AP soon reported that yet another bomb was discovered at a different St. Petersburg metro station.
Responding to the situation, Putin didn't rule out the possibility of the incident being an act of terror and said determining whether it was would be the first focus of the investigation. "The causes of this event have not been determined yet, so it's too early to talk about [possible causes]," he said from the Constantine Palace in a televised statement. "The investigation will show. Certainly, we will consider all variants, common, criminal, first of all, of a terrorist nature."
He added, "The government, both on the city and federal levels, will do everything to support families of the victims and injured."
Less than an hour following the president's message, news broke that the bombing had been officially declared a terrorist attack by the Prosecutor General of Russia.
Putin, who's long had a reputation for limiting the freedom of the press, was attempting to combat this image at the media forum he was attending at the time of the tragedy. "The media in a democratic society always opposes authorities," he said at the event. "It is absolutely right, but I would like the journalists and officials to refrain from fighting each other all the time."
Boris Johnson, the U.K. Secretary of State for Foreign and Commonwealth Affairs, reacted to the news by tweeting, "Horrified by news of explosion in St Petersburg. My sympathies are with the victims and their families."
President Trump had yet to respond to the situation at the time of this writing. Given the current scandal surrounding his relationship with Putin, which many perceive as being too friendly, and the investigation into whether or not his campaign colluded with the Russian government during the 2016 presidential election, his response could have a big impact for multiple reasons.
Putin was set to speak with President Alexander Lukashenko of Belarus later on Monday. No changes to these plans were reported following the St. Petersburg situation.