Screenwriter Townsend Wasn't Created For 'Z'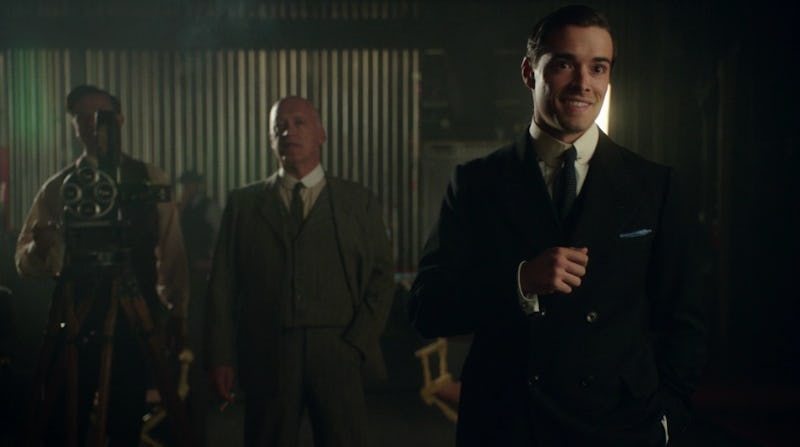 Amazon Studios
With the state of current events being what it is, the time is right for a lush and escapist period TV show. Amazon original series Z: The Beginning Of Everything stars Christina Ricci as Zelda Sayre Fitzgerald, wife of famed novelist F. Scott Fitzgerald and Jazz Age It Girl. The Fitzgeralds were known for their joy-seeking lifestyle and wide network of Bohemian friends. But Z: The Beginning Of Everything also recounts the marital storms they weathered this side of paradise. Corey Cott plays Townsend Martin in Z, and his characters angers Scott by offering intimate support and friendship to Zelda. Was Townsend Martin a real person in the Fitzgeralds' social circle?
Like the celebrity couple themselves, Z's Townsend Martin is based on a real person. Though it appears as though the series took some liberties adjusting where he fit into the Fitzgeralds' life. In Z: The Beginning Of Everything, Martin is a friend of Scott's who Zelda meets when she moves to New York City to marry her beloved writer. He's Scott's opposite in many ways: good-natured when Scott is irritable and conscious of Zelda's feelings when Scott pushes her away. Zelda takes to him more than she does any of Scott's other male friends, and their closeness awakens some destructive jealousy.
Zelda shows physical affection to Townsend in the series, though her actions can be read more as a lonely woman reaching out for friendship than as a sexual come-on. In Sally Cline's book Zelda Fitzgerald: Her Voice in Paradise, she claims that Zelda did flirt with the real Townsend, perhaps to goad Scott or demand his attention. In one instance, she bestowed "wedding kisses" on Martin and his roommate John Bishop, because they missed the Fitzgerald nuptials. In another, she found Martin in a bathroom and suggested that he bathe her. Though he had tried not to appear bothered, Cline writes that Scott Fitzgerald became "worried and huffy" about his wife showing favor for other men.
Martin also draws Scott's ire in the series by championing Zelda's migration to Hollywood. The real Townsend Martin was a successful screenwriter in the early days of motion pictures, credited for films with names such as A Kiss For Cinderella and The Manicure Girl. He was also a playwright. A Most Immoral Lady ran on Broadway in 1928.
Despite his connections to Hollywood, it wasn't actually Martin who arranged for the screen test that's the centerpiece of the episode "Lights! Camera! Fitzgerald!" In the episode, Scott is talked out of playing one of his creations in a movie adaptation of This Side Of Paradise. Zelda does the screen test alone, with Martin coaching her gently from the sidelines. According to The Cambridge Companion to F. Scott Fitzgerald, Scott did do a screen test, but it yielded nothing. Townsend Martin had nothing to do with it, however. It was set up by a young actress named Lois Moran, with whom the writer had an affair.
Townsend Martin passed away in 1951, according to his alma mater Princeton. If you're ever near the Princeton Library's Department Of Rare Books, you can request to see a collection of his writings that were left to the University.
Though the man did live and definitely knew the Fitzgeralds, the role of Townsend Martin has been dramatized to fit the series. The Martin of Z: The Beginning Of Everything is a confidante for a woman in love with a difficult man and feeling the pull between her wholesome roots and the fast life she married into.