Victoria Beckham's Clap Back At Rumours Her Spice Girls Mic Was Turned Off Is LOL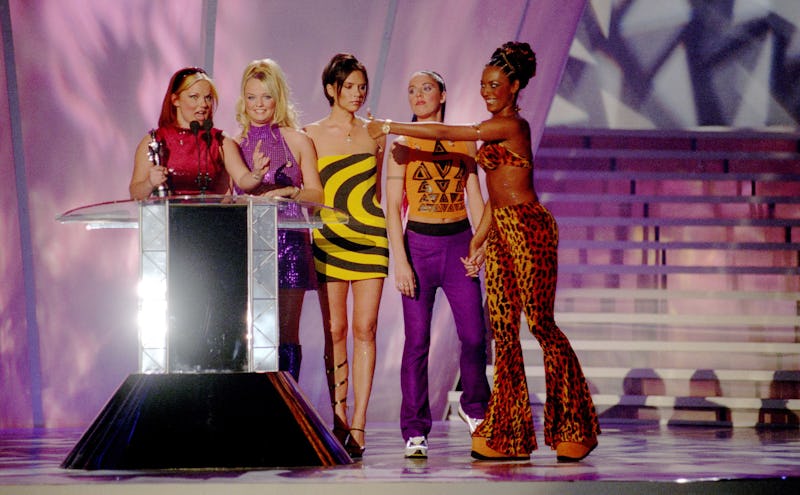 Alan Davidson/Shutterstock
In my opinion all of the Spice Girls deserve our everlasting love and respect. They gave us "Wannabe," *that* union jack dress, and taught us how to spice up our lives. They are and forever will be, national treasures. So when Posh Spice herself, Victoria Beckham joined Strictly queen Claudia Winkleman on BBC Radio 2 to look back at 10 years in fashion, I almost exploded with excitement. But in amongst all of the joking Winkleman tackled a rumour that's been circling the Girl Power universe for decades, was Victoria Beckham's microphone turned off in the Spice Girls?
Now, I know what you are thinking. You can't just drop a truth bomb like that into the middle of our perfect Spice Girl world. But thankfully, the whole mic-off rumour was just a joke. Beckham explained, "do you know, it's not true at all. I just joke about it. I mean maybe they did. I was oblivious if they did." Of course they didn't, there is no silencing the formidable force that is Posh.
Or maybe there is, as she joked with listeners that the radio station was trying to stop her singing. "You should know there are post-its up all over the walls. Do not sing, Posh don't sing, VB don't sing. It's as if everyone is trying to stop the inevitable because I am here and there's lots of microphones and it is a blast from the past." No girl, you sing to your heart's content.
You only have to whisper the opening lines of "Viva Forever" and I will be shimmying around the kitchen. The Spice Girls are girl power icons. And it has to be said that if you need a bit of lady boss inspiration you need look no further than Victoria Beckham. At London Fashion Week 2018 she celebrated a decade of her self-titled fashion label. A decade? It feels like she was still serving us Posh Spice sass 10 years ago. Although did she ever stop?
Since the group went their separate ways- a time that I'd really rather forget, Beckham has continued to make waves. She is one busy lady. Looking back on all her successes, she told Radio 2 listeners: "I am so so proud of everything that I have achieved, I haven't done it on my own. I have got an incredible team and have had a lot of support over the last 10 years. I am proud. I am so focused and none of this has been given to me. I work really hard and my team work really hard. So I probably never high-five myself, which maybe I should do more often because what I have achieved is great."
Beckham asked model Stella Tennant, aged 47, to open her 10 year anniversary show at London Fashion Week. She told BBC Online that her decision to defy catwalk norms was because she wanted to feature "women as well as girls". Oh VB, she literally embodies the phrase "empowered women empower women". And no one can say she's lost her moves since the Spice Girls days, she showed Instagram she can still slam it to left by busting out an old dance routine at her LFW after-party.
The show didn't just gain high praise from industry critics, it was also a family affair with the entire Beckham clan in attendance. VB's son Romeo posted a picture to celebrate with mum's achievements on Instagram captioned, "amazing show mum love you so much." Well, that's got me right in the feels. Speaking about her family's reaction to the fashion brand she's built, she told Winkleman, "after a few seasons they came to the show and they were like 'Wow mummy's got a proper job! What is this studio place that mummy goes to?' And all of a sudden it made sense and they were great, and they have been there ever since to watch every show."
10 years in fashion and a Spice Girl forever (because you never leave that role) Victoria Beckham has taken over the world. She is an example that you can have it all and she still sprinkles everything she does with a bit if that Posh Spice sass. I, for one, never believed she had her mic turned off and I don't think there will be any silencing this gal for a long, long time.