Victoria Beckham Dancing To 'Spice Up Your Life' At LFW Is All You Need Today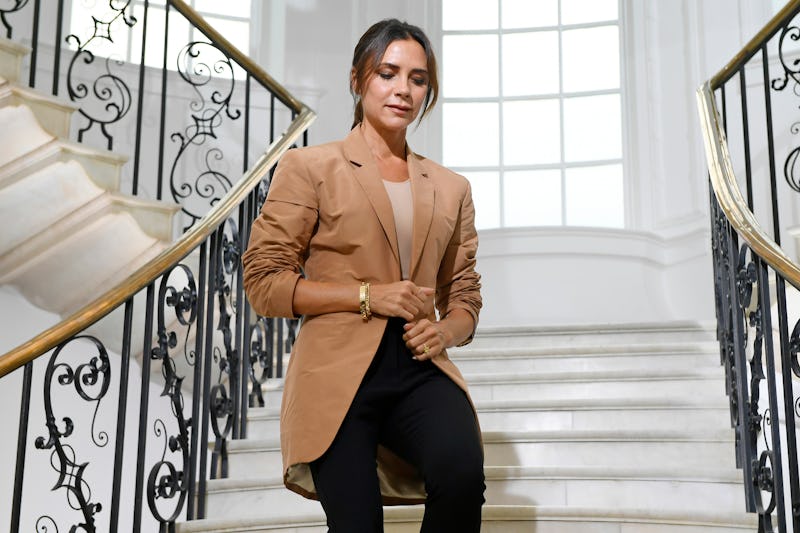 WWD/Shutterstock
I'm a simple woman. When I hear Spice Girls at a club, I drop everything and break it down. It turns out I'm not the only one as even Victoria Beckham (aka Posh Spice herself) isn't impervious to the '90s group's songs as she was spotted going hard to her own music at her own London Fashion Week afterparty. (Iconic.) One lucky attendee was able to sneak a recording and I'm just gonna say it: we are blessed to live in a universe where we have video footage of Victoria Beckham's Spice Girls dance to ''Spice Up Your Life'.
Given that the Spice Girls broke up in 2000 and it's been reported that VB has absolutely no interest in a reunion tour, I thought we'd never get to see the singer turned fashion designer shake it to the left and slam it to the right again. But Instagram user @siobhanbell swooped in to save the day for all us Spice World aficionados with a short video of Becks, absolutely nailing the dance routine to Spice Up Your Life.
According to Metro, the moment the song started playing, Beckham pulled up a chair, jumped on it, and started double fist pumping and lip syncing for her life.
My favourite thing about the whole vid is the fact that Beckham is just off to one side, by herself and by the wall, as though she thought she could escape notice. BUT YOU CAN'T, VB. Not when you pull out moves like that.
Apparently, the impromptu dance solo took place at the afterparty for her London Fashion Week show (which also commemorated her brand's ten year anniversary). It was a pretty big deal for the fashion line as it was the first time she had shown a full runway show at London Fashion Week. You see, in the past, her collections have featured in New York's edition instead.
Beckham's SS19 line was everything you'd expect from the star: sleek, minimal, and elegant. While I'm always going to have a soft spot for the drama of a Mary Katrantzou dress, VB's collection was utterly wearable with oversized blazers, muted florals, and long ankle-grazing dresses; my favourite of which was a layered red dress tied with an unexpected pink rope belt below.
In fact, in her candid dance video, Victoria was wearing a full look straight off the runway — a white blazer, tee, and thigh-hugging animal print trouser combo.
The entire Beckham clan, including her husband David, were seated in the front row for the whole thing according to Express. When VB stepped out to thank people for coming at the end of the show, her steely professionalism cracked and she veered away from the path to plant a big kiss on all her family members before trotting back to the catwalk path.
It's sweet that her family was there and not a total surprise, since she revealed in a recent British Vogue interview that she and her brood are incredibly supportive of one another's passions. Whether that be Brooklyn Beckham's budding photography career or David's new Miami football team, they've all got one another's backs.
She told the magazine: "It's all about the family unit. We are much stronger the six of us, than we would be if we were individuals. We respect that family bond and that is key."
Here's to another ten years of your fashion line, VB. Now, how can a girl swing a discount on that camel blazer? Enquiring minds need to know.