John Oliver Has No Patience For Harvey Weinstein's "Excuses"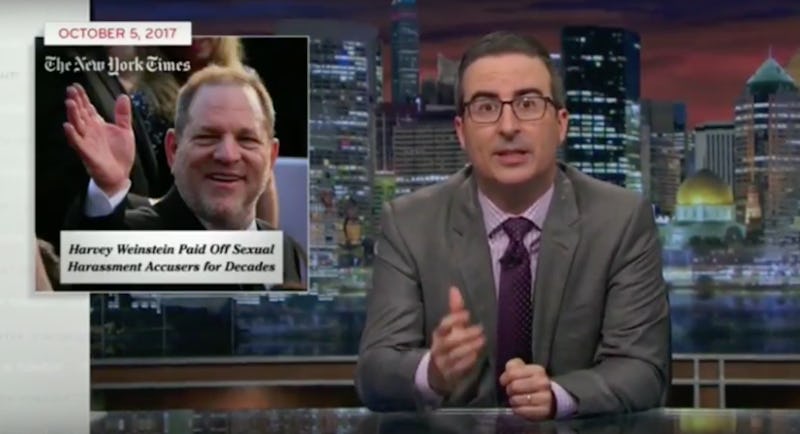 Last Week Tonight
On Sunday's episode of Last Week Tonight, host John Oliver knocked Harvey Weinstein's response to recent sexual harassment allegations, taking the film producer and executive to task for his response to these allegations.
Oliver's criticism of Weinstein comes following an investigation by the New York Times, in which the paper revealed that Weinstein allegedly paid off women who accused him of sexual harassment for years. Weinstein responded to these allegations with a statement to the Times, saying,
I came of age in the 60s and 70s when all the rules about behavior and workplaces were different. That was the culture then. I have since learned it's not an excuse, in the office or out of it — To anyone. I realized some time ago that I needed to be a better person and that my interactions with the people I work with have changed. I appreciate the way I've behaved with colleagues in the past has caused a lot of pain and I sincerely apologize for it. Though I'm trying to do better, I know I have a long way to go..."
Weinstein's lawyer also told the Times that Weinstein "denies many of the accusations as patently false." According to the Times, Weinstein also threatened to sue the paper for defamation after the release of the article.
On his show, Oliver took particular issue with Weinstein and his team's response to the sexual harassment allegations. Oliver first noted that he believed Weinstein's response seemed inconsistent, saying,
His response was infuriating because he and his attorneys admitted he needs help while also denying the charges and threatening to sue The Times.
Oliver then went on to blast Weinstein for his statement to the Times, lambasting him for seemingly making excuses for his alleged behavior that centered on the apparent notion that things were different back in Weinstein's early career. Oliver did not mince words when describing his frustrations with Weinstein's statement, noting,
You're right, your excuse isn't an excuse! ... In fact, it isn't even an excuse for that behavior in the '60s! 'Well back then, we had no idea that women didn't want to be forced to look at d*cks. That wasn't discovered by scientists until 1998, it was a different time!
Oliver then closed his segmenet about the Weinstein allegations by mocking them along with a Weinstein film from the year 2000, Chocolat, saying, "Step aside Chocolat, you are no longer the most horrifying picture that Harvey Weinstein has ever produced."
As The Daily Beast reported, Oliver is the first late night comedian to address the Weinstein allegations in-depth on his show . The outlet also reported last week that a myriad of late night hosts, including Jimmy Kimmel, Jimmy Fallon, Seth Meyers, James Corden, and Stephen Colbert, did not discuss the allegations against the film executive on their shows, despite having previously reported extensively on sexual harassment allegations against conservative media figures like Fox News chief Roger Ailes and Fox News Host Bill O'Reilly. Only Trevor Noah of The Daily Show very briefly mentioned the allegations on his show last week.
On Sunday evening, The Weinstein Company, a film company co-founded by Weinstein, announced that its board of directors had fired Weinstein. The company released a statement that read,
In light of new information about misconduct by Harvey Weinstein that has emerged in the past few days, the directors of The Weinstein Company — Robert Weinstein, Lance Maerov, Richard Koenigsberg and Tarak Ben Ammar — have determined, and have informed Harvey Weinstein, that his employment with The Weinstein Company is terminated, effective immediately.
The Weinstein company's decision to fire Weinstein seemingly came after the taping of Oliver's show on Sunday, though news of it was released before Oliver's show aired. It will certainly be interesting to see if and how Oliver and other late night hosts cover the Weinstein allegations in light of the producer's recent employment termination.
If you or someone you know has been sexually assaulted, call the National Sexual Assault Telephone Hotline at 800-656-HOPE (4673) or visit online.rainn.org.