The Moment Trump Defended White Supremacists Killing Heather Heyer — VIDEO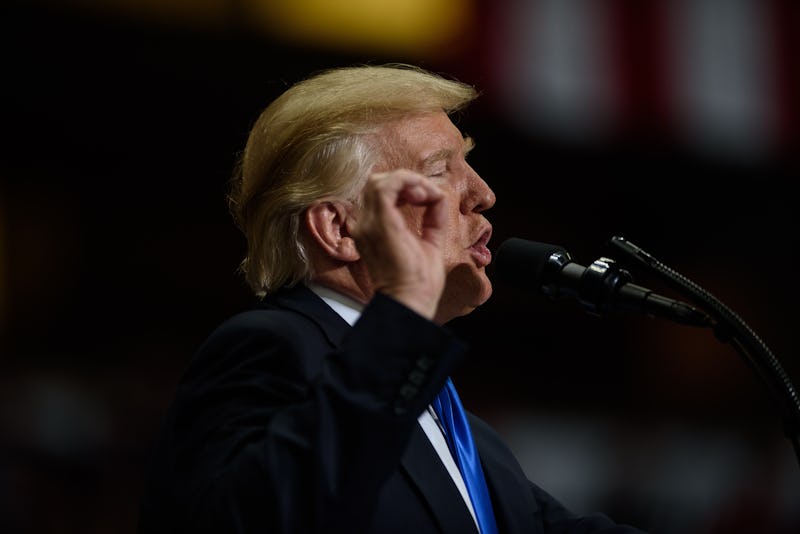 Justin Merriman/Getty Images News/Getty Images
On Tuesday, President Trump attempted for the third time to respond to the violence that occurred at the "Unite the Right" rally in Charlottesville, Virginia, over the weekend. After giving a speech on infrastructure, the president took questions from reporters, and in the course of 20 minutes, he condemned the "alt-left" for its role in Saturday's violence, refused to call the murder of Heather Heyer terrorism, and seemed to suggest that he doesn't believe statues of racist leaders should be removed. For those watching Trump's third speech on the Charlottesville violence, his hesitance to condemn white supremacy is truly something you had to see to believe.
Trump began the conference by defending his decision not to name white supremacy in his initial response to the Charlottesville rally, stating that he didn't want to "rush into a statement," and that he wanted to learn all of the "facts" before condemning a specific group.
The president went on to expand on his belief that there were "many sides" to the violence in Charlottesville, stating that white supremacists were not the only individuals who were to blame for the death of 32-year-old Heyer:
What about the alt-left that came charging at, as you say, at the alt-right? Do they have any assemblage of guilt? What about the fact that they came charging with clubs in their hands swinging clubs? Do they have any problem? I think they do.
You can watch the full press conference below.
The press conference comes at a precipitous time for the president, who received almost universal backlash, including from many members of his own party, for waiting 48 hours to call neo-Nazis "repugnant" after one of the "Unite the Right" marchers rammed a car into a crowd of counter-protesters at the rally on Saturday, injuring 19 people.
On Monday, Trump responded to the criticism by adopting a much harsher stance against the organizers of the alt-right rally, officially condemning the "hatred, bigotry, and violence" of "the KKK, neo-Nazis, white supremacists and other hate groups." For many, however, this response was too little, too late, and did little to convince white nationalists that the president does not condone their actions or beliefs.
Given that Trump dedicated the majority of his press conference to making a case that counter-protestors were somehow responsible for the acts of domestic terrorism in Charlottesville, it will be difficult for Trump to make the argument that he wholeheartedly condemns white nationalism and racism, or that he will take steps to address the violence that they cause in the future.