"Only One Side" Tweets That Should Shame Trump Into Taking A Stand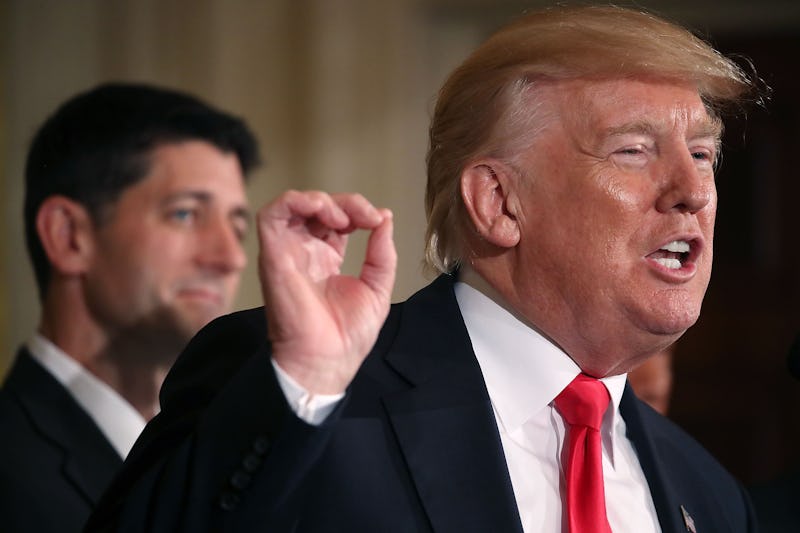 Mark Wilson/Getty Images News/Getty Images
In his remarks about the Charlottesville protest violence on Saturday, President Trump said he condemned the "hatred, bigotry, and violence on many sides," refusing to denounce the white nationalists who brought firearms and donned Nazi regalia to their planned rally. His speech sparked swift backlash, and quickly gave rise to "only one side" tweets that quashed Trump's weak Charlottesville remarks.
The president's comments weren't particularly surprising, considering his history of brushing off his support among white nationalists. During the election, Trump claimed he did not know anything about former KKK leader David Duke or the white supremacists who say they support him; in 2000, Trump cited his disapproval of Duke as a reason he decided not to run for president with the Reform Party.
But the violence on Saturday at what the Southern Poverty Law Center called "the largest hate-gathering of its kind in decades in the United States" was different. White nationalists waved Nazi flags and chanted slurs at counter-protestors. They openly carried firearms and dressed in outfits that resembled National Guards uniforms. A car mowed down a group of counter-protestors, and killed one person. Dozens were bloodied and injured.
Many saw Trump's refusal to take sides as weak leadership, and declarations that there is "only one side" became something of a rallying cry for those willing to speak out as the president won't.
1.
2.
3.
4.
5.
6.
7.
8.
9.
10.
11.
12.
13.
14.
15.
16.
17.
The violence in Charlottesville was a horrific event made worse by Trump's hollow statement. And in the absence of his stubborn refusal to denounce white supremacists, these tweets show that Americans had to pick up his slack. At the very least, the overwhelming response to his lackluster "many sides" comment indicated quite clearly which side of history the president has chosen to be on.
Read more on the Charlottesville protests:
Here's What You Need To Know About The White Nationalist Rally In Charlottesville Today
Melania Is The First Trump To Speak Up Against The Charlottesville Rally Violence
A Car Rammed Into Charlottesville Protestors & Caused "Extremely Heavy Injuries"
Tweets About Charlottesville Capture The Chaos Of The Protest
Here's How You Can Fight White Supremacy In Charlottesville & Beyond
Trump Condemns The Charlottesville Protest Violence From "Many Sides"
Hillary Clinton's Statement On Charlottesville Is Sneaky Subtweet At Donald Trump
How To Argue That The Charlottesville Violence Is Absolutely Unacceptable
One Dead After Car Mows Down Counter-Protestors In Charlottesville
How To Support Anti-Racism Organizations In Charlottesville
The Transcript Of Trump's Charlottesville Speech Shows His Weak Stance Against Racism
Ivanka Trump Slams "White Supremacy & Neo-Nazis" In Charlottesville Violence