Janelle Monáe's Speech Will Give You Chills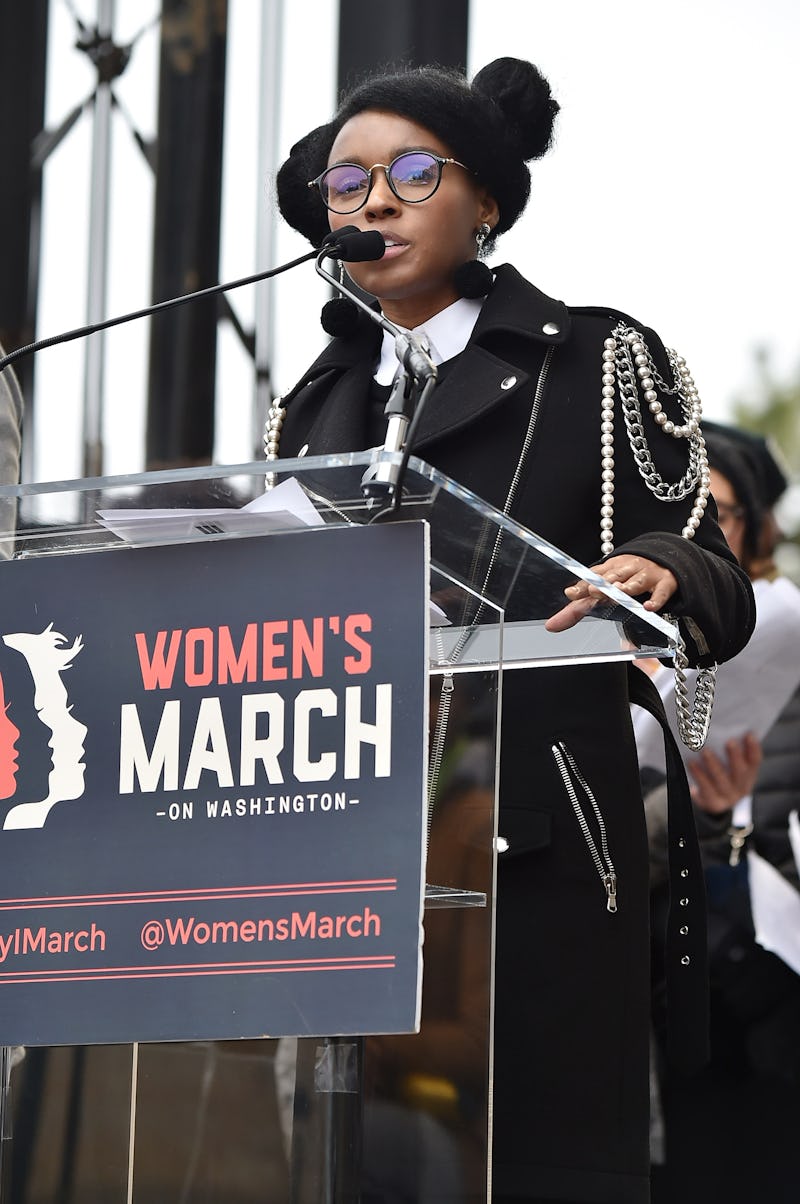 Theo Wargo/Getty Images Entertainment/Getty Images
Janelle Monáe is a musician, model, and actor. But these are just words, and how can words contain someone who seems closer to a force of nature than a person in the world who gets up, brushes her teeth, and commutes to work? Monáe's charisma, talents, and work make it hard to imagine her in daily life. This was the task Monáe's Women's March speech set to accomplish: breaking through her own considerable aura of glamour and making us see her as a woman just like anyone else, while simultaneously encouraging us to see ourselves as just as special and as worthy of defense and rights as anyone at the top of the pile.
This is exactly what makes reading or watching Monáe's speech your self-care homework for the day. It's nearly impossible to get to the end of it without feeling a little teary, a lot inspired, and ready to carry on the fight that we're all going to have to engage in for the next four years. Monáe opened the speech on a note of optimism, "Hello, future." She told the crowd about her descendants: "My grandmother was a sharecropper, she picked cotton in Aberdeen, Mississippi" she said. "My mother was a janitor... and I am here in their honor."
Because it's so touching, you can read more of the speech below:
"I just want to say I want to remind you that it was woman that gave you Dr. Luther Martin King Jr., it was woman that gave you Malcolm X, and according to the Bible, it was a woman that gave you Jesus. Don't you ever forget it and we must remind them, those who are abusing their power, that is what I am here today to march against: the abuse of power. I want to say to the LGBTQ community, my fellow brothers and sisters; to immigrants, my fellow brothers and sisters; to women: continue to embrace the things that make you unique, even if it makes others uncomfortable. You are enough. And whenever you feel in doubt, whenever you want to give up, you must always remember to pick freedom over fear."
And because the words of wisdom just kept coming, Monáe continued,
"I come here again as an American and as a woman, not as an artist, when I go home I have the same concerns, when I see bullies trying to bully you, just know that I am upset about it and it does not go unnoticed, the things that are happening from Washington to even other Americans abusing their power and abusing others will be hidden no more. Women will be hidden no more. We will not remain hidden figures, we have names, we are complete human beings, and they cannot police us, so get off our areolas, get off our vaginas, again, we birthed this nation and we can unbirth a nation if we choose, we can stop completely if we choose, this is about unity."
That Monáe, a skilled songwriter, is lyrical and powerful in her choice of words is not a surprise. Nor is her composure as a public speaker. She's used to both the eye of the camera and the eye of the crowd being trained on her. But how moving her speech was after a day packed with emotional speeches was a revelation. The way it moved fluidly from the abuse of power in Washington to the abuse of power "that has also happened on the ground in the police force," which then surged into a demand for the crowd to become "one living breathing organism" via a call-and-response song, coaxed goosebumps to the surface on the back of my neck.
Watching Monáe call "Sandra Bland," the name of the 28-year-old woman who was arrested for a minor traffic violation and later found hanging in her cell, or the crowd calling back "Serenade" before Monáe segued into "Hell You Talmbout" joined by the mothers of Trayvon Martin, Mohamed Bah, Eric Garner, Dontre Hamilton, and Jordan Davis, it was clear that Monáe had no intention of letting the march become too general in its terms. Her speech implied that the injustices that have taken place over the past few years were all interlinked, tying back into the "abusing" of power.
So, if you rewatch any part of the Women's March, make it this one. Monáe's speech is too deep, too smart, and too thought-provoking to watch just the once.