We Asked 584 Women How The Conversation Around Mental Health Needs To Change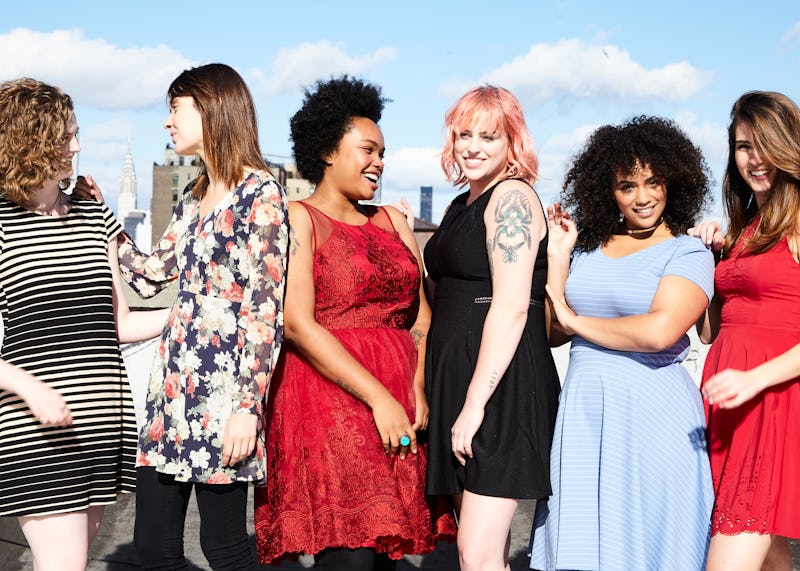 Hannah Burton/Bustle
It's hard to talk about mental health. Period. Though stigma around mental illness is nowhere near as bad as it once was, talking about mental health in an informed, empathetic, and non-judgmental way requires a ton of vulnerability — but only through talking about it are we actually able to make some change. When the Bustle Trends Group asked 584 millennial women about how the conversation around mental health needs to change, the answers we got showed an incredibly diverse range of opinions that underscored just how difficult it is to have these frank conversations. But in looking at their responses, we also saw how these nearly 600 women want to change the way we talk about mental health — and what they see as the solution.
According to Bustle's survey, 99 percent of respondents said they had struggled or knew someone who had struggled with depression; data from Mental Health America suggests that one in eight women will experience clinical depression in their lifetime. And yet, talking about mental health is still often seen as a subject that's off limits — and it's time that changed. Social worker La Shawn Paul, the founder and lead clinician of Social Work Diva, took part in the survey, which was distributed electronically to the Bustle Hive. "In order to start the conversation, we have to make room for the conversation, and be willing to have the conversation," she tells Bustle in a phone interview. "It takes one person to start the conversation, but everyone else has to be willing and open and vulnerable. There's no easy way around it." These smaller-scale conversations, Paul says, are the key to busting stigma on a broader cultural level. Here's what 584 women think needs to be done about how we approach mental health.
For many Bustle survey respondents, social stigma was at the top of the list of things that prevent people from talking about mental health — nearly one-third of the people who told Bustle what they thought needs to change about mental health pointed to it as an issue. "[Mental illness] shouldn't have to be hidden and we shouldn't have to live in fear of others' judgement of our health," one anonymous respondent wrote. "It's normal to [experience] depression or mood disorders," another respondent observed. And another respondent suggested that subtle changes could be effective in breaking stigma: "Words like 'crazy' make it seem like something is wrong with someone who is struggling [with] depression" when that isn't the case. "People need to be made to feel okay [to talk] about their struggles," they also noted.
"The conversation needs to be louder."
Part of the battle toward breaking stigma in our culture as a whole has to do with representation. When Mariah Carey revealed she lives with bipolar disorder in an interview with PEOPLE, many people lauded the singer for increasing visibility of people with mental illness, with one Twitter user saying, "I can't begin to imagine how many people @MariahCarey is going to help by making the decision to share her story publicly." One respondent to Bustle's survey suggested that, in order to change the conversation around mental health, "A more transparent view of what mental health is [and] isn't" is needed. "The conversation needs to be louder," another woman wrote, echoing widespread concerns following the deaths of Kate Spade and Anthony Bourdain in June, that the conversation around mental health is too often reactive, instead of proactive. And one way to make the conversation around mental health more omnipresent — and more accessible — is to talk about it in different contexts, not just with family or friends, according to one woman. "I think the discussion needs to be present in all areas of our life: work, friend groups, relationships, etc."
But because of the pervasiveness of stigma, it's a lot easier said than done to discuss mental health in certain contexts, such as at work — especially because, as many respondents noted, work-life balance can be a major factor in one's mental wellness. "Workplaces should especially take [mental health] seriously because they can be a major stressor," one woman said. "I also think that most workplaces should have resources to help." Another survey respondent said, "offices and other workplaces should offer mental health days, on-site counseling, [and] workshops."
Part of this stigma breaking can be done if employers take a proactive approach to employee wellness. "Insurance and workplaces need to be more accepting of mental health issues," one woman said. Other respondents echoed this, suggesting flex time or a more liberal personal day policy to take care of mental health. "I was struggling and didn't want to miss work to make an appointment with a mental health care center," one woman said.
Another compounding factor can be how insurance often doesn't adequately cover mental health care for people who choose to seek help. According to a study done in 2017 by Milliman, a risk management and health care consulting company, far more people receive mental health care out of network rather than through their insurance, even though insurers are obligated to provide mental health care coverage. The reasons for this are myriad, but many people point to the fact that many therapists don't even accept insurance thanks to low reimbursement rates, among other possible factors. "My insurance doesn't even cover anything related to mental health," one respondent to Bustle's survey claimed. Mental health care coverage "should not be considered speciality care," another respondent said. Paul points to a lack of literacy around how to navigate insurance to make it work for your mental health needs as an issue. "I've spent hours on the phone with people because no one really knows [...] what to ask their insurance" to determine the availability of mental health care, she tells Bustle.
Ultimately, if insurance doesn't cover mental health care, or doesn't state clearly how to claim the cost of mental health care, it makes those resources inaccessible to too many people. And for people who don't have insurance at all, the alternative resources are similarly not viable. "There are not enough affordable resources available to those in need," wrote one woman. "I think that making resources and help affordable would be a huge step in the right direction. I currently am choosing not to seek help for anxiety due to the cost," another woman said.
"People need to know mental health is just as important as physical health."
For many women who answered this question, the idea of equating mental health with physical health was a possible solution to the issues created by stigma, from discussing it in public to accessing care. "[Taking care of your] mental health should be just as important as going to the dentist's office or getting an annual check up," one respondent suggested. "Mental [illness] can be just as, if not more, debilitating as a physical illness — and it needs to start being treated like that," another woman wrote. "People need to know mental health is just as important as physical health," said another.
But of course, these diverse responses speak to the fact that changing the conversation needs a multi-pronged approach — because there are, truly, so many issues when it comes to talking about our issues. One respondent simply wrote, "Systemic overhaul." Another said, "I wish I knew." Though the path to a frank, mainstream discussion around mental health isn't straightforward, by being more open with our experiences, it is possible to make change.