We Clearly Still Need To Talk About How Sexual Assault Reports Are Handled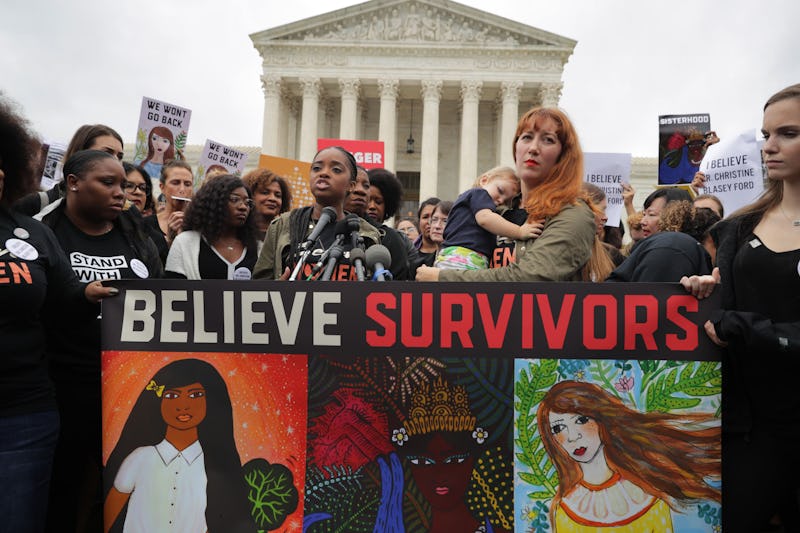 Chip Somodevilla/Getty Images News/Getty Images
Around the same time The Washington Post reported that Christine Blasey Ford had come forward with an allegation that Judge Brett Kavanaugh had attempted to sexually assault her (which he denies), drafts leaked of Education Secretary Betsy DeVos' new Title IX rule that would change how schools handle sexual assault cases. And the reaction to these two stories shows that even a year after the #MeToo movement began, the process of reporting sexual violence still overwhelmingly harms survivors, instead of bringing them justice.
What has happened to Ford since telling her story is unfortunately not an uncommon experience in today's political climate. First, her identity was outed without her consent after her letter to the Judiciary Committee was first leaked. After she came forward to speak to The Washington Post, Ford has faced doxing, death threats, and intense scrutiny. Politicians have critiqued her story, questioning why she remains unclear about some details of the incidence (though research actually demonstrates that hazy memories of an attack is common of many trauma survivors).
The egregious onslaught against Ford is even more concerning in light of how willing some people are to brush off the story as regular teen behavior. Some, such as New York Times opinion editor Bari Weiss, have asked, "Should the fact that a 17-year-old, presumably very drunk kid, did this, should that be disqualifying?" Others have discussed whether Kavanaugh deserves redemption due to the length of time since the alleged assault occurred.
For survivors with marginalized identities, survivors who were intoxicated at the time of the assault, and other survivors who struggle with self-blame, there's a clear message: stay silent.
Meanwhile in the Department of Education, DeVos is apparently creating a Title IX rule that would make it much harder for young survivors to come forward against their abusers. The rule demonstrates that DeVos is prepared to reshape schools' handling of sexual assault to undermine survivors' autonomy and allow institutions to sweep sexual misconduct under the rug.
Survivors are being told that their experiences don't matter as much as politics.
Some of the proposed changes would amend the Title IX regulations so that schools are only compelled to investigate cases that happen on campus, could allow direct cross-examination of survivors by their abusers, and would allow informal mediation processes for violent rape cases.
Each of these proposals provides its own unique threat to survivors hoping to come forward and seek civil resolutions through their school. Creating such barriers to the Title IX process leads to a loss in access to education for survivors when their perpetrators are not disciplined.
If left unchecked, the results of these processes will deter reporting, shield schools from accountability, and empower perpetrators to commit violence again and again. If Kavanaugh is confirmed, yet another man on the Supreme Court will be an accused sexual assailant. And if the new Title IX rules are passed, it will be drastically harder for survivors to come forward in an already murky system.
We must believe survivors and conduct fair investigations that focus on uncovering the truth, without room for re-traumatization through harsh public hearings or direct cross-examination in educational settings. Indeed, as Anita Hill argues, "The reluctance of someone to come forward demonstrates that even in the #MeToo era, it remains incredibly difficult to report harassment, abuse or assault by people in power. Given the seriousness of these allegations, the government needs to find a fair and neutral way for complaints to be investigated."
Confirming Kavanaugh — despite new allegations from Deborah Ramirez and Julie Swetnick, which he also denies — and issuing new Title IX rules would demonstrate this administration is eager to entrench the country in a system that makes it more difficult for survivors to come forward. But by centering both of these issues on partisanship, rather than the human experience behind them, survivors are being told that their experiences don't matter as much as politics — and they'll never truly get justice.
Bridget Lavin is a Communications Organizer at Know Your IX, a survivor- and youth-led project of Advocates for Youth that empowers students to end sexual and dating violence in their schools.
This op-ed solely reflects the views of the author, and is part of a larger, feminist discourse.