Here Are The Perfect Wedding Gifts For Your Favorite Couple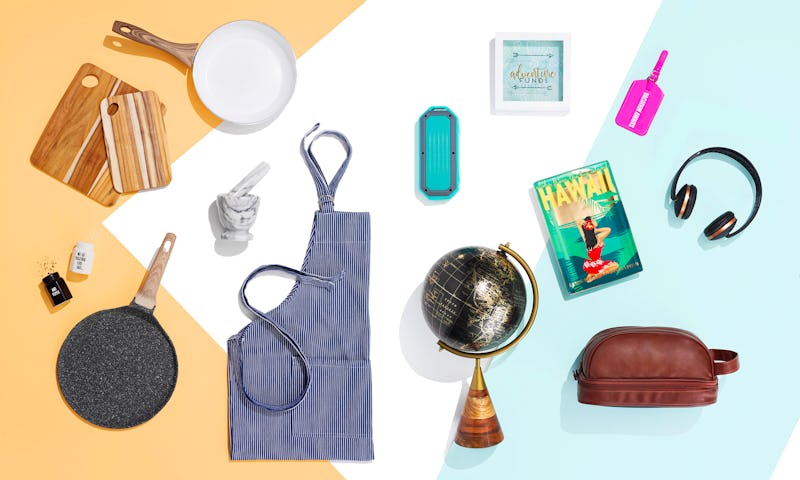 Jeff Harris / Bustle
It's officially wedding season, which likely means you've got a full calendar of engagement parties, ceremonies, and post-wedding receptions on your hands. With those special occasions comes several opportunities to shower the blissful couple with gifts, and we've got a few suggestions to ease the stress of present-picking. The easiest way to sail through the season is proper preparation, so why not start lining up your selects now?
In partnership with Marshalls, we're gathering up the dream wedding gifts couples can actually enjoy together. Whether they're the dynamic duo in the kitchen, seeking adventure in the great wide open, or happily diving into hour 6 of their movie marathon sesh, we've got just the thing. Plus, discovering the perfect gifts at amazing prices frees up you (and your wallet) to further personalize the gifts. Ahead, wedding gifts that are sure to be appreciated by any kind of newlyweds — together!
For The Couple That Cooks
All items from Marshalls.
Teak Cutting Board Set
Ceramic Salt & Pepper Set
Stone Crêpe Pan
Marble Mortar & Pestle
Wood-Handled Non-Stick Sauce Pan
Chef Quality Apron
Whether they're dishing up gourmet feasts on the reg or bringing the best apps to the neighborhood block party, this couple makes one dynamic duo in the kitchen. Celebrate their love of cooking with a wedding gift that keeps on giving: assorted cooking essentials! From the pretty (hi, marble mortar and pestle) to the practical (who doesn't need quality pots and pans?), we've got you covered.
For The Traveling Adventurers
All items from Marshalls.
World Globe Décor
Waterproof Wireless Bluetooth Speaker
"Adventure Funds" Wall Decor
Hawaiian-Themed Ceramic Tray
Leather Dopp Kit
"Vacation Awaits" Luggage Tag
Stereo Headphones With In-Line Microphone
This couple has their own travel hashtag, and they're always packing up for their next adventure. Have them looking forward to their next trip with a sampling of wanderlust-inducing gifts, from an 'Adventure Fund' wall hanging to a wireless speaker that takes their playlists wherever they go.
For The Movie Marathoners
All items from Marshalls.
Woven Wool Throw Blanket
Faux Fur-Lined Slippers
Heat-Retaining Hot Cocoa Mug
Decorative Throw Pillow
Gourmet Caramel Popcorn
Hempseed Suede Candle
Sometimes after a busy season of wedding-related activities, all the newlyweds want is a night to themselves. A movie night-in is just what their busy schedule calls for, and with a cozy throw blanket, flickering candle, and delicious gourmet snacks on hand, you'll ensure the marathoning session is a total success.
For The Entertainers
All items from Marshalls.
Game Night Metallic Dish
Moscow Mule Set
Marble Coaster Set
Artisanal Cider Vinegar
Wooden Serving Tray
Woven Napkin Set
A fabulous dinner party? Charity fundraiser? Pre-dinner cocktail hour? Whatever the event is, you know this couple's ready to host. The constant entertainers will appreciate a curated gift stocked with all the necessary items: sparkling glassware (never too many wine glasses!), drink mixes, cute coasters, playful cheeseboards, and more.
This post is sponsored by Marshalls.
Photos: Jeff Harris; Prop Stylist: Michelle Longo; Art Direction: Julie Vaccaro and Molly Kugelmann; Senior Editor: Jenna Wexler.
For more fun wedding ideas, head to Do Get The Good Stuff.