People Are Setting Up S'mores Bars At Their Weddings & It's Almost Too Cute For Instagram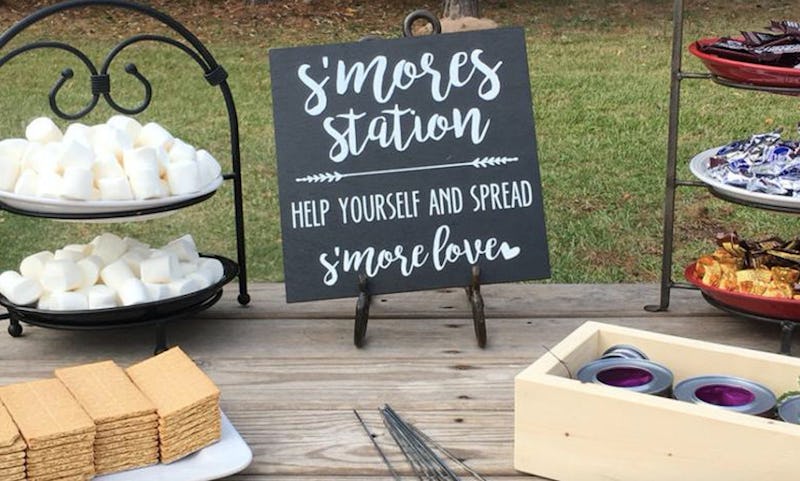 Etsy
Wedding trends can be hit or miss. Some of them are so glorious that they become permanent fixtures of many weddings — like picking a seat not a side or having a whole bar devoted to actual candy. Meanwhile, some of them fizzle, like donut walls that take up so much space but have very few actual donuts involved. (Towers of donuts, people. Always towers.) But one new wedding trend that's sure to have some staying power is wedding s'mores and wedding s'mores bars. They're here to stay.
There are a lot of things that make wedding s'mores the perfect sweet treat for your big day. Firstly, s'mores are delicious. Fact. Secondly, they're a fun activity as well as being totally delectable — and the campfire feel has a sort of rustic charm that's perfect for a wedding. Thirdly, the puns. S'more love coming your way, s'more members of the family. The puns write themselves. They're bad puns, sure, but they're definitely there.
In fact, wedding s'mores have become so much of a thing that you can now find a whole range of products that can help make your wedding s'mores bar a reality Whether you want to have a proper campfire — which is atmospheric but also, you know, flammable — or just go for a little stand with a nod to the roaring fire, it's safe to say that wedding s'mores are officially a THING. Here's how to make them extra special.