17 Ideas For Incorporating Personal Traditions Into Your Wedding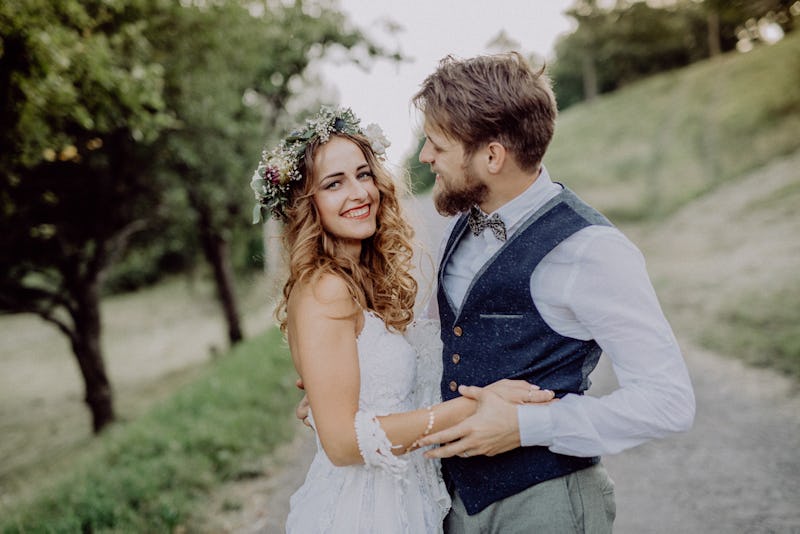 Halfpoint/Shutterstock
Weddings have changed a lot over the years, including traditions associated with them. While some couples stick to renowned ones, others create their own. The Knot just uncovered what traditions and trends are common among couples — and not. On February 14, they revealed the results of their 12th annual wedding industry report, The Knot 2018 Real Weddings Study. To get the scoop, they surveyed more than 14,000 U.S. brides and grooms married in 2018 between the ages of 18 and 65+.
"Every wedding is unique in its own way and we love seeing how couples are continuously twisting, fusing, or making their own traditions with their wedding celebrations, especially in recent years," Lauren Kay, deputy editor at The Knot, tells Bustle. "Couples are really using their weddings to showcase who they are, both as individuals and as a couple," she says. "No detail goes unnoticed by today's creative duos, who are hiring pros, like custom entertainment, and crafting signature cocktails with DIY margarita stations for guests to enjoy!"
The study found that while the father-daughter dance is still popular at receptions, with 77 percent of couples upholding the tradition, tossing the bouquet is less popular, with just 45 percent of couples doing it. Similarly, 73 percent of couples still have a first dance at their reception, but only 33 percent still do the garter toss. Couples are mixing things up when it comes to their wedding parties, too, with 28 percent of brides and 11 percent of grooms saying they had a mixed gender wedding party. Additionally, seven percent are having pets be part of their wedding party. And others are having grandmothers serve as flower girls and mothers serve as matrons of honor.
All this may make you wonder: When it comes to your own wedding, what are some ways to incorporate personal traditions into it? Below, experts give some ideas.