Weird Facts About The Fourth Of July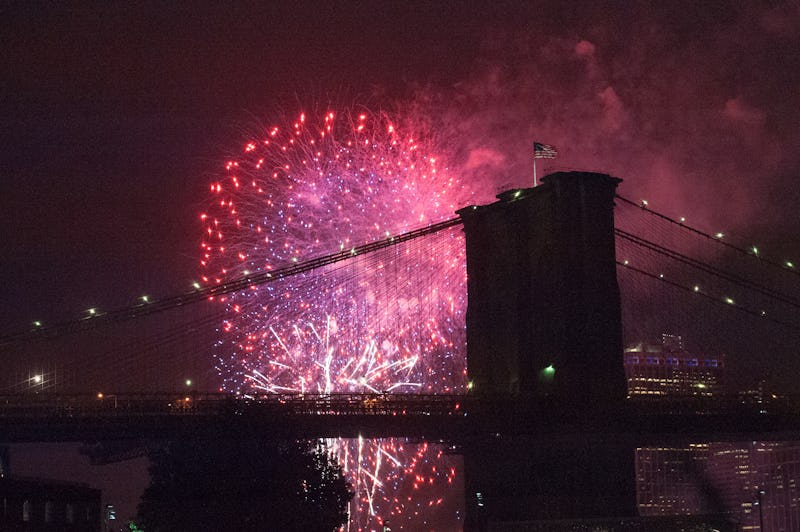 Stephanie Keith/Getty Images News/Getty Images
Oh, the Fourth of July. America's birthday, the United States' most patriotic holiday, the time of year that seems to embody the height of the hot, sweaty, alcohol-soaked summer season. Craving a bit more than the traditional beer and BBQ? Check out these weird facts about the Fourth of July that you probably didn't learn in school.
#Freedom, #Patriotism, #GeorgeWashington, #Eagles — collectively, these comprise the mainstream Fourth of July brand, particularly on Instagram where hashtags run wild. But ask the average person on the street what, specifically, this holiday is celebrating, and I have a sneaking suspicion that any further elaboration apart from "America's birthday" may be a bit difficult to find.
The general narrative is that the Fourth of July celebrates the signing of the Declaration of Independence, which, according to public opinion, happened on the Fourth of July. Though the nation hardly experienced a spontaneous forming, the Declaration of Independence announced both the existence of the United States and the separation from Britain.
But the traditions of Jul. 4 — primarily, barbecuing meat, setting off fireworks, and a general party atmosphere — seem arbitrary, at least on the surface. Why does consuming copious amount of smoked meat outside signify a country's birthday? Why do we set off fireworks? Why, oh why, do we insist on drinking heavily when the last thing our bodies need in mid-summer heat is more dehydration? Oh, there are reasons, my dudes. Lots of really weird reasons.