Wells Adams & Sarah Hyland Just Announced They're Engaged With The Most Romantic Proposal Video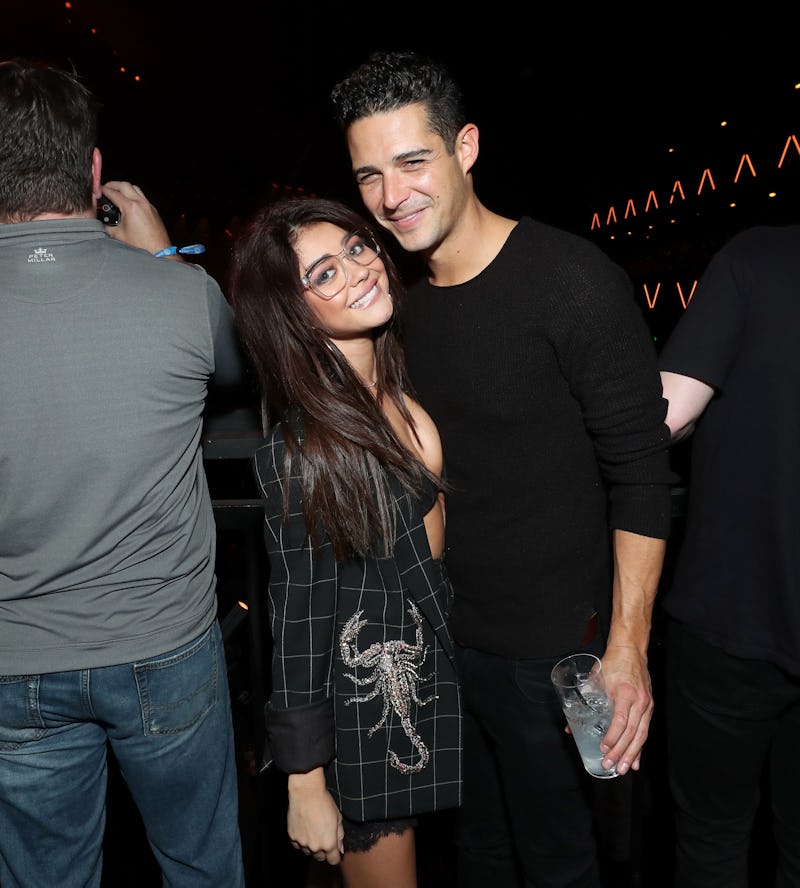 Cindy Ord/Getty Images Entertainment/Getty Images
Hear those wedding bells ringing? On Tuesday, July 16, Wells Adams and Sarah Hyland announced their engagement via their respective Instagram accounts. Adams posted a video of his proposal on a scenic beach that is intercut with throwback photos from their relationship. He captioned the post, "I'll be Johnny, you be June. But forever" (a reference to Johnny and June Cash). The video is set to a sweet song by Drew Holcomb & The Neighbors.
Hyland posted a gallery of photos from the proposal, captioning the post with a quote from the 1995 movie It Takes Two:
That can't eat, can't sleep, reach for the stars, over the fence, world series kind of stuff ✨❤️ @wellsadams
The couple first met through Twitter in 2017 while Adams was a contestant on JoJo Fletcher's season of The Bachelorette and the bartender on Bachelor in Paradise. Meanwhile, Hyland was a big Bachelor franchise fan who often tweeted about the shows and even tweeted about Adams a few times — and he took notice. In January 2018, Hyland told Jimmy Kimmel during an appearance on Jimmy Kimmel Live that Adams "slid into her DMs," and wrote, ""the next time you're in L.A., I'm taking you out for drinks and tacos." And luckily, Hyland loved tacos.
The duo sparked rumors that they were dating during Halloween 2017, when they attended a party together dressed as Eleven and Dustin from Stranger Things — and posted photos of the costumes on their respective Instagram accounts. Adams and Hyland would make a few other appearances on each others' Instagrams, and Adams even kind of, sort of confirmed the relationship in November 2017. During an interview with The Morning Breath on Nov. 8, host Claudia Oshry Soffer asked about him and Hyland. His response? "To be fair, if you really want to know anything, just look at my social media."
Fast-forward to August 2018: Adams, who was previously based in Nashville, relocated to Los Angeles and moved in with Hyland. They documented the cross-country move via Instagram and seemed thrilled to take the next step in their relationship. Hyland marked their first kiss anniversary in September 2018 by posting a silly photo of them together on Instagram and with a major hint that she knew Adams was the one. In the caption, she wrote:
"1 year ago today, You asked to hold my purse when I was dancing," she captioned a sweet photo on Instagram. "In that moment you took my heart. You then gave me my last first kiss. And in that moment you took my breath away. I love you to Pluto and back @wellsadams *YES PLUTO IS A PLANET. IT WILL ALWAYS BE*"
On their official anniversary of their coupledom, Wells shared a few throwback photos of him and Hyland in a car. He wrote in the caption:
A couple hours after we took these pics, @sarahhyland said "when are you going to ask me to be your girlfriend." I said, "right now." I then doubled down and said "I'm falling in love with you." She responded with, "I can't say that yet." And then like 15 minuets later she did. Happy anniversary, baby. I love you most.
And now, the happy couple is engaged and headed down the aisle — as announced via Instagram, of course.