Sarah Hyland & Wells Adams' Relationship Just Took A MAJOR Step Forward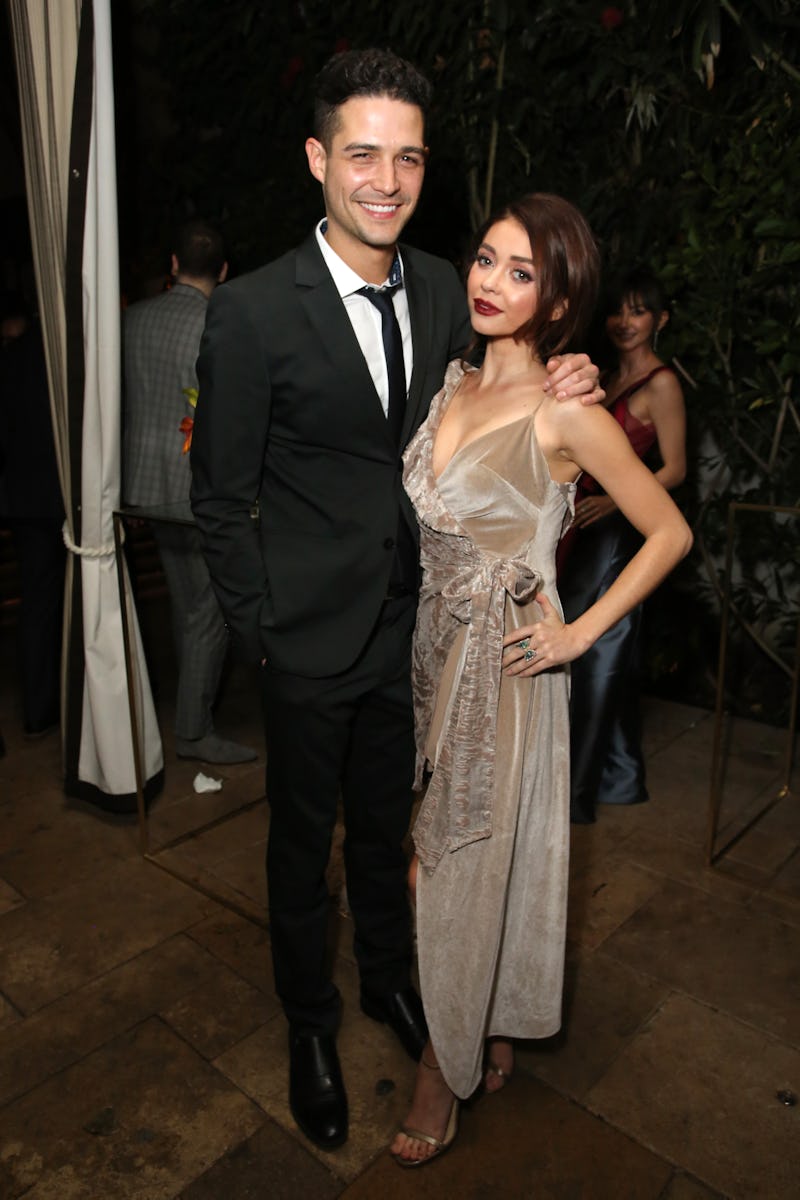 Rachel Murray/Getty Images Entertainment/Getty Images
It's an important next step for this once long-distance couple, as Wells Adams and Sarah Hyland have officially moved in together. The couple are active on social media, and documented the big move on their Instagram stories over the weekend. On Saturday, Adams revealed that he had arrived in Los Angeles, but locked himself out of the U-Haul a mile away from his new home. In July, The Bachelor in Paradise star left his longtime home in Nashville to move to the city, and had been documenting his drive on the social media platform. In addition to the U-Haul of belongings, Wells brought along his dog, a bloodhound named Carl. The two have officially moved in with Hyland, who also documented the unpacking process on her Instagram account.
Adams revealed the relationship milestone on his podcast Your Favorite Thing with Brandi Cyrus, according to People. "I'm straight up moving to LA. Should I have not have said it? I've got to go," he said. "If we're gonna take the next step, this is the first step we've got to take, to decide if we can handle living with one another." The two seem excited to finally be moving in together, and Hyland continued to document Adam's unpacking his clothes on Sunday via Instagram. The move comes a few weeks after the couple went on vacation together to Mexico, and it's clear they were done with being apart.
Hyland and Adams first connected on Twitter in 2017. The Modern Family star posted about her love of Adams when he appeared on JoJo Fletcher's season of The Bachelorette, and once again tweeted about Adams during his time as a bartender on Bachelor in Paradise. In January, Hyland discussed their online meeting during an appearance on Jimmy Kimmel Live. " Have you seen those memes of 'Slide into the DMs?' That. He slid into my DMs," she said. "I was following him. We had tweeted each other because I thought he was funny and he was a fan of the show. I saw him as the bartender and I was like, 'That's really cute.'"
The two stars sparked dating rumors with matching Stranger Things Halloween costumes later that year, and confirmed their relationship on social media a few weeks later. The couple have since been candid about their relationship online, posting plenty of updates to Instagram. In July, the two attended Hyland's high school reunion together, and spent several weeks together in Mexico. The couple posted many pictures from their trip on social media, and announced their decision to move in together not long after.
It seems like they don't have any reservations about the move, but Adams did discuss one major concern on his podcast, according to Us Weekly. "I'm most concerned about my dogs and her dogs," he said. "Truly a blended family. Carl sleeps on my bed, right? And her dog Boo sleeps on her bed. What's gonna happen? Our bed is not big enough." Luckily, it seems that Adam's bloodhound and Hyland's dog hit it off, and were seen sniffing around their new home, according to Us Weekly.
The couple also seemed to be adjusting to cohabitation well, since Hyland and Adams were spotted kissing on the street outside the U-Haul. The two also reportedly split their first meal, which was tacos. This has special significance for the couple, who first connected over their mutual love for the food. "I love tacos," Hyland said during her appearance on Jimmy Kimmel Live. "He loves tacos so that was his thing. Like, 'I love tacos, lets see if she loves tacos.' We both love tacos. We have an obsession with tacos. Tacos and tequila, that's our thing."
Now that Adams is living in Los Angeles, the couple will surely be enjoying many, many more tacos together.