Wells' Amazing Commentary On The 'BiP' Drama Has Fans In Hysterics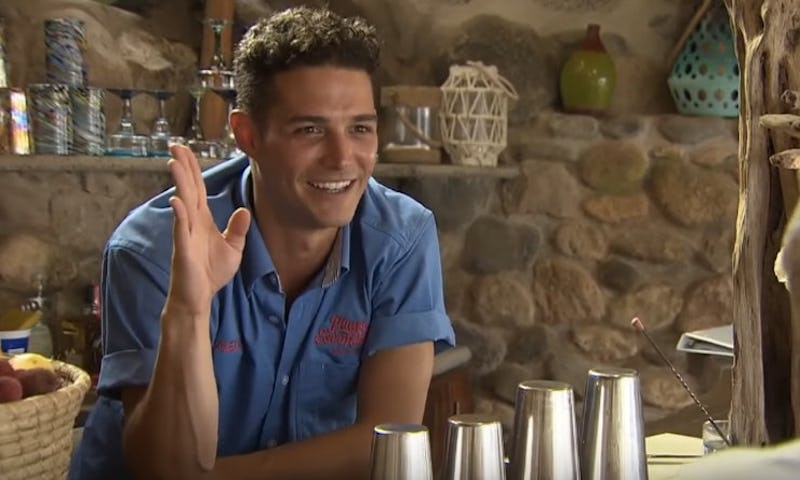 ABC
Whoever decided that Wells should replace Jorge as bartender on Bachelor in Paradise deserves a raise. No offense to Jorge, but Wells is bringing something so special to this show, and it goes far beyond his adorable face. On Monday night's episode of BIP, Wells' commentary on the drama going down had fans on Twitter buzzing — and for good reason, because it was totally hilarious. And considering how heavy this season has been at times, it's exactly the comic relief we all needed.
Whether he was reenacting the Jasmine/Christen/Matt love triangle with puppets or impersonating Alexis, Wells nailed it, providing a few much needed laughs in the process. If he wanted to continue this through the rest of the season, it would add a lot to the show... not that BIP isn't already goofy enough. Well, most of the time, anyway. And Chris Harrison should definitely be concerned about his job, because if Wells' performance in this episode was any indication, he could be coming for that hosting position on The Bachelor next season. Maybe they could be co-hosts? Might not be a bad idea.
Here are the best tweets about Wells' BIP commentary, which are almost as good as the commentary itself.
Some Fans Were Blown Away By Wells' Ability
It Made Others Realize A New Love Story Could Be On The Horizon
And Still Others Realized This Was More Proof Wells Needs To Be The Next Bachelor.
And Even Wells Himself Was Pretty Proud Of His Performance
It's official, everyone: We all need more Wells in our lives, and on BIP. Keep the puppets coming.